The hierarchy of television has always revolved around channels. Whether you're loyal to HBO, Bravo or NBC isn't the issue. Most people are probably indifferent to where their quality content originates. But channels allow us to organize shows in our minds for easy access at a later time. Everyone knows that Game of Thrones is on HBO and The Real Housewives of New Jersey are on Bravo. In a perfect world, all shows would be freely associated and you could search universally. Don't worry, we're heading in that direction. But for now services like Sling are acquiring access to live streaming content channel by channel.
What Channels are on Sling?
Sling is always adding channels to their lineup but here is the latest list of channels available right now:
Now some of these channels are premium add-ons and you won't get all of Sling's channel lineup for 20$ but you can choose your options on Sling's website and you'll probably keep your overall bill under what you'd pay for cable. They have a 7 day free trial so there's no risk in trying Sling to make sure it's right for you.
How Much Does Sling Cost?
The standard sling option is $20 per month and includes channels like ESPN, AMC, CNN and Comedy Central among others. Other packages with more channels are available for an additional fee.
There are two main Sling Channel options to choose from: Blue and Orange. Here's what Sling Orange Looks like:

Sling Blue channels look like this: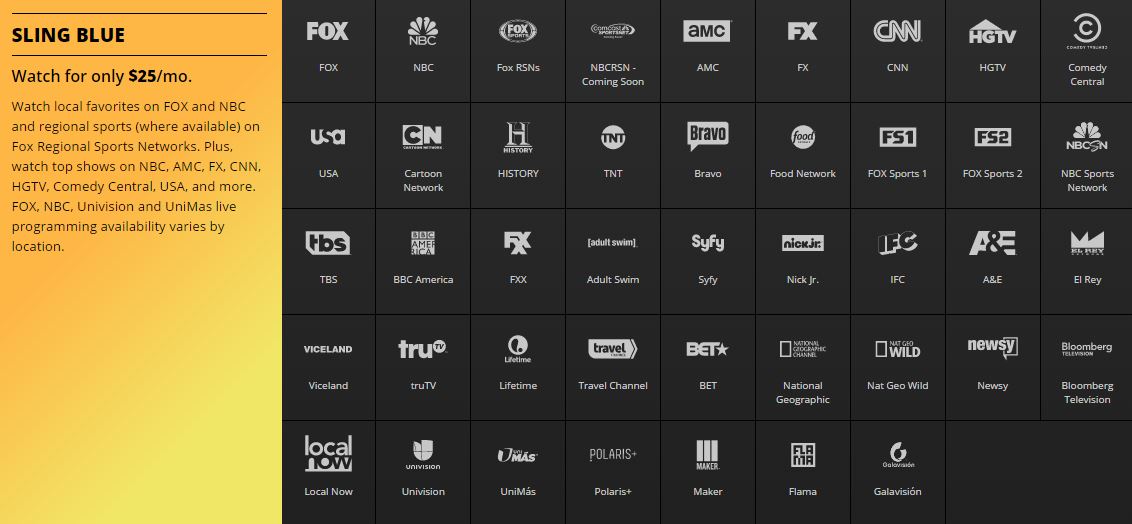 Along with all of the Sling channels listed above and the options we mention you can add a few other odds and ends channels, including premium networks like HBO by paying a bit more. Here are your available channel addons: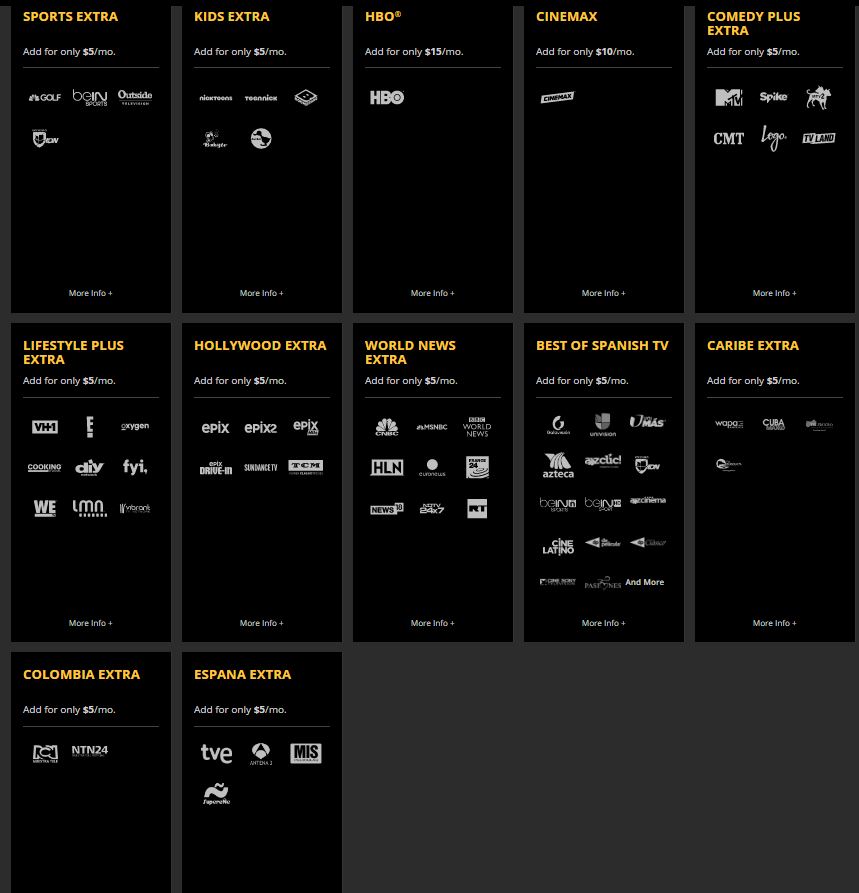 Sling has so many channels to choose from it's getting hard to even think of channels that aren't on the service these days! Even if you're a hardcore TV watcher you won't be missing much. Hulu, Amazon and Netflix can fill some of the gaps along with purchasing individual episodes through iTunes or a similar service.
We'll keep this list up to date as Sling adds more channels. Eventually we anticipate all channels will be available on services like sling. The price may go up and we know you cord cutters out there want to keep it competitive since bundles like the ones featured above are part of the reason you left cable.
Sling likely will never become cable but it's a genuine concern. For now, though we can safely say Sling gives you the freedom to choose from dozens of the most popular channels for a very low price.
Last Updated on by Exstreamist