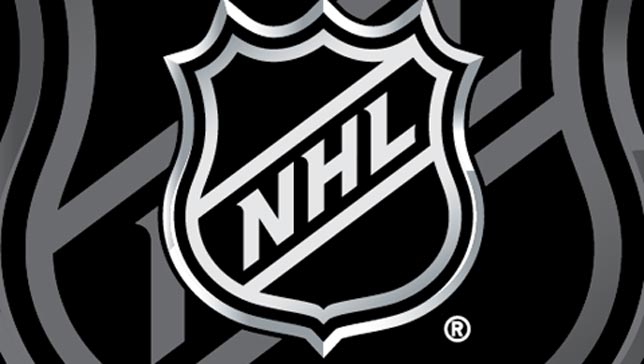 Hockey is one of those sports that you either love or consistently make fun of. For the fans of the NHL, there's nothing like the sport out there (particularly for Canadians). But for some it barely makes the list of "Big 4" leagues in the US alongside MLB, NFL and NBA. The game is more popular than ever and modern fans are anxious for new ways to consume their hockey games online.
The NHL has struck several major deals for streaming rights in the past few years. there are several ways to watch NHL hockey games online for free.  Here are the most convenient amongst them.
We Recommend: Hulu for Streaming Hockey Games Online
One of the biggest names in streaming now has a live sports option. Hulu Live offers dozens of channels including NBC Sports, ESPN, and more, meaning you can access most hockey games online. They also offer a great free trial, so if you're hoping to watch tonight's game, you can try before you buy. Check it out here!
Fubo TV offers live hockey game streams
A little bit more expensive than Hulu Live, Fubo is a great option though if you're looking for some of the more obscure channel streaming options. Odds are good if the hockey game is online, you can find it on Fubo.
How to Stream NHL Games Online Free (by Team):
Live Stream Most NHL Games on Sling TV
If you're not a huge fan of cable then Sling TV might be for you. It's an alternative that lets you choose a bundle of channels for $20-25 including the networks hockey mostly plays on like the NHL Network, NBC Sports, Fox Sports, ESPN, & Hockey Night in Canada Streaming. You also get a ton of other non-hockey channels like AMC, TNT, Bravo and many more. There's a free trial so check it out to see if it's really for you.
Want to watch an out-of-market hockey game online?
If you live in one city, but want to watch a game being broadcast in another city, you will need to use a VPN service. A VPN will allow you to set your computer's location to wherever the game is being streamed and then access the game online with one of the streaming services above.
Live Stream NHL Games via AT&T TV NOW
NHL fans can watch almost all NHL games with a AT&T TV NOW subscription. The service starts at $35 a month but NHL fans would want to upgrade over to the 'Go Big' package. That said AT&T TV NOW live streams dozens of channels and so you don't just catchup on sports on the go but also news and information. Start using the service for free by clicking on the button below.
Are NHL Games on Netflix or Hulu?
So far Netflix has yet to venture into the world of online hockey streaming, or any sport for that matter. You can stop searching Netflix for NHL games because you won't find them there.
Hulu, for its part doesn't have sports either, including NHL games streaming on their platform.
Watch NHL Online with NHL Gamecenter LIVE
The NHL does have their own official streaming service called NHL Gamecenter Live which gives you access to all out-of-market regular season games for every team. Pretty cool, right? (no pun intended.. ice.. get it?) You can even choose between home and away feeds though we're not sure why you'd want to stream it that way. Four games can be streamed at one time so feel free to share with the whole NHL family.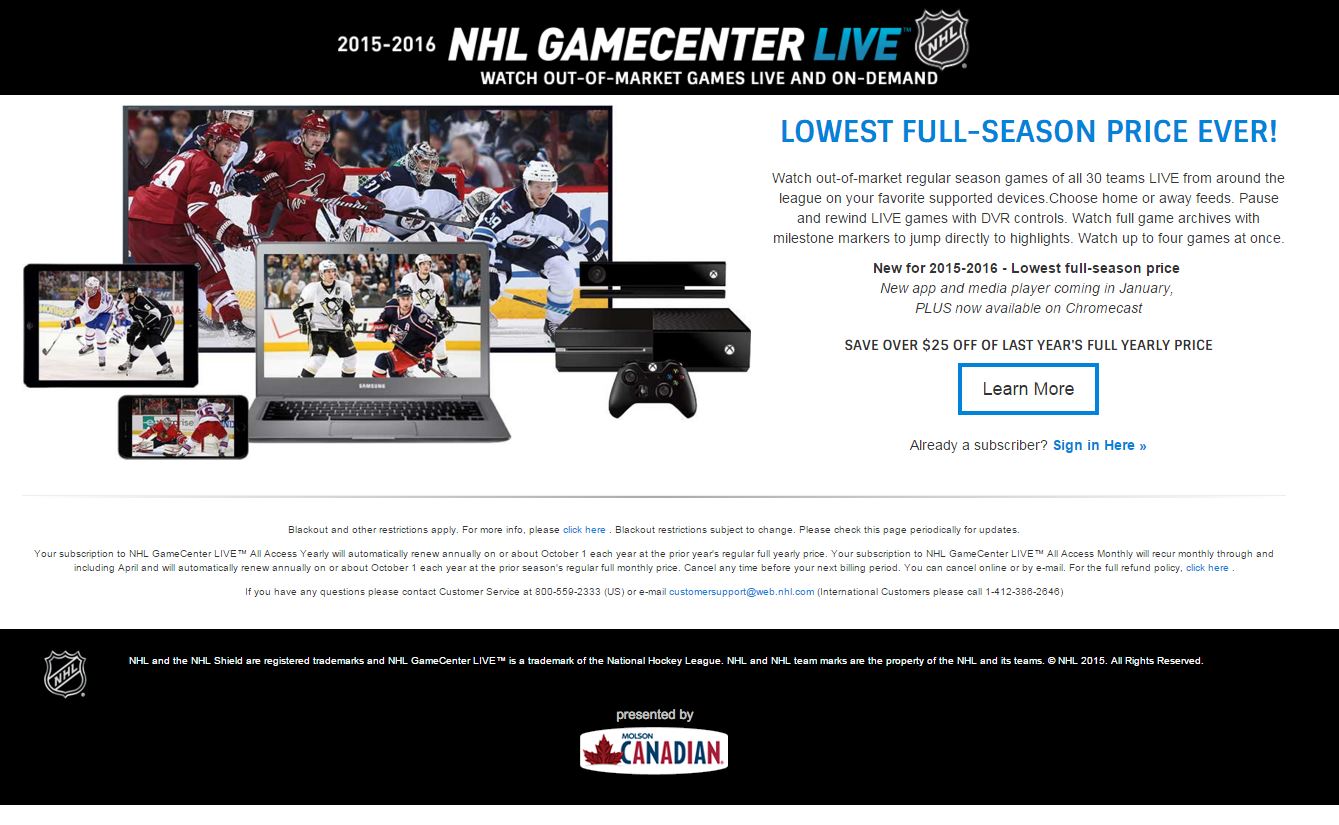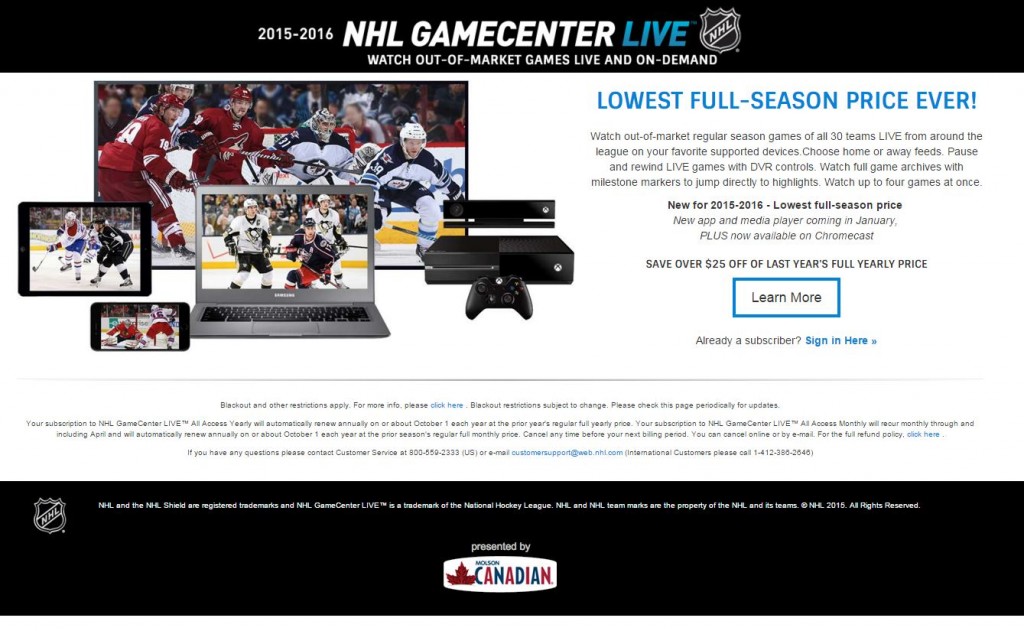 How much does NHL Gamecenter Live cost? It's about $130 per year for full access. You can also choose a single team for only $100 or so. Only need a month of NHL streaming rights? It's $25 for that privileged.
This is by far the best way to legally live stream NHL games from anywhere. If you're paying for cable just to watch NHL this could be your best bet to cut the cord.
Subscribe to NHL Network for Live Streaming
If you're a cable subscriber to NHL network you can usually use your password and login from your cable provider to access NHL content online for free. Check your local listings to see if you already subscribe to NHL Network and start streaming. It's also on Sling if you hate cable but need your sweet, sweet hockey fix.
Avoid Illegal Live Streams of NHL Games
We know you can be desperate and you need that sweet, sweet NHL streaming action right this moment. But we encourage you to avoid illegal, bogus live streams of NHL games. Not because of any self-righteous ideal around "stealing" content. No, mostly because most of these streaming sites for NHL games are utter crap. They feature low resolution video, sexually explicit ads and often break down right when you're about to watch your team score the winning goal. It's hard enough to watch Hockey online in HD, on a tiny screen let alone through one of these cut rate, low quality outfits.
If a hockey game is on CBS you can also use CBS's app to watch the game as well.
Save the $100 and subscribe to the official service we outlined above for a better experience. Plus, you're supporting the league and players you love who probably need that support more than most other sports leagues. Stream responsibly, hockey fans.