If our ancestors even a century ago were told that their descendants would be watching moving images of food on a box for hours on end their minds would have been blown. The Food Network was not the first to put food on television, streaming or otherwise. But they were an essential part of making that part of the fabric of American television, without a doubt.
Today, there are several ways to watch The Food Network online for free. The station has kept up with the times and watching your favorite cooking show live is as easy as… freshly baked pie wafting through the fake window on a soundstage in California somewhere.
Live Stream The Food Network with Philo
Want quick access to The Food Network without even entering a credit card? Philo has you covered, with a 48 hour free trial. All you have to do is type in your phone number and you can start streaming. Click here to get full access to the dozens of channels they stream live.
Stream Food Network Live with Sling TV
Another great option is a bit of a larger commitment. A Sling TV is a new alternative to cable that allows you to subscribe to several channels for a mere $20, including Food Network. It gives you live television so you can watch online just like you would on a traditional television.  Head over there now to check it out and sign up for the free seven day trial.
Free Access to The Food Network with Hulu
Hulu, one of the biggest names in streaming TV, offers a free trial, meaning you can stream your favorite shows live without an expensive cable package. They also offer a great back catalog of shows while streaming.
Watch Food Network Online with their Official App and Website
The Food Network actually has an awesome app. It allows you to stream a ton of stuff including most of their series for free as long as you already subscribe to The Food Network via Comcast or some other cable company.
The other downside to The Food Network app is that you'll have to watch commercials. Yep! Ads for food in your food shows so you can watch food in while you food. Sup, Xhibit?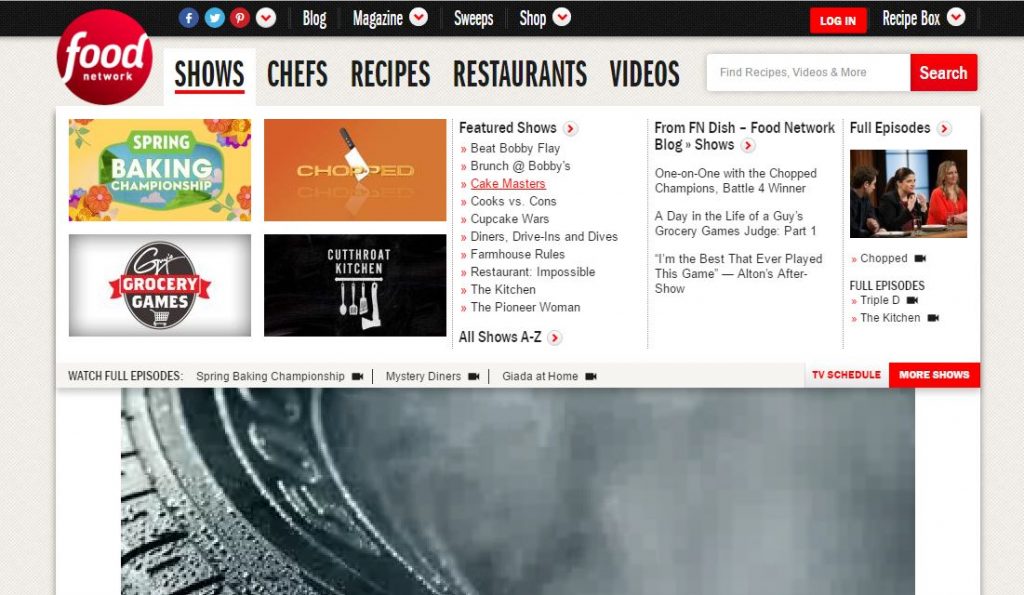 Download it now if you have a subscription. Search for it on the Play store or the app store.
Streaming Food Network Online with DIRECTV Now
If you're not interested in Sling but want a similar service with a bigger brand name behind it maybe DIRECTV NOW will appeal to you. Food Network is available through their online only service and plans start around $40 a month for tons of cable channels (minus the cable).  You get ESPN, AMC and all of your favorites along with the free trial so give it a go:
Try DIRECTV NOW Free for 7 Days
Live Stream Food Network via fuboTV
fuboTV is an excellent cord cutting service for anyone who wants to stream cable television channels like the Food Network but without having to sign  a long term commitment with the cable company. Also, by cutting the cord subscribers can stream these networks on their mobile devices. So, that way you'll never miss another excitiing cooking show again! Click below to try the service for free.
Are Food Network Shows on Netflix or Hulu?
Hulu does have a page for The Food Network but there aren't any episodes of their programs there. The Food Network is not on Hulu at this time, it would seem.
Netflix doesn't have anything either except for a few episodes of Food Network star for streaming. So subscribing to either or both of these services won't get you Food Network.
Download Full Episodes of Food Network Programs Online
If you'd rather own all of a series on The Food Network forever you should go ahead and download them from Amazon, Itunes or Google Play. The prices range from free to about four dollars. If you don't want to worry about losing your favorite Food Network programs forever or you really like watching offline, then this option is for you.
Here's a helpful link to Amazon if that's what you use.
Do you have a better way to watch The Food Network online or streaming? Leave us a comment below with your method of choice.