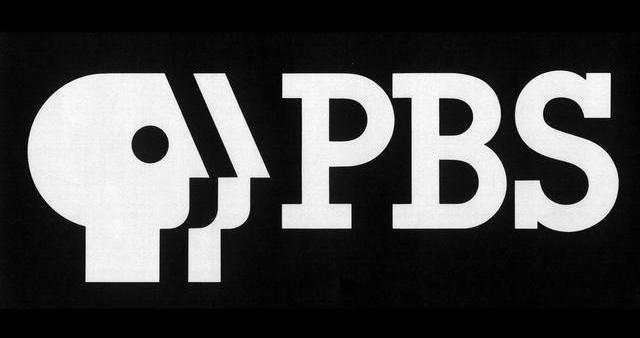 If you believe in real journalism and quality television you've probably tuned in to PBS or your local public television station over the years. Downton Abbey, Poldark, Antiques Roadshow and Victoria probably come to mind when you think of quality drama on PBS but there are several other, some would argue, more important programs airing on these networks. From news to local gardening or restaurant tours you can't get anywhere else, PBS has offered our communities a window into the rest of the world.  All paid for by viewers like you.
But have these pubic broadcasting stations moved into the internet age with accessible streaming apps and websites? Some have and others haven't. Here's what we know about streaming public television online.
Select PBS Shows Such as Masterpiece Are on Amazon Prime
Amazon supports public broadcasting! Well, in any case they bought the streaming rights to lots of shows on PBS including Masterpiece and put them onto their Amazon Prime Video platform for free (as long as you're a Prime subscriber). You can start with a month-long free trial and binge all of it if you'd like but we think Amazon Prime is worth it for lots of other reasons. You be the judge:
Try Amazon Prime Free for 30 Days
Watch PBS Programming for Free at PBS.org
PBS stations around the country have banded together to create one, amazing website for all of your PBS streaming needs. Just head over to video.pbs.org and you'll find full episodes of almost all of your favorite programs available to stream.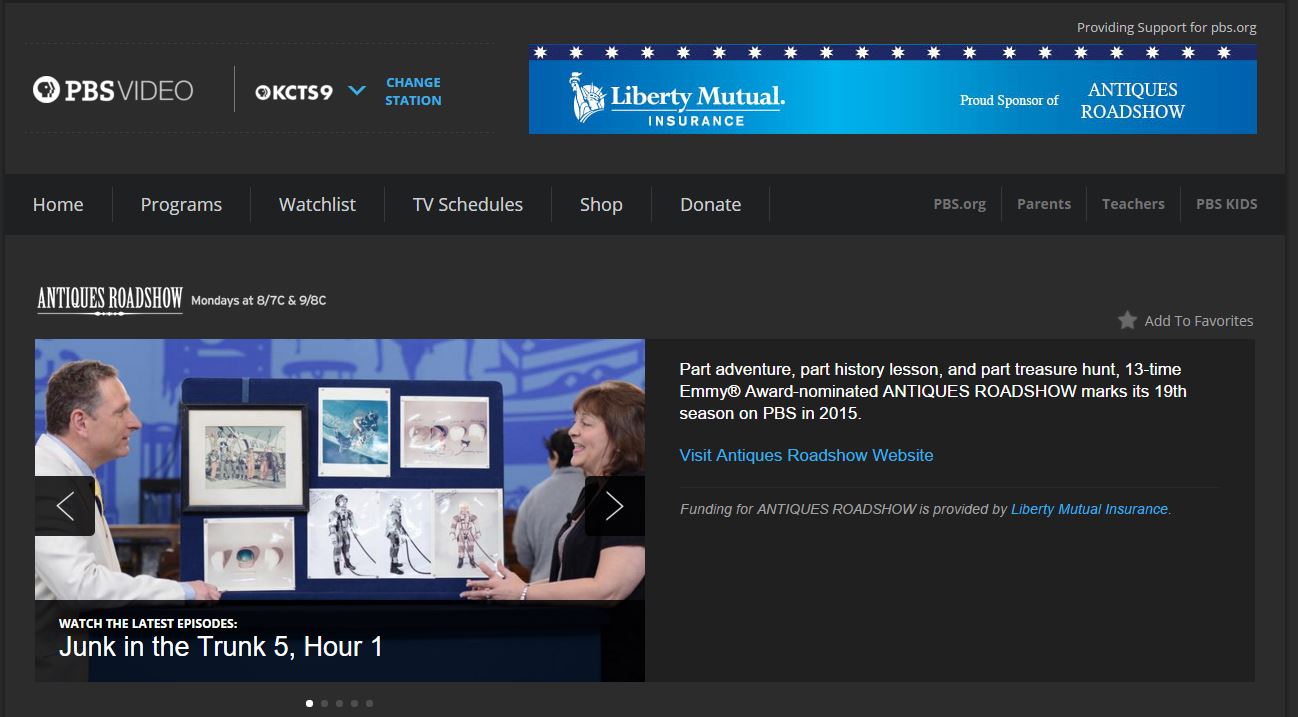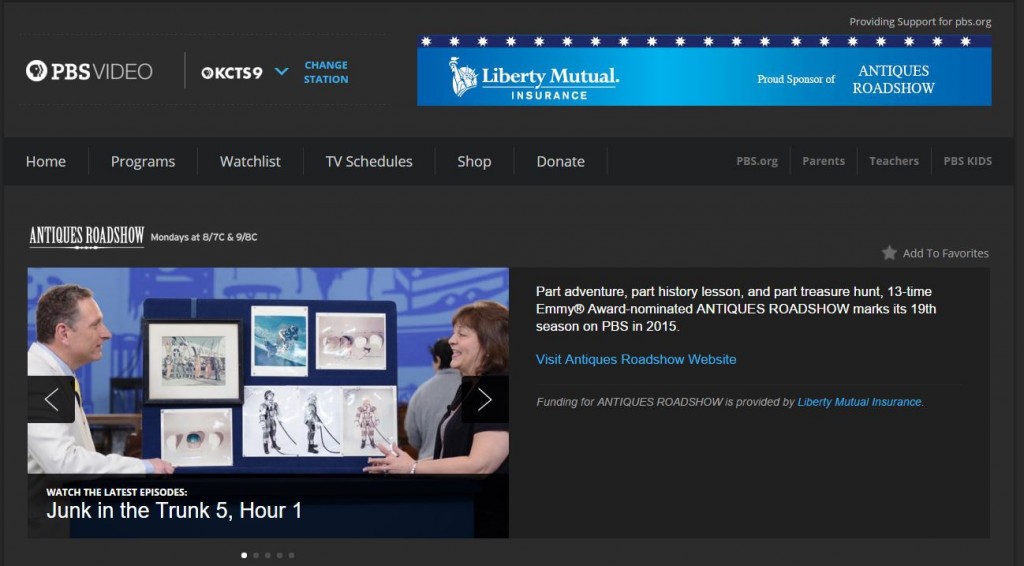 The one catch with PBS.org is that you'll have to verify your location. For example, KCTS is my local Seattle station (you can see as much in the screen shot above). If your local area does not have a PBS station you may get denied streaming access! They know where you live using your computer's IP address. This may stop international streamers from watching Antiques Roadshow on the go.
Check Your Local Listings for Public Broadcasting Streaming Options
Public broadcasting isn't just PBS, though. You can support your local colleges and other smaller networks by researching them in your own community. Some of them probably have their own streaming websites so give them a Google and be sure to show your support if you like their content.
Some PBS Content is on Netflix, Hulu
Be sure to search your Netflix streaming library because they actually have a deal with PBS to host some of their content. Hulu also has a couple of programs as well but not as many. It's too complicated to detail each of the shows that are on Netflix from PBS so just give the platform a search.
Avoid Illegally Streaming PBS Content
Public television is supported everywhere by viewers like you. It undermines the mission of PBS to illegally stream their content online. There are several ways of downloading or purchasing their content legally so you should do your best to try and leverage those options. Amazon even has many PBS programs available for you on Prime
.
PBS Kids Streaming Options are Solid
PBSKids.org also has a great website with tons of streaming options. It's a great one to whitelist for your young ones who wan to play around on the iPad. The educational and wholesome content will surely keep them entertained while you finish the final season of Downton.
A lot of PBS Kids stuff is also on Amazon Prime too!
Try Amazon Prime Free for 30 Days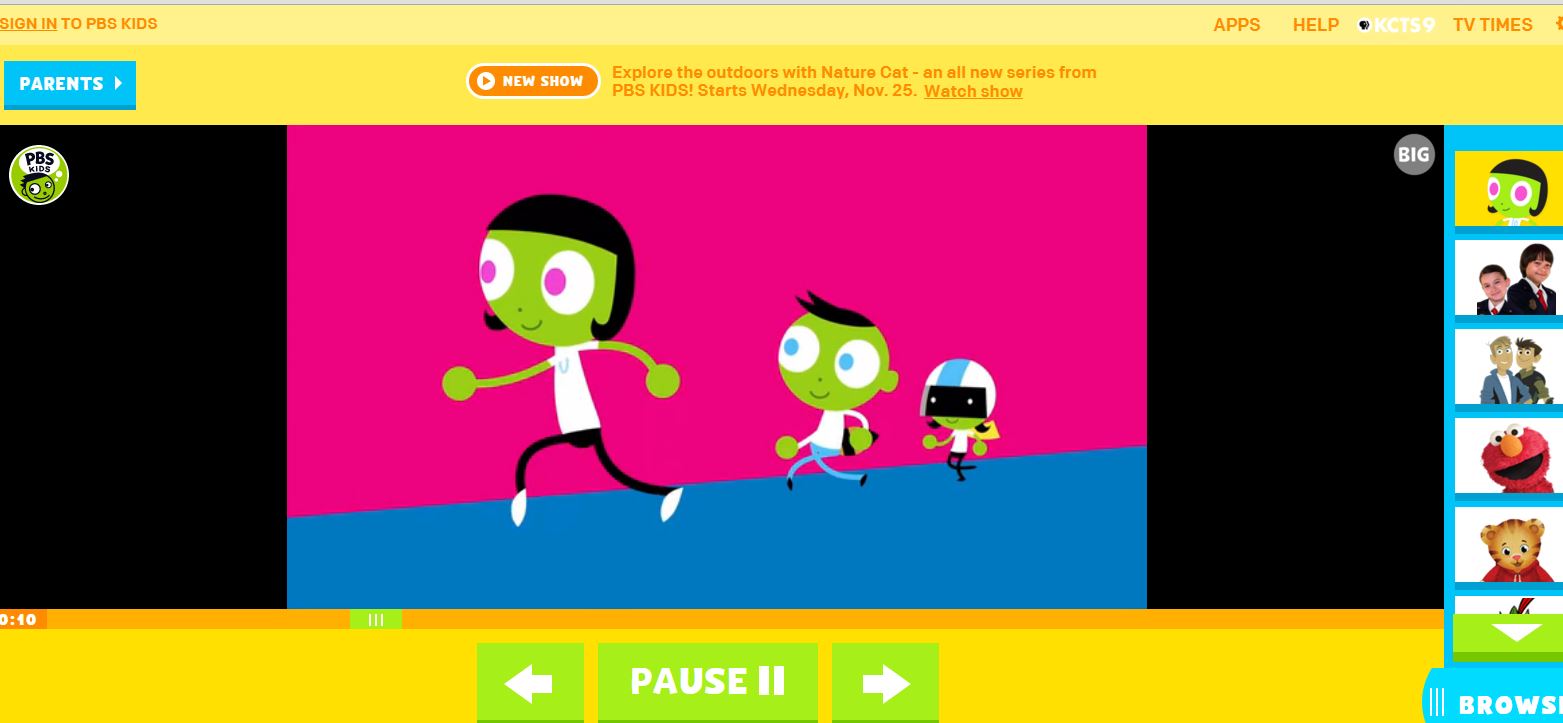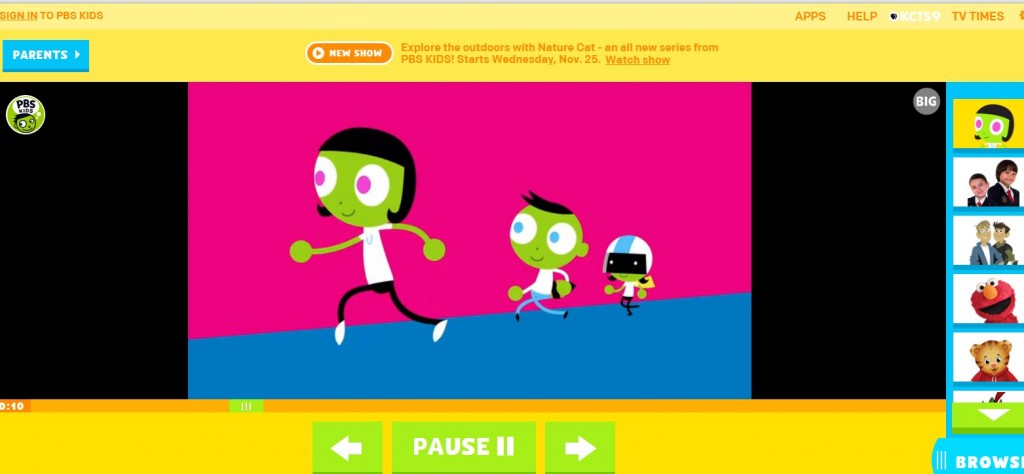 Downton Abbey is the Exception to Streaming
PBS has a real, bonafied hit on their hands with Downton Abbey. Because of this they've sold their licencing rights to companies like Netflix and Amazon so you actually won't be able to stream that show online using the above method of PBS.com.  Read our guide on how to stream Downton Abbey online for more information.
We hope this gets you to the public streaming option you were hoping for. Watching PBS online is a great way to move public television into the future. Leave us a comment below if you have any other tips for accessing free, public streaming options.