The NFL Network is owned and operated by the National Football League and has become the latest addition to the NFL Media group. NFL Media includes NFL Films, NFL.com, NFL Now, NFL Mobile and NFL RedZone. So, in a nutshell, the network broadcasts everything NFL and football related. When you subscribe to the NFL Network, expect to see game telecasts, analysis, specials, various documentaries topped with commercials every fifteen minutes on average. The local USA feed is broadcast from its headquarters in Los Angeles, while the worldwide feed goes on air from Encompass Digital Media in Atlanta, Georgia. Latest figures show the NFL Network is available in 71,867,000 households.
If you are a big NFL fan here is how you can stream the NFL Network online for free without cable.
Watch the NFL Network Online with FuboTV
NFL Network fans can live stream the network with a fuboTV subscription. A subscription costs just $19.99 a month for the first month. Subsequent months cost $44.99. However, it still works out cheaper than regular cable especially if you factor in the long list of premium sports channels. You also need to consider that all networks are streamed live via a series of apps for major smart devices. So, you will be able to literally stream on the go. Try the service for a few days free by clicking below.
Live Stream the NFL Network on Sling TV
Sling TV has as of late added the NFL Network to their existing lineup of channels. What this means for football fans and hipsters alike is that they no longer need a television and a cable service provider to stream the NFL Network and consequently the Super Bowl when it starts streaming. Once you subscribe which costs a minimum of $20 a month, and install the Sling TV app on your device of choice you can for all intents and purposes stream on the go and you'll be doing it 100% legally! It also includes NBC Sports, ABC, Fox Sports and ESPN, some of which require additional fees.
Hulu now has the NFL Network as well
For a long time Hulu didn't have NFL Network but today, it's available. Same deal as the above, so check Hulu's latest deals to see what price point includes NFL Network and RedZone.
Watch NFL Network Online with The Official Game Pass
If you want to go the official route of streaming the NFL Network online, then there is no getting around buying the Game Pass which costs a mind-boggling $199.99 a season, or you can pay it in four installments at $59.99 a month. Once you have the official Game Pass, you get access to 65 Preseasons and 256 Regular season games all streamed live and on demand to the device of your preference. You also get access to the NFL RedZone. That said if you think that the official route is a little bit too expensive for your type of minimal wage fan we have a couple of other options for you which could turn out to be cheaper.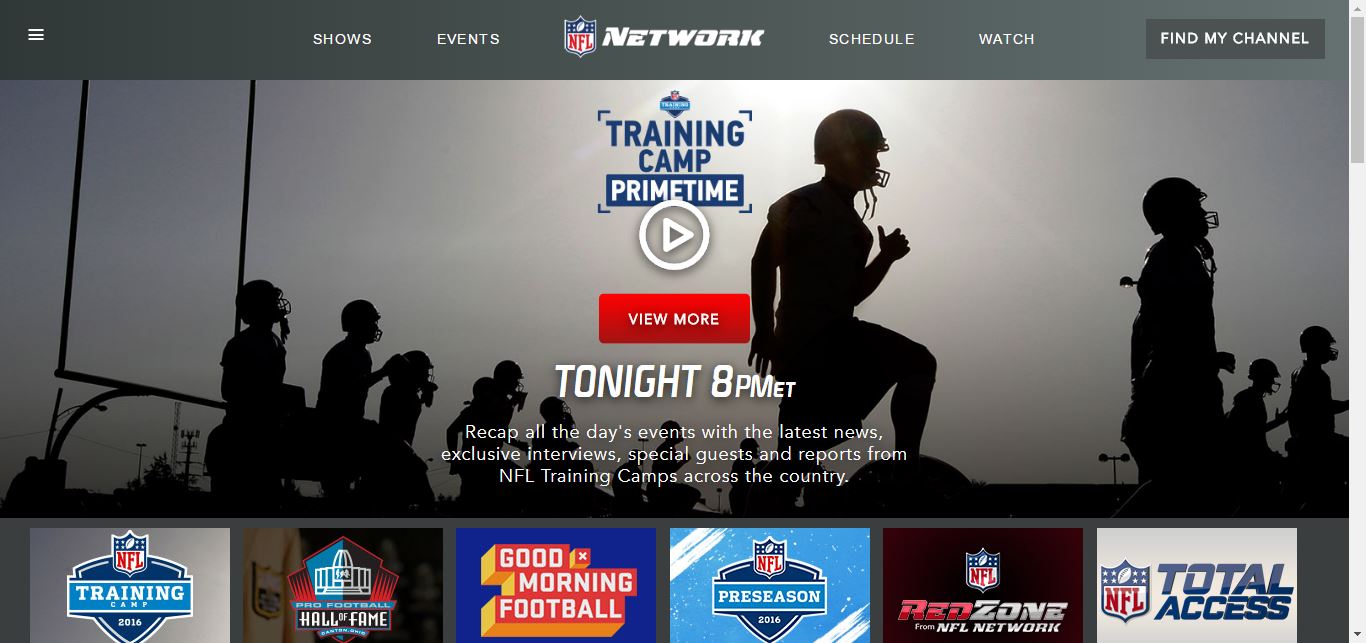 Already an NFL Network Subscriber? Use the Official Website and App
Okay, so this streaming option for NFL Network requires a cable subscription of some kind but if you have that you can hit up the official site and log in using the same credentials you use to pay your bill online. It's not exactly free but it's probably the easiest way to watch the NFL Network online through a browser if you have your (or a willing friend's!) login.
Other Ways of Streaming The NFL Network Online
There are possibly are a truckload of other methods you can use to stream the NFL Network online and live. However, 99.9% of those methods will be illegal even if the service provider bugs you to pay. Alternatively, you could hit the nearest sports bar when the game you want to watch airs or hit it every day instead of going out with your girlfriend. Perhaps the former will be a life choice you wouldn't necessarily regret.