When you hear those famous words: "Live from New York, it's Saturday Night!" you probably feel a sense of nostalgia. This applies to almost every television watcher alive right now because the show has been on since the 1970's and we've all had our favorites along the way. Stars were born on Saturday Night Live but these days they don't last long on the program because they'll have their own movies or television series within a year of starting on SNL.
Watching SNL, and SNL: Weekend Update online isn't too difficult. NBC gives us plenty of options for streaming their content and you can also find several options for watching old episodes of SNL online as well. Here are some of the ways you can watch Saturday Night Live online.
Update: You can get NBC on most of the below apps still but they have a new, exclusive streaming service called Peacock that has all of their content these days. Try it for free here:
We Recommend: Hulu Live
Our favorite options of all the streaming services is Hulu Live. Not only can you watch tonight's episode of Saturday Night Live online as it airs, but if you miss it and want to watch it another time, you get full access to their on-demand library as well. The best part of Hulu Live is you get a free 7-day trial, which you can cancel at any time. Get access free here:
Watch SNL without cable with Fubo TV
Fubo TV offers hundreds of local networks, so if you're looking to stream SNL without cable, and want to watch it online, their streaming service has you covered. It also comes with a risk-free trial, so you can stream tonight's episode free!
Watch Saturday Night Live Online with Sling TV
NBC shows are now on Sling and that include Saturday Night Live! Sling is a cable alternative that includes networks such as NBC, Comedy Central, BET, Syfy, MTV and TNT among many others for a low price and doesn't require a commitment. Head over there now to check it out and sign up for the free seven day trial.
Watch Saturday Night Live Online for Free on NBC.com
You can also watch full episodes of SNL on their official website. You only have access to the last couple of episodes but they're all totally free. The problem here is that you'll have to watch commercials, though you'd have to do that anyway if you'd been watching live on your traditional television set as well. This isn't available in all areas and definitely not international so proceed with caution.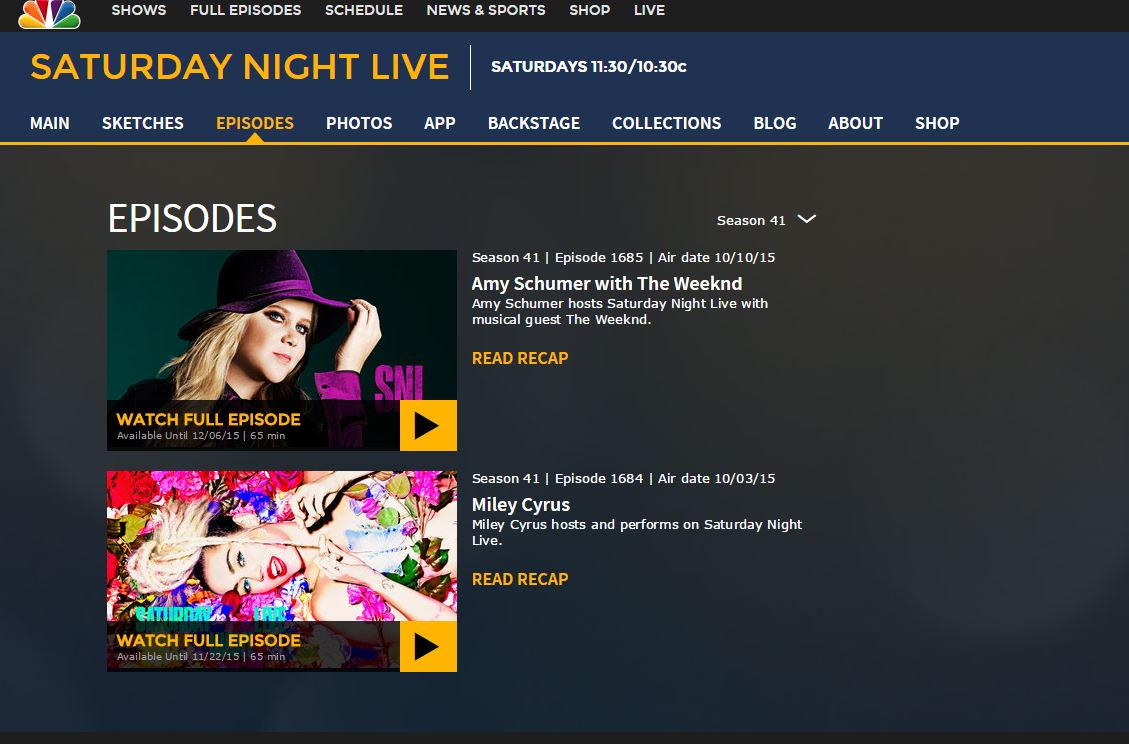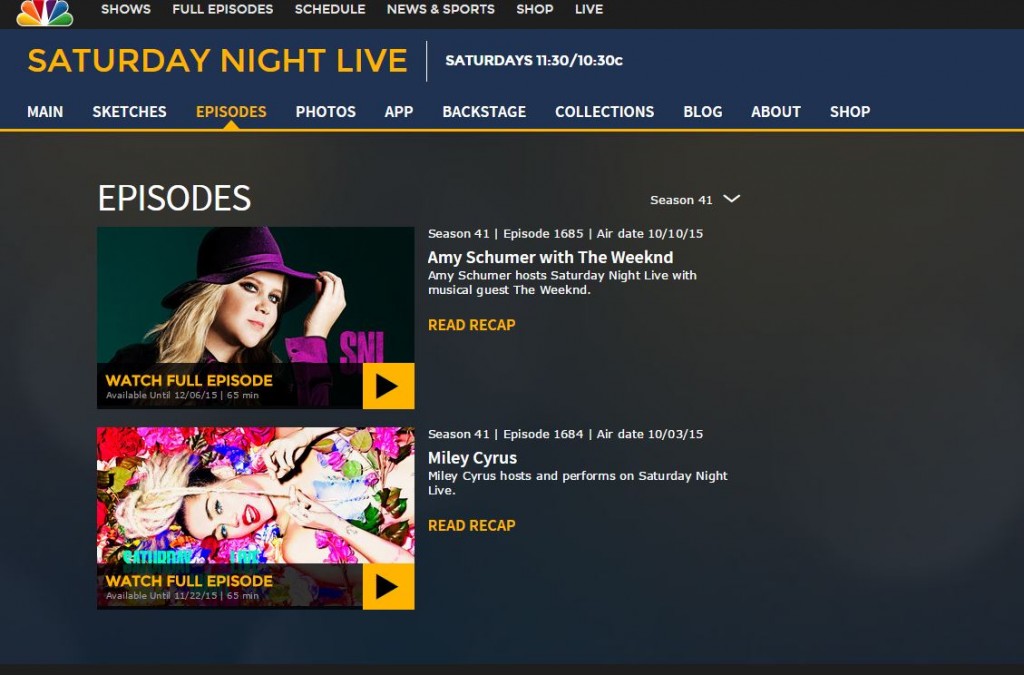 This is probably the easiest way to watch Saturday Night Live online because you don't have to sign up for anything or even confirm your location. As long as you have access to a standard web browser you can watch SNL online basically anywhere, anytime.
Download Full Episodes of SNL Online
If you want to build a collection of Saturday Night Live episodes you can always download some of them from Amazon or iTunes. They also have DVD and Blu-Ray collections
if non-digital streaming options are more your style.
Is Saturday Night Live Streaming on Netflix or Hulu?
Regular, live streaming episodes of SNL are not available on Netflix. They do, however stream some special collections of episodes for individual cast members. If you search for SNL on Netflix you'll also be greeted with several classic shows and movies featuring actors from the show, if that floats your boat.
Hulu actually does have many, many episodes of Saturday Night Live available for download (over 300 at the time of this writing). Most of those require a paying Hulu subscription though there are a handful that are available for free. You can get them the following day on Hulu so you won't be too far behind. Who wants to stay up until 11:30 on a Saturday anyway, right? People who don't have kids, that's who.
Streaming SNL Online Live without Cable Using AT&T TV NOW
SNL and NBC are also available on AT&T TV NOW's service that doesn't require cable at all. Right now You get a 7 day free trial so you have nothing to lose. This is a great option for those without cable and can't get access to NBC for some reason. You'll get all of the above mentioned channels (comparable to a slim cable package, we'd estimate) but also Fox News Channel too.
SNL Has Some Content on YouTube
The official YouTube channel of SNL posts clips each week if you don't need the entire series or season streamed. Maybe this is enough to get you your fix. If a major, water cooler type skit breaks they usually post it online the next day so you won't feel like you're out of the loop.
Avoid Pirating Episodes of SNL Online (if you're a real fan)
These people put a lot of hard work into bringing you a live show every Saturday night. There are plenty of legal options for streaming (listed above). Use one of those instead of pirating SNL on a site that will likely give you a virus, buffer endlessly and fail you every time.