Tru TV is owned and operated by Turner Broadcasting System's division of its parent company Time Warner. Originally founded back in 1991 as Courtroom Television Network, they soon shortened the name to Court TV, which was a channel focused on mainly crime based programming like legal dramas, series, documentaries, and movies centering around criminal cases. Then in 2008, the channel was sort of re-launched to Tru TV, with a revamped lineup of reality shows, and so-called "caught on camera" type program. Then in 2014, the network further expanded its line of programming to include comedy or funny reality programs as if they weren't funny, to begin with!
A 2015 estimate puts Tru TV in the homes of 89.7 million Americans. So, if entertaining reality TV shows and 'caught on camera' type programs are your thing then here is how to stream Tru TV online for free!
Stream TruTV Online via the Official Website and App
The tough part to swallow for a millennial who sleeps with their smartphone is the fact that Tru TV does not have an official streaming app! But you can still stream Tru TV via live via your laptop or computer's web browser. Though slow at times and not as fun as having the ability to stream via your mobile device it's still better than not having free streaming at all. That said it's not exactly 100% free because you're expected to be a subscriber to Tru TV via your cable service provider. If you're not a subscriber, then you're out of luck but could try a few of the alternatives suggested below.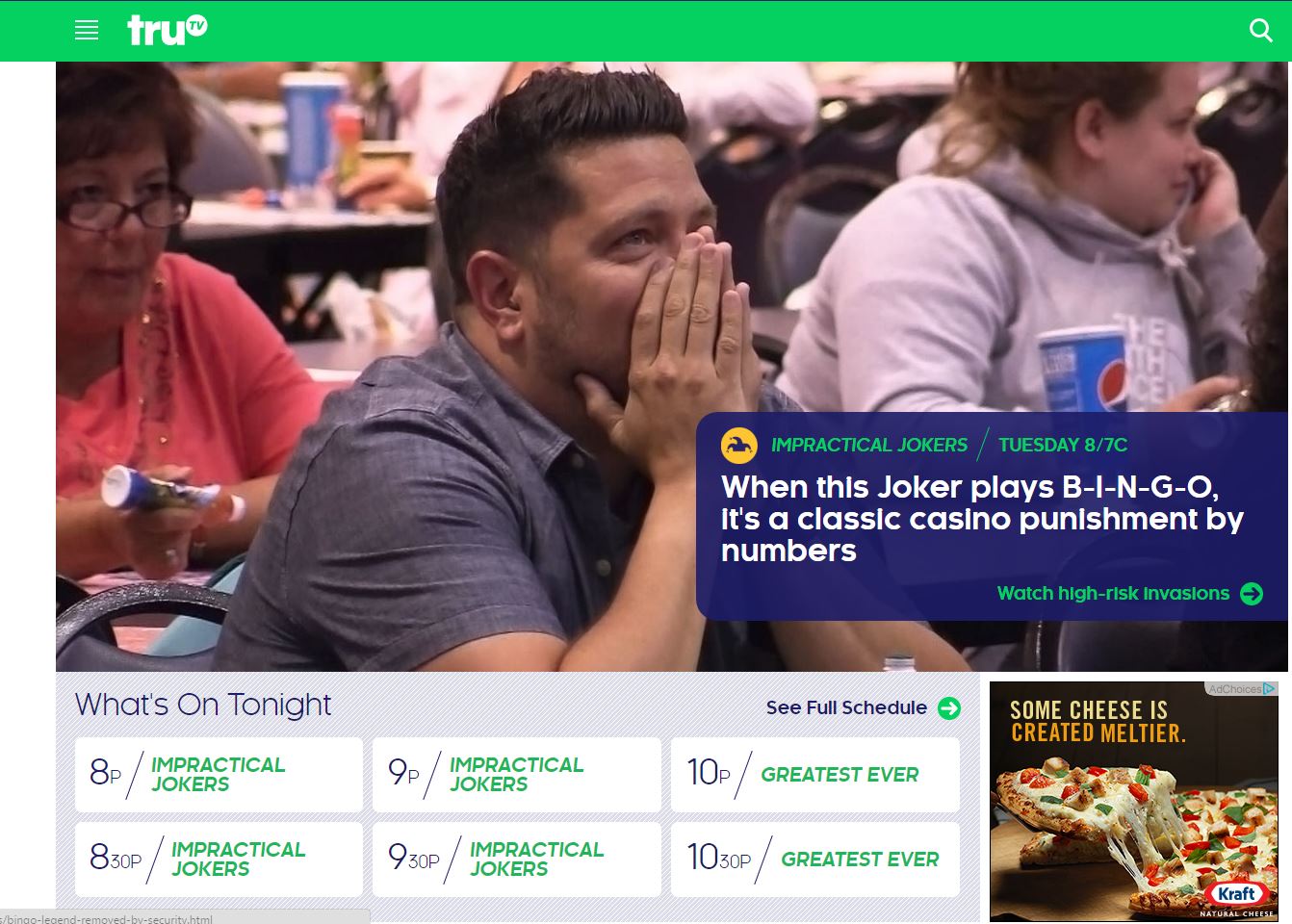 Sling TV has TruTV Live Online
While the PlayStation Vue is all well and good but it's expensive. Anyone who watches Tru TV knows that apart from a few programs they don't watch everything the channel airs. So, Sling TV makes a lot more sense because for $19.99 you can stream Tru TV for free and you can switch to another channel in a fraction of a second. Plus, compared to the Vue or even a regular cable service provider $19.99 is something that even a broke millennial can afford. And Sling TV is throwing in a 7-day free trial…what more could you ask for? How about ESPN, Comedy Central and Bravo too? Okay, they've got those included and dozens more channels.
Stream Online with AT&T TV NOW
Another option is AT&T TV NOW, one of the newer streaming services out there. They offer a seven day free trial as well, so if you're more interested in their services, they're an option as well. Get the full details on how to watch TruTV through DIRECTV here:
>>Special offer: Get seven days free here<<
PlayStation Vue is Streaming TruTV as Well These Days
The PlayStation Vue is like having a cable service on your computer, tablet, smartphone and PlayStation 4. All you need is to subscribe to the service which starts at around $45 a month. The secondary package or the 'Core' package as the company calls it includes Tru TV. However, once you've subscribed, you can literally stream Tru TV from any device in your home including Amazon Fire, Chrome Cast, iOS, Android, etc. So, even if you have a television, you may not need a cable service provider ever again!
Are there any other super freeways to stream Tru TV without a subscription?
The truth is that yes there are a few illegal options, but we wouldn't recommend it. You're better off with Sling TV if you want flexibility and ease of use coupled with reliability.
Last Updated on by Exstreamist