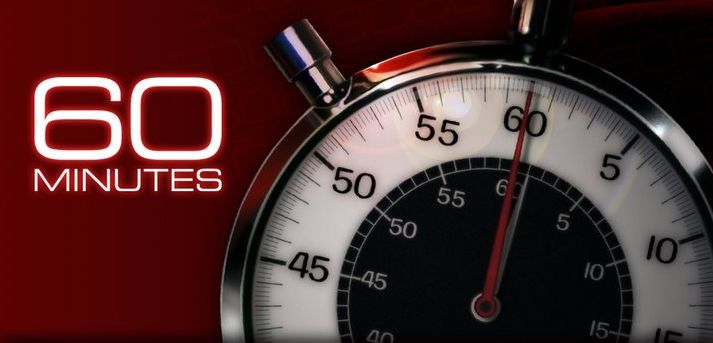 In times like these the world needs serious journalism. There are few institutions as well respected as 60 Minutes on CBS. One of the first network magazine format news shows, 60 minutes continues to break major stories that no one else is covering. While the long-form journal entry is dying a slow death elsewhere, 60 Minutes is still one of the most watched programs on all of television outside of the NFL (even without Stormy Daniels).
There are a few different ways to watch 60 Minutes live online.  CBS All Access is the best way to get 60 Minutes streaming online and they have a 30 day free trial too so give them a shot.
DIRECTV NOW also has Local CBS Channels Live Streaming
Hate cable packages? DIRECTV NOW is a great alternative that gives you channels like CNN, Fox News and AMC for a low price starting at $35 per month. But they also give you access to networks like CBS, ABC and NBC too so they're no slouch. They have a seven day free trial if you're still not sure so give it a show and you'll be watching 60 Minutes and more instantly:
Try DIRECTV NOW Free for 7 Days
Is 60 Minutes on Netflix or Hulu?
Neither Netflix nor Hulu have much access to any news programming. They're trying to change that as of late but for now, 60 Minutes is not available on Netflix or Hulu.
Watch 60 Minutes on CBSNews.com
Probably the easiest way to watch 60 Minutes online is to head over to their official webpage. From there you can watch all of the recent season's episodes for free! The downside here, though is that you'll have to watch all of the commercials you would normally on traditional television.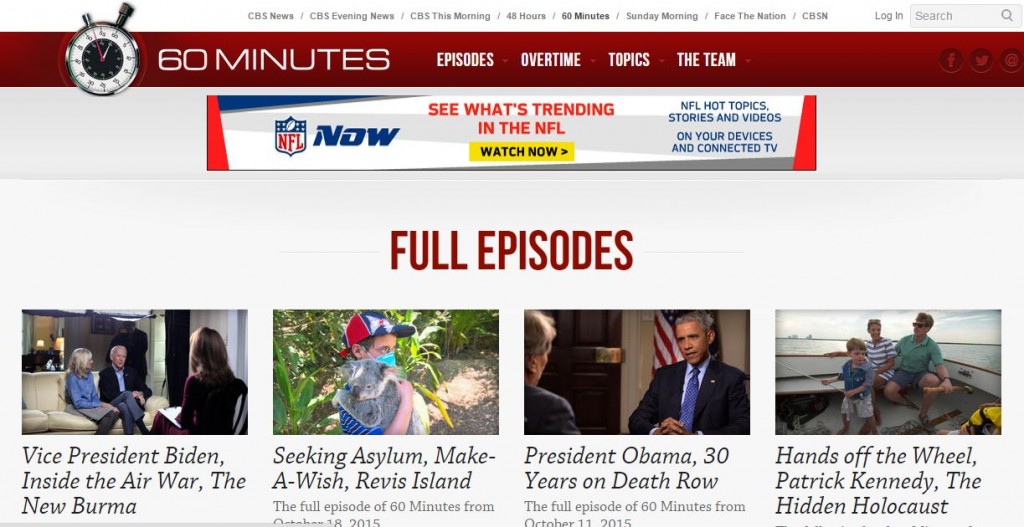 The upside is that you don't have to download anything to stream 60 minutes from your browser. No location verification or sign-ins, no apps and no payments. 60 Minutes is totally free on CBSNews.com.
Purchase Old Episodes of 60 Minutes on DVD
If you're not partial to this new-fangled streaming technology you can always grab some of the DVDs from Amazon. Episodes vary from $15 to $30 but maybe you need the episode desperately. This seems quite high for a one hour program to this watcher.
Watch Over 100 Episodes of 60 Minutes with CBS All Access
If you don't mind paying a little bit you can sign up for CBS All Access at four dollars per month. This  will give you access to almost 150 episodes of 60 Minutes on demand and streaming. You'll have to download the app and install it but CBS All Access will certainly get you 60 Minutes online for free with that subscription fee.
We hope you'll support this institution of American journalism by watching 60 minutes through legitimate means. We know it may be tempting to find an illegal live stream of 60 Minutes online for free but since CBS gives you so many legitimate ways to stream the show we'd encourage you to give those a try before pirating the show.  Journalism like this takes money to put together and this show is no different.
So if you're interested in a world where Buzzfeed dominates the news headlines, feel free to skip 60 Minutes. But if you're want journalists to do what they do best give this one a stream through CBS's official channels.