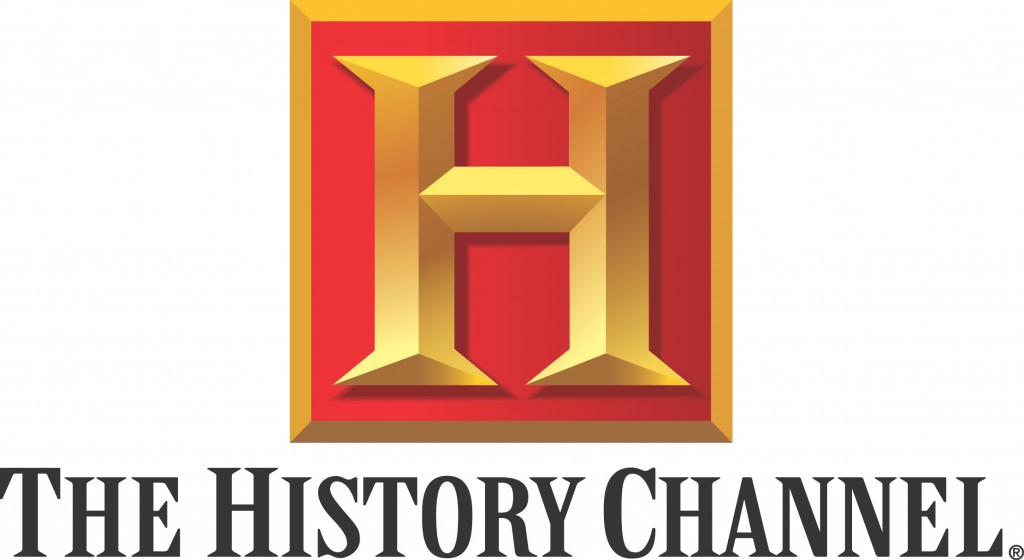 Does anyone else remember when the History channel had shows about actual history? Today the network focuses more on present-day reality TV and less on never before seen World War II footage. But it seems to be working for the network because the History Channel is one of the most watched networks on cable these days thanks to Pawn Stars, Ice Road Tuckers, Six and a little show called Vikings (okay, that's actually close to history!)
But has the History channel moved into the 21st century withe their streaming and watching online options? Or are they, like so many other networks stuck in the past. Here are your options for streaming the History channel online.
The History Channel now lives primarily on Discovery+, gets you a lot of your favorite channels like Lifetime, A&E and The History Channel for under 5$ a month:
Watch History Channel Live with Sling TV
Another great option is a bit of a larger commitment. Sling TV is a new alternative to Cable that allows you to subscribe to several channels for a mere $20, including The History Channel. This is a great way to watch "history" online even if you don't have a cable subscription. It gives you live television so you can watch online just like you would on a traditional television. Head over there now to check it out and sign up for the free seven day trial.
Live Stream The History Channel with Philo
Want quick access to The History Channel without even entering a credit card? Philo has you covered, with a 48 hour free trial. All you have to do is type in your phone number and you can start streaming. Click here to get full access to the dozens of channels they stream live.
Live Stream the History Channel with a fuboTV Subscription
Catching up on your daily dose of history is made easier with a fuboTV subscription. The service live streams the History channel and other similar networks via an array of apps for various smart devices. So, you can practically stream on the go. Want to give it a shot? click below for a free trial.
Access The History Channel online with Hulu
Hulu, one of the biggest names in streaming TV, offers a free trial, meaning you can stream your favorite shows live without an expensive cable package. They also offer a great back catalog of shows while streaming.
Watch The History Channel Live Stream Online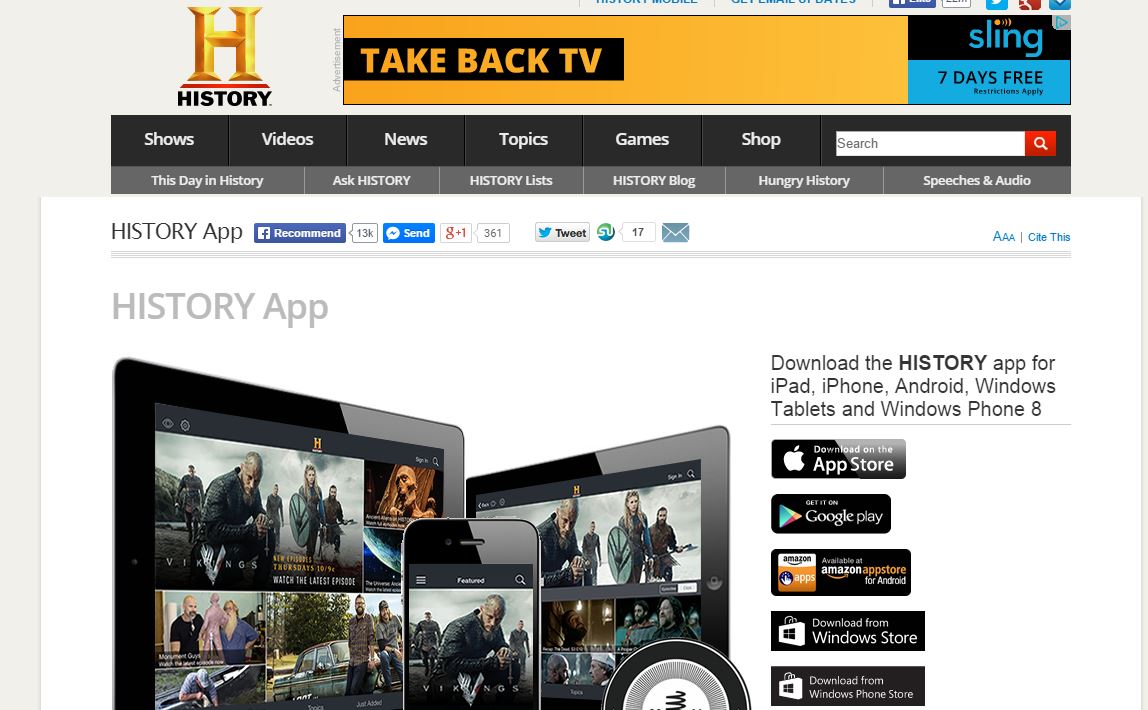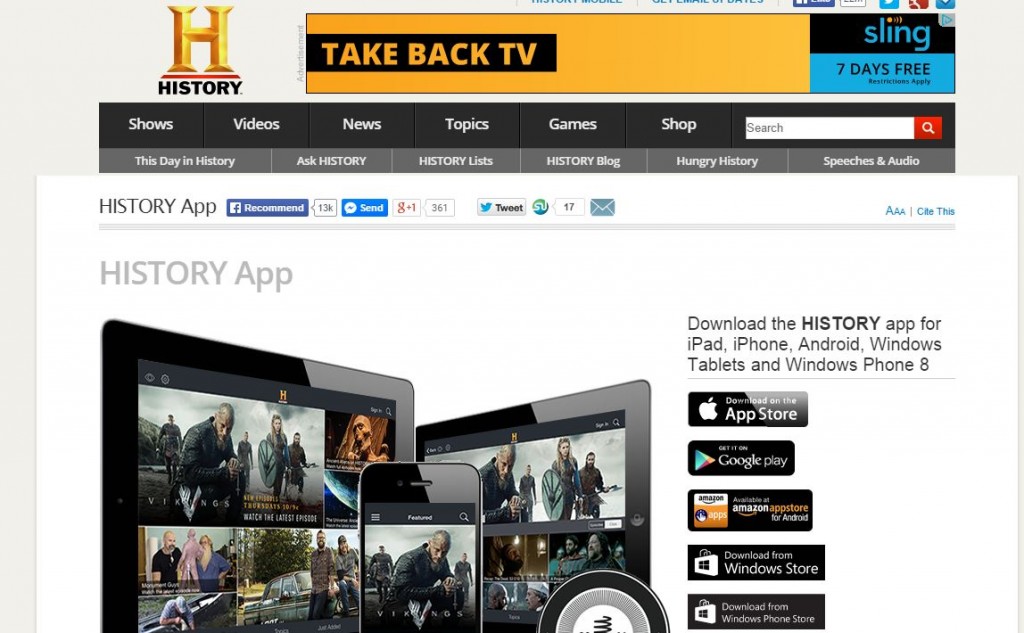 The History Channel live stream is actually pretty cool. Just visit this page on History.com and log in with your cable subscription password from Comcast or some other cable company and you're good to go! You can also download the official app for iPad, Android, and other Apple devices for free! There are a few episodes available for streaming free on the app but you won't get the full access you're probably looking for.
Swamp People streaming anywhere, anytime! Now THIS is HISTORY!  Are you feeling the HISTORY, everyone?
WATCH THE HISTORY CHANNEL LIVE WITHOUT CABLE WITH AT&T TV NOW
If you don't have cable but want to watch The History Channel online, AT&T TV NOW's service is a great option. It gives you access to dozens of other popular cable networks like CNN, FX, SyFy and more. You get a 7 day free trial so you can try it out before committing too. You can also cancel anytime if you want, which is great for those cutting the cord.
Are History Channel Shows on Netflix or Hulu?
Netflix has a major deal with the history channel, apparently. Almost every show on the History channel is available on Netflix. Start watching Ancient Aliens online, stream Pawn Stars and check out "The Bible" if you feel so inclined.
Vikings, on the other hand is only on Hulu right now. We assume that most of you subscribe to both Netflix and Hulu but if you're a real History channel online buff and you can only afford one of the two we'd suggest Netflix.
Download Full Episodes of History Channel Programs for Streaming
You can also download entire episodes of History Channel programs on Amazon or iTunes. This will allow you to stream full episodes of Vikings and other shows whenever you want. But you won't even need an app or even an internet connection because the files will be on your hard drive.
Watch Select History Channel Programs Online with Sling TV
Sling TV also offers access to some History channel programming for a few extra bucks per month. A Sling TV subscription can really start to add up but if you're a History buff (heh) it might just be worth it to add this channel to your account. Sling doesn't give you a History Channel live stream or access to every single show but you'll get their top programming like Pawn Stars and whatnot.  Check it out to get the details.
Last Updated on by Exstreamist