Years ago, a revolution happened in television. Instead of scripted shows, more and more networks began to create reality TV. Bravo Network led the way with shows like Real Housewives and Top Chef taking the stage. Today every network has their share of reality TV and they probably owe some of their success to Bravo. You may think their content trashy, uncivilized or low brow but the fact is, millions of normal, intelligent people watch Bravo's shows every week and they're still rolling stronger than ever.
There are several ways to watch Bravo online. Bravo is streaming in a few different ways so let's go through them so you can get your Andy Cohen fix for the day.
WE RECOMMEND: Hulu Live
Of all the streaming services, Hulu is our favorite. Their live stream is the best in the business. With full access to a live stream of Bravo, as well as a back catalog of their shows, Hulu Live's free trial is a no-brainer. Check it out here:
Watch Bravo Live with Sling TV
Bravo shows are now on Sling and that includes all of them since it's live! Sling is a cable alternative that includes networks such as USA, AMC and TBS among many others for a low price and doesn't require a commitment. Head over there now to check it out and sign up for the free seven day trial.
Stream Bravo Network with DIRECTV NOW
Can't get enough Bravo? DIRECTV NOW's service is a bit newer but has all the channels you're probably looking for including Bravo, AMC, ESPN and more! You get a 7 day free trial so there's no risk here at all if you're looking to watch Bravo online without cable. It comes with dozens of other channels as well, check it out!
Try DIRECTV NOW Free for 7 Days
Watch Bravo Live with fuboTV
If you're a Bravo fan then fuboTV should help you live stream the network while on the go. The service offers the first month for $19.99 with subsequent months costing you $44.99. While we admit that the pricing is comparatively steep but its still far cheaper than regular cable. Plus, the fuboTV has a unique selection of networks which are worth considering. We advise that you try the service for free by clicking below before deciding.
Watch Bravo Online for Free with the Official Website
One great feature of Bravo's is the fact that they put most new show's full episodes up on their website the following day for easy viewing. You don't have to log in or sign up for anything either. The one drawback here is that you'll have to deal with a mess of commercials, as you would on the normal cable broadcast and you only get a few episodes of currently running programs, not Bravo's whole library or live streaming without cable.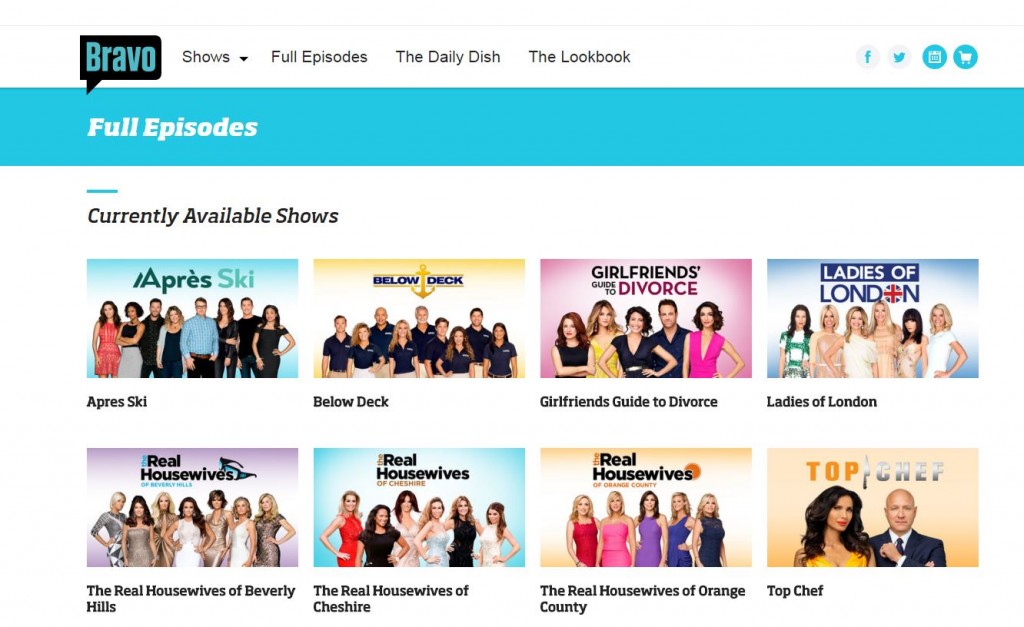 This is by far the easiest way to access Bravo TV's content online. You can watch shows whenever you want and there aren't a lot of barriers preventing you from getting what you need. That sweet, sweet streaming Real Housewives action.
Which Shows are Streaming on Bravo?
Does Bravo Network Have an App?
Yes they do! Bravo Now is similar to other cable apps where you'll have to log in with your Comcast or Direct TV account to get access. It's odd that they require you to log in since they simply offer the same content, with commercials, that they do for free on the website. Bravo's streaming app is a lesser version of what you get on their site already. We'd probably avoid this app unless you're already a cable subscriber and/or you prefer apps with logins to your browser.
Are Bravo Shows on Netflix or Hulu?
At the moment there is very little Bravo streaming content available on Netflix. There are a handful of very old shows but certainly nothing current or desirable. Avoid Netflix for your Bravo streaming needs.
Hulu, on the other hand has a ton of Bravo content available online for free. As long as you already subscribe to Hulu almost all of Bravo's shows are available on Hulu to stream.
Download Full Episodes of Bravo Shows
If you don't have the patience to search around online for Bravo shows to stream you can always head over to Amazon and download anything you want
.  They don't have newer shows but it's the only place to really grab those older seasons online if you need them. They'll cost you two or three dollars per episode but you get to keep them forever and either watch Bravo online streaming for free after that or just download them to your device for offline play.
You can also find Bravo shows online through iTunes or Google Play.
We hope you find a legitimate way to stream Bravo programming online at a reasonable cost. Comment below if you have a better way to get the job done.