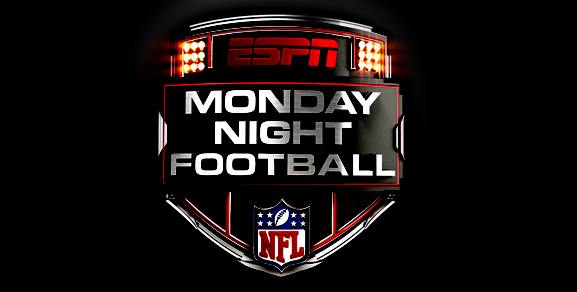 There's nothing better than Football on Sunday morning. But if 10 hours of NFL action isn't enough for you, never fear, there's another few hours of football available on Monday night as well! Usually the NFL saves a rivalry or otherwise great matchup for MNF so you're always going to see a meaningful game. It's usually not the Jags or Browns. We're talking Pats and Hawks on Monday nights!
Recently ESPN has been the home of Monday Night Football. The official NFL schedule for MNF shows all games this year presented on ESPN. This means that watching Monday Night Football online will be the same process as watching ESPN online. Here are your options for doing so.
Watch NFL Games Live Without Cable with DIRECTV NOW
Monday Night Football might be one of the harder games to stream because it's on ESPN. Similar to Sling above, DIRECTV NOW's service is a bit newer but has all the channels you want including ESPN, Fox News and pretty much every other cable channel.  Except it's not cable! It's much cheaper at $35 and you can add HBO for $5 more. Better still, if you're an AT&T customer on the Unlimited plan you get DIRECTV NOW for only $10 per month. Crazy deal, right there.  Either way you get a 7 day free trial so you have nothing to lose and you'll start streaming Monday Night Football immediately.
Try DIRECTV NOW Free for 7 Days
Watch Monday Night Football Live Online with ESPN on Sling
Another great option is a bit of a larger commitment. Sling TV is a new alternative to Cable that allows you to subscribe to several channels for a mere $20, including MNF. If the games are on ABC as they are some years or a host of other channels you're in luck because Sling gets you there too but usually they're on ESPN. Sling gives you live television so you can watch online just like you would on a traditional television. Head over there now to check it out and sign up for the free seven day trial.
Sling TV is currently one of the only platforms offering ESPN outside of a traditional cable package. Live sports have been a real sore spot for up and coming streaming services so ESPN on Sling is really the crown jewel of that platform.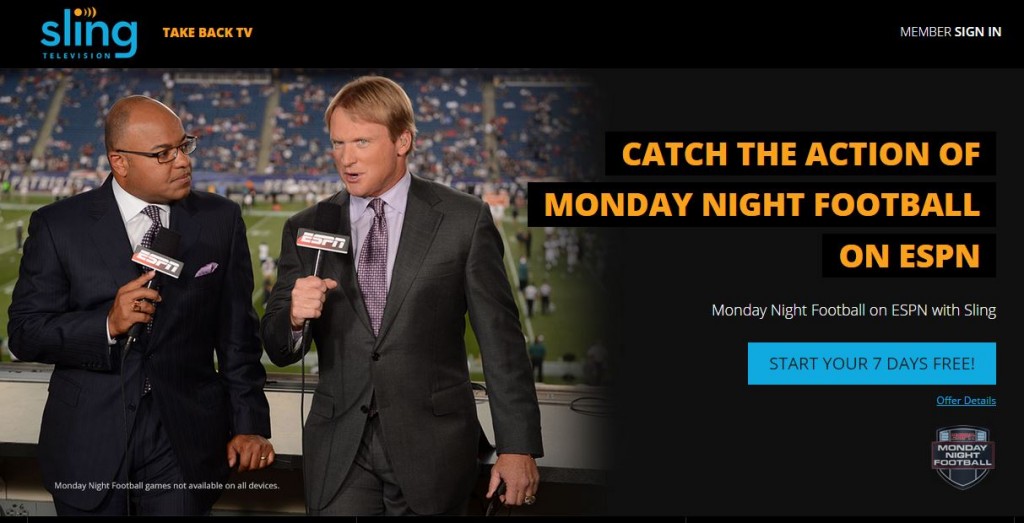 Streaming MNF with the Watch ESPN App
ESPN does have an app similar to HBO Go whereby you can login with your normal cable subscription credentials and watch Monday Night Football. This won't appeal to those who have cut the cord but it is probably the best way to get a full HD stream of Monday Night Football anytime, anywhere. Stop reading now if you're already a subscriber because downloading this app is the ultimate solution to streaming MNF.
Here's the Monday Night Football schedule for the year (all games are streaming and broadcasting on ESPN):
Sept 11: Saints @ Vikings
Sept 18: Lions @ Giants
Sept 25: Cowboys @ Cardinals
Oct 2: Redskins @ Chiefs
Oct 9: Vikings @ Bears
Oct 16: Colts @ Titans
Oct 23: Redskins @ Eagles
Oct 30: Broncos @ Chiefs
Nov 6: Lions @ Packers
Nov 13: Dolphins @ Panthers
Nov 20: Falcons @ Seahawks
Nov 27: Texans @ Ravens
Dec 4: Steelers @ Bengals
Dec 11: Patriots @ Dolphins
Dec 18: Falcons @ Buccaneers
Dec 25: Raiders @ Eagles
Is Monday Night Football on Netflix, Amazon or Hulu?
Live Sports are currently not supported on either Netflix or Hulu. Perhaps someday they'll be part of those packages but they don't even have past sporting events in their library yet. Monday Night Football is not on Netflix or Hulu.
Is There a Monday Night Football Live Stream?
The only legal way to live stream Monday Night Football online is to obtain a subscription through Comcast, Direct TV or Sling. They each have apps that allow you to watch anything you'd like online, including Monday Night Football.
Avoid Pirating Monday Night Football Games Online
There are also several illegal options but we must warn you– NFL live streams are notoriously choppy and feature a cornucopia of malware and advertisements. A recent study showed that half of all live streams are malicious. If you're comfortable with that risk and don't mind buffering as Marshawn Lynch nears the end zone moments away from grabbing himself and jumping backwards then by all means, utilize one of these "HD" streams.  for this Seahawks fan, though, I'm going to need something a bit better.