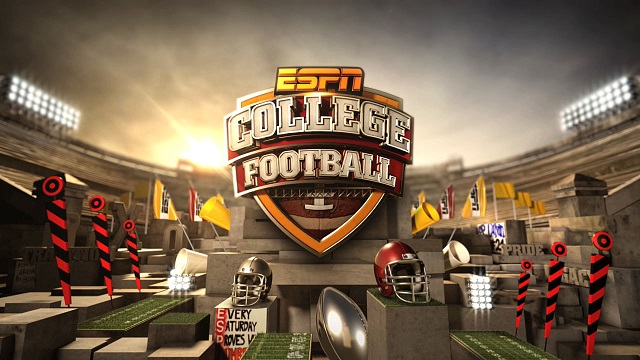 College football is finally back broadcasting brightly from our televisions and we couldn't be more excited. As we all watch these young warriors in the next step of their fight for greatness, championships and the ultimate chance to take a college football career into the NFL, we all get to sit down on Saturday morning and watch their games while perhaps still in our pajamas.
But with all live sports, college football can be tricky to stream online for the newly minted cord cutter. For the longest time, watching college football online was limited to those with the know how and the elbow grease to concoct some illicit streams through various VPN, hacks and sourced hosting that just gets too complicated for the average user.
WE RECOMMEND: Watch College Football Games with Hulu Live
Hulu is one of the most reliable names in streaming sports online. Their live streaming service is high definition, has very little lag, and works across all devices (computers, tablets, mobile, smart TVs and more). There's no better way to stream live college football games online than with Hulu. The best part? They have a risk-free seven day trial. Get access to it here:
Watch College Football on Hulu!
Streaming College Football Online (guides by Team):
Watch College Football Live with Sling TV
Another great option is a bit of a larger commitment. Sling TV is a new alternative to Cable that allows you to subscribe to several channels for a mere $20, including College Football on ESPN. If the games happen to be on ABC, TBS or TNT you're also in luck because Sling has those!  They also have channels DEDICATED to college football like SEC Network, Pac-12, ESPN U and Campus Insiders, which aren't streaming easily elsewhere. It gives you live television so you can watch online just like you would on a traditional television. Head over there now to check it out and sign up for the free seven day trial.
Fubo TV offers great college sports streaming packages
Fubo started as a plan to make it easier to stream live soccer in the United States, but has since expanded to include college football and NFL games (they offer things like NFL RedZone and such). Check out their offerings and get an exclusive free trial to stream college football games here:
Out of market? Use a VPN
If you live in one city but want to watch a college football game in another city, you can use a VPN to do so! A VPN will allow you to set a location where the game you want to watch is streaming, and then use one of the above streaming services to watch those games. We fully recommend NordVPN, and you can get a free trial to their service here:
Streaming College Football Games without Cable Using DIRECTV NOW
If you've already tried Sling or just want something a little different you can also stream college football games on DIRECTV NOW, an app much like sling that doesn't require cable and is a fraction of the cost. They have ESPN and those other networks like PAC-12 and SEC as well so head over to their signup page and start your seven day trial to stream college football games live right now:
Try DIRECTV NOW Free for 7 Days
Other Ways to Watch College Football for Free Online
But the times have changed my friends, there are several legal options for streaming NCAA football online, listed below:
Sling TV: Likely the most convenient way to watch live sports for cord cutters but also the most expensive. $20 a month gets you access to live streaming of ESPN and other similar networks that stream college football online. Certainly a cost/benefit analysis here for most, but hard to beat. One thing to keep in mind though is that Sling TV has had its occasional struggles with major sporting events, but has committed to improving infrastructure to minimize buffering issues.
ESPN's "Watch ESPN" feature: This option offers those with a cable login (or, ahem… access to one) the option of streaming football online and on mobile devices. Keep in mind this option is limited to those with subscriptions to major cable, so not the most convenient option for those looking for alternatives. Their infrastructure is solid though, meaning you wont struggle to keep up with the live feed through low res streaming.
CBS College Sports Live: For about 10 bucks a month, you can stream college football broadcast on CBS live online. Certainly not a bad option for those less interested in access to more channels not related to college football through services such as Sling. The top 50 teams are available on CBS College Sports Live:
Playstation Vue has College Football – The PlayStation Vue has little to do with the actual PlayStation console and a lot to do with streaming live television. Though if you have a console you can stream channels directly via your console but if you don't the PlayStation Vue app should enable you to stream just as easily. Like Sling TV you can sign up for a package which includes your favorite sports channels like ESPN and Fox Sports to start streaming college football. The only drawback is that the service is expensive and ties you down to a trusted internet connection…so you can't stream via your neighbor's Wi-Fi!
Old school antennas: Great news for those within a normal broadcast area. You can use a traditional antenna hookup to watch college football without cable, super easy. There are ways to get these antennas hooked up to computers too through USB, but no such luck on mobile devices, at least not yet.
We're willing to guess that watching college football online will only get easier and easier as time progresses. Live sports, once the last remaining tower of traditional cable models, is starting to modernize into the digital world, with the NFL, MLB and the NBA all in a major shift toward providing their games online through a variety of streaming options.
Other Ways of Streaming College Football for Free
The only other way to watch college football for free is to be in college and that way you can sneak into the game disguised as a mascot. Other than that there is no other free method. That said we advise you to steer clear of all so-called free streaming services because those are run by pirates and we all know what the FBI does with pirates!