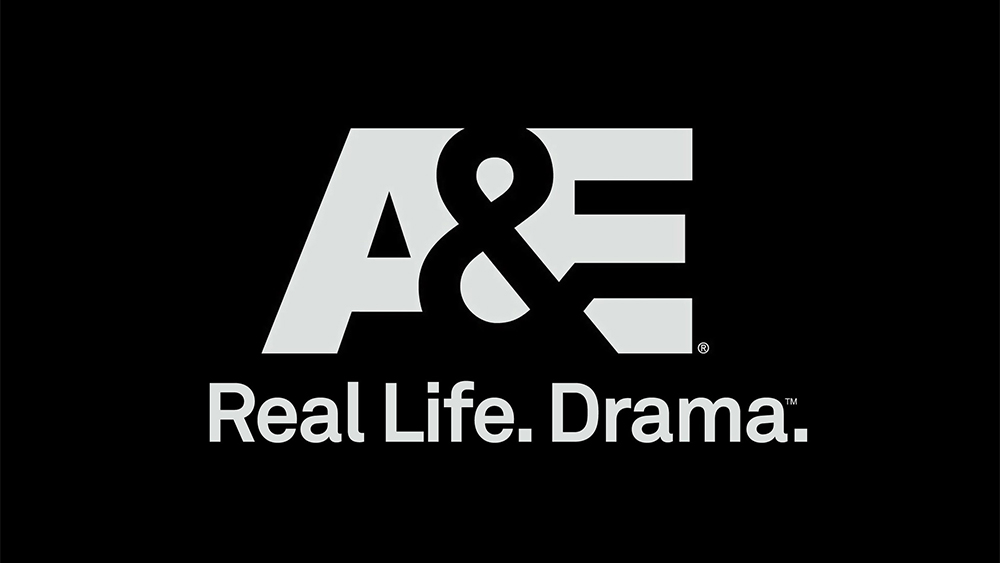 The Arts and Entertainment network, better known as A&E is a basic cable channel with a few powerhouse shows and a lot of what some might consider "filler" or "fluff". It's a guilty pleasure that, believe it or not, millions of Americans indulge in shows like Bates Motel, Intervention and Damien. It's just one more cable channel in your package of channels.  A&E is a mainstay of American television either way.
There are a few different methods for watching A&E programming online. Here are some of the easiest ways to get yourself streaming what A&E has to offer on the device of your choosing.
Live Stream A&E with Philo
Want quick access to A&E without even entering a credit card? Philo has you covered, with a 48 hour free trial. All you have to do is type in your phone number and you can start streaming. Click here to get full access to the dozens of channels they stream live.
Watch A&E Live Online with Sling
Sling TV is owned and operated by DISH network but it isn't a cable package. It's an alternative to cable that includes several channels like Lifetime, AMC and yes, A&E! If you're a cord cutter and want to give this a try you should because they offer a free trial.
Head over there now to check it out and sign up for the free seven day trial.
Watch A&E Live with fuboTV
fuboTV live streams A&E in addition to nearly a hundred sports, entertainment, and news networks. The service is for people who want to cut the cord and stream their favorite TV shows, movies and sports events on the go. fuboTV makes live streaming possible via a series of apps for mainly iOS, Android and Chromecast devices. That way you can stream on the go. Click below to try the service for 7-days free.
Free Access to A&E with Hulu
Hulu, one of the biggest names in streaming TV, offers a free trial, meaning you can stream your favorite shows live without an expensive cable package. They also offer a great back catalog of shows while streaming.
Stream A&E without Cable on AT&T TV NOW
There's another streaming-only service that's a lot like Sling and it'll get you all those channels we mentioned above and also Oxygen and Bravo streaming as well. It's a little more expensive than Sling but you'll get another 7 day free trial to decide so give that a shot.
Are A&E Shows on Netflix or Hulu?
Netflix actually does have a ton of A&E content available for streaming. If you search their library right now there are dozens of guilty pleasures available on Netflix. There are also "collections" which include 10-20 episodes of your favorites so check those out.
Hulu also has as few A&E shows on their streaming platform. Intervention and a few others are there so check those out if you prefer to stream on Hulu. It's free if you're already a subscriber.
Streaming A&E with the Official App
A&E actually has an official website that allows you to live stream their network online. That's the good news. The bad news is that cord cutters won't be able to use this option because it requires a cable subscription and login. So you'll use your Comcast log in to access this for free after your traditional cable subscription.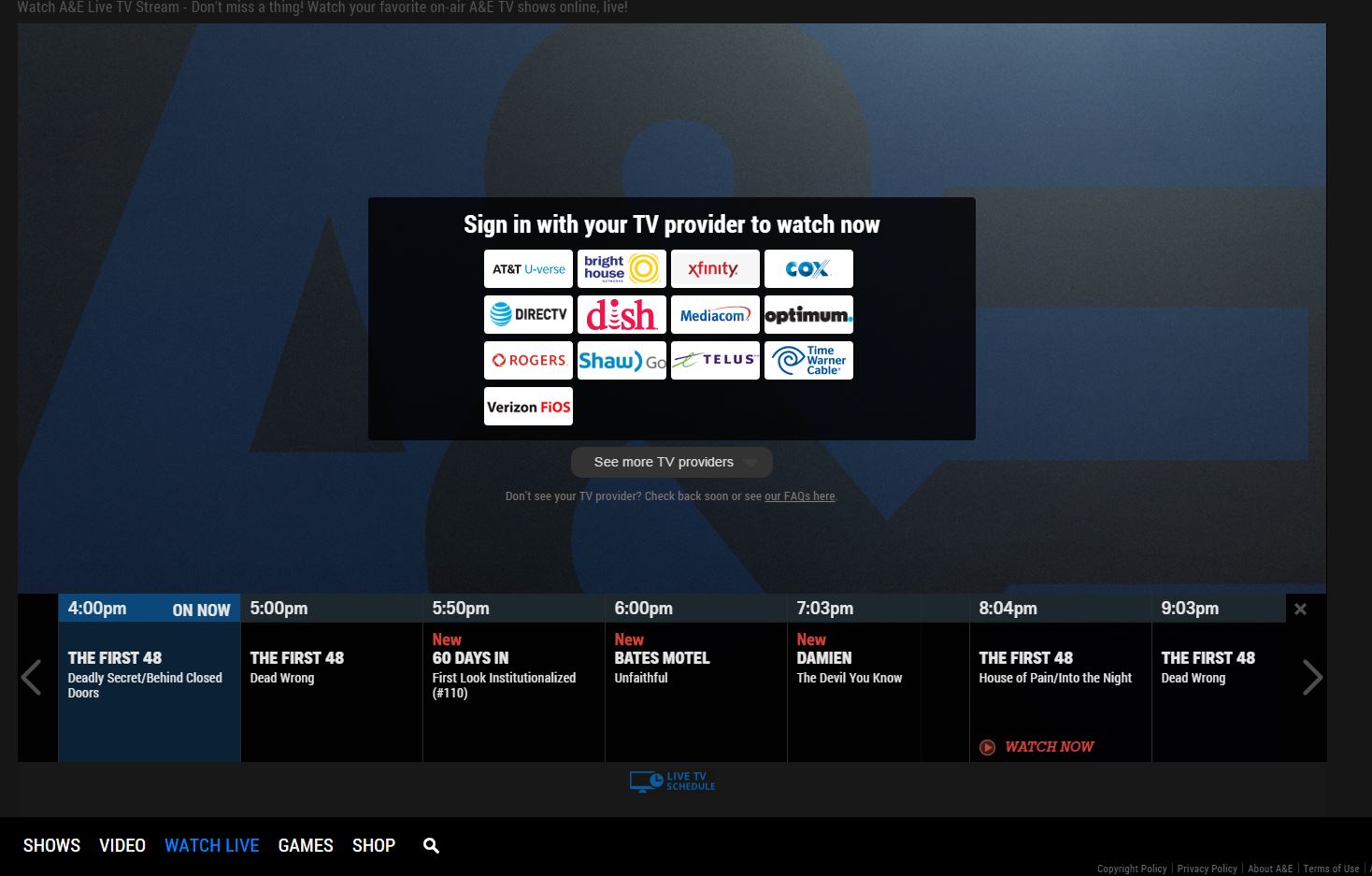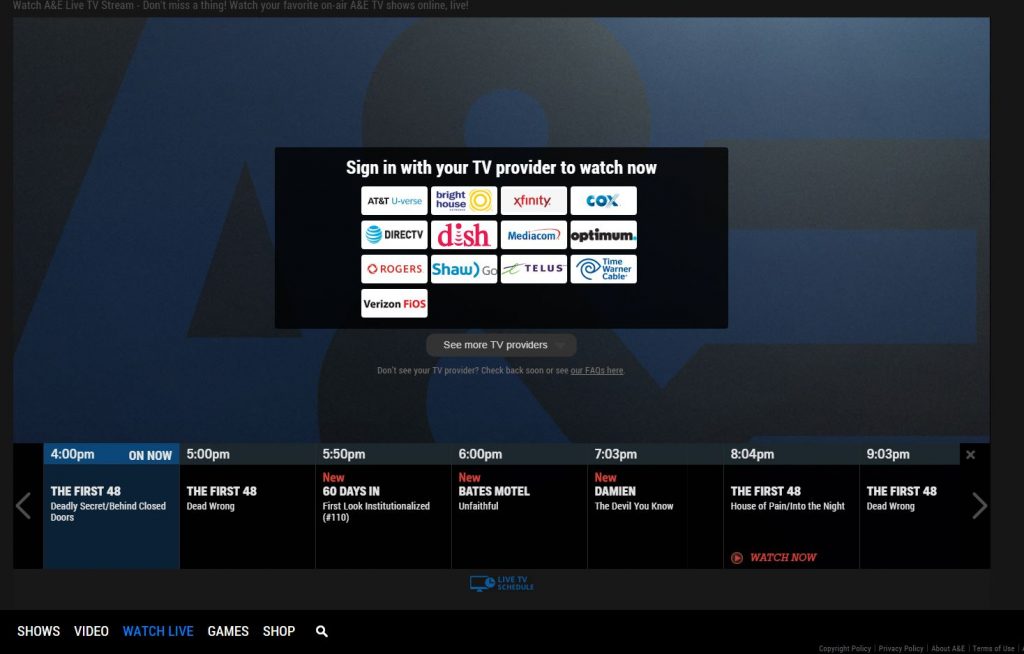 They also have an official app that doesn't require a cable package to access. Though, if you want full access to all of the programming you'll have to verify your normal A&E channel subscription. New episodes of shows are available to everyone, as long as they're willing to watch commercials. Give that one a try if you can deal with commercials and don't have a cable subscription.
Download Full Seasons of A&E Programs
Some people would rather avoid apps, websites and subscriptions all together and if you'd rather just watch one or two shows per year on A&E you can just download them on Amazon for a small fee. This way you'll have them forever and you don't have to worry about where your favorites are ten years from now when the streaming rights change hands.
Can you think of any other ways to stream A&E online for free? Leave us a comment below with your thoughts.
Last Updated on by Exstreamist