Remember when there were only three channels on TV? Of course you don't, you're not 75 years old. But a long time ago in a televerse far far away CBS was one of the original network stations that composed those famous "big three" that your grandpa sometimes alludes to. Today, CBS has tried to keep up with the times by providing a few different streaming options for their shows. Which shows, you ask? You probably watch them now and just don't actually know what network they were on because you downloaded them online.
Survivor, NCIS, The Big Bang Theory, Living Biblically and Big Brother are all on CBS. But unless you want to bust out the rabbit ears most cord cutters will need an online streaming option to watch CBS programming online. Here are a few ways to watch CBS online:
Watch CBS with the Official App or Website
You first CBS streaming option is to simply visit CBS.com and stream recent episodes from there. You'll have to watch unskippable commercials that seem to repeat themselves too regularly but it's free and you can keep up with all your favorite shows without a subscription or anything.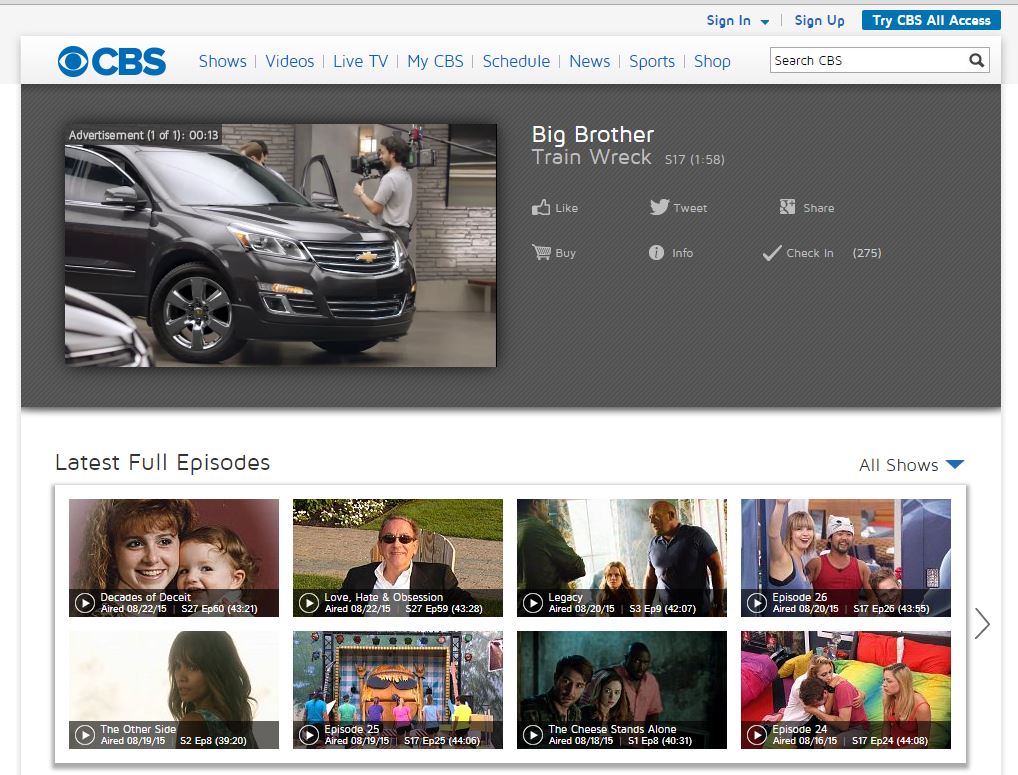 You can also use the official CBS app on iPhone, Android or Windows devices.  It's basically the same as the website, with the same commercials but it's absolutely free and you won't need a cable package. The downside, again is that you only have access to the most recent seasons of content. If you don't need the historical library of CBS content available online then either of these official channels will work for watching CBS online.
Are CBS Shows on Netfix or Hulu?
Hulu is actually owned by some of the big networks, Fox and NBC but not CBS. This could lead to some awkward competitive situations where CBS content may not always be available on Hulu. Their FAQ explains that only past CBS content is available meaning no new CBS series are on Hulu. Sorry, Hulu folks!
Are CBS shows on Netflix, at least?  Again, no new CBS conent is on CBS though there are some old shows like MASH and Star Trek available that are technically property of CBS.
Download Full CBS Series on Amazon or iTunes
Almost all CBS programming is available on pay per episode streaming platforms like Amazon Video and iTunes. Here, you'll pay just 2 or bucks for an episode of your favorite CBS show. You'll have to wait at least until the next morning to download these episodes but the pluses here are that you can watch them offline and you'll own them forever.
Live Stream CBS via fuboTV
fuboTV is another leading cord cutting service which streams nearly a hundred networks at around $44.99 a month. Though they throw in the first month for just $19.99. While as of  yet CBS is not part of the service's lineup of networks, its still possible to stream dozens of others via their apps for Android, iOS, Chromecast and many other devices. Want to try it out? click below for a free trial.
Is there a CBS Live Stream?
There is a live stream option for CBS but it does cost some money. Six bucks for live streaming access to CBS on their official app. This could be a great option if your live sports event happens to be on CBS. They offer a free trial so use that if you only want to watch a single program like the NFL.
The other obvious option is piracy. But wouldn't you feel bad for the underpaid actors and actresses on The Big Bang Theory if you were watching their program online illegally!? Of course you would, your conscious would eat at you and you wouldn't even be able to laugh at the program.
We hope one or more of the above CBS steaming options gets the job done for you.
Shows Streaming on CBS: