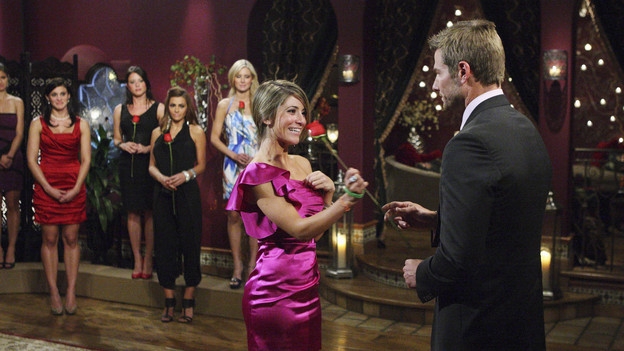 If you're a guy, like me, you're probably sick of hearing all of the ladies in your office, let alone your wife go on and on about ABC's 'The Bachelor" and "The Bachelorette".  But maybe there's a way she could enjoy the show on her own, without interrupting your MLB game, right?  There are several ways to watch both the Bachelor and The Bachelorette online. ABC has given you a few different ways to stream The Bachelor and The Bachelorette as well as Bachelor in Paradise. Here are the most popular:
The Bachelor and The Bachelorette is on Hulu and Hulu Live!
Are you a Hulu Plus member? Of course you are. Well, you're in luck because Hulu not only has past episodes of The Bachelorette, it has NEW episodes both available LIVE as well as on-demand the next day.  Miss an episode of The Bachelor? Fire up your smart phone, ipad or tablet and watch it on the bus on the way to work.  This is probably your best bet but let's go through a couple more options below in case you're allergic to Hulu or something.
Stream The Bachelor and The Bachelorette live on Sling TV
Great news Bachelor nation, you can stream 'The Bachelor' and 'The Bachelorette' live with a Sling TV login. If you're not so sure what Sling TV is, you can sign up here for a one week free trial and stream to your heart's content. You also get channels like HGTV, Bravo, Oxygen and ESPN (for the sports fan in your house) as well so you're not going to be wasting money on a single show or network. This is the future of TV, everyone!
Is The Bachelor or The Bachelorette on Netflix?
Quick answer on this one: No, neither The Bachelor or The Bachelorette is on Netflix at this time.  There are some DVDs for rent on Netflix in the "Best of" category but that's probably not what you're looking for.  That's not streaming!  Anyway, you won't get your fix for The Bachelor on Netflix so let's move on, shall we?
Watch The Bachelor and Bachelorette Live on AT&T TV NOW
Another new non-cable streaming service comes to you from what you probably think of as a cable (satellite) company. AT&T TV NOW is like Sling in that you get a ton of channels including ABC live streaming along with tons of other channels as well (see their list for more details). You get a 7 day free trial so there's no risk to giving this a shot.
Stream The Bachelorette or The Bachelor on ABC's Official Site
Another option is to go to ABC.com and check out their streaming offerings.  You'll have to verify your account information and then watch more commercials than you probably would otherwise but nevertheless you'll be watching The Bachelorette online in no time!  They remove the episodes after a period of time so keep up!  You want to know who gets the rose the next day or sooner anyway, right?  Check out their page for The Bachelorette here.  The Bachelor isn't live at the moment but once the show comes back on the air it will be here.
ABC also has an app called ABC Go that you can use to get to both of these shows.
We'd go on but there are two solid ways to watch The Bachelor and The Bachelorette online.  Hulu Plus and ABC Go. Both are better than pirating the show and neither are very expensive.  Check both of those out if you're a big fan of these reality series.