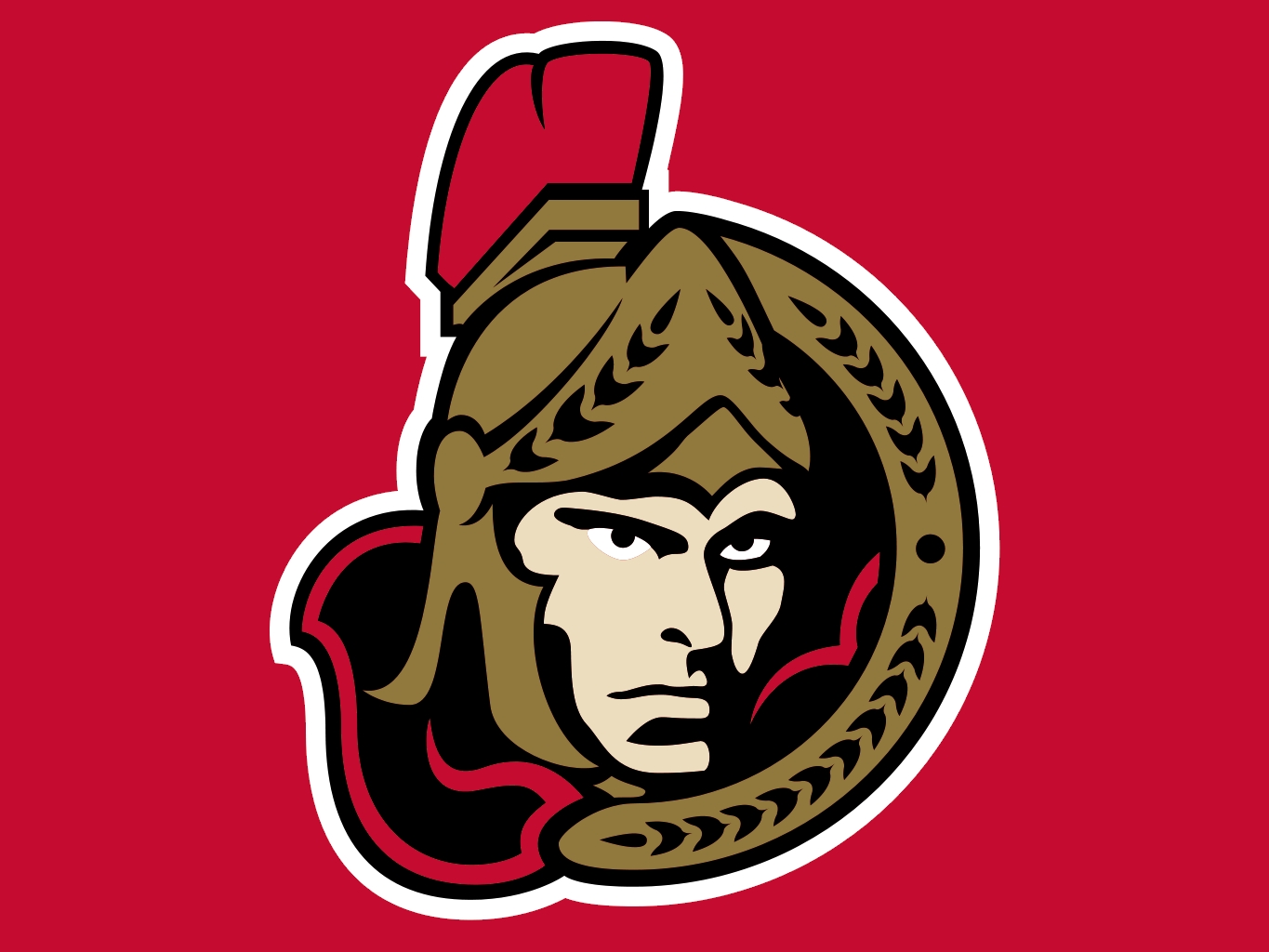 The Ottawa Senators are a pro ice hockey team based in Ontario, Canada. The team is a member of the Atlantic Division of the NHL. The Senators play their home games at the massive Canadian Tire Centre with a seating capacity of 18,694 people officially inaugurated in 1996. The original Senators was founded back in 1883. The original team had won eleven Stanley Cups between 1917 and 1934. Eugene Melnyk currently owns the team and in 2014 was valued at $400 million by Forbes magazine. The club's main claim to fame is that it's a major fan magnet with their games attracting some of the largest crowds as compared to any other NHL team. Ex-Tampa Bay Lightning's head coach Guy Boucher joined the Senators in May 2016, with Rob Cookson employed as the team's assistant coach. The Senators share a division with the Buffalo Sabres, Boston Bruins, Detroit Red Wings, Florida Panthers, Montreal Canadiens, Tampa Bay Lightning and Toronto Maple Leafs.
If you are a huge Ottawa Senators fan, then we don't blame you because you don't need to be Canadian to be a fan. So, below is how you can catch all the team's games online without having to visit Canada.
We Recommend: Hulu for Streaming Ottawa Senators Games Online
One of the biggest names in streaming now has a live sports option. Hulu Live offers dozens of channels including NBC Sports, ESPN, and more, meaning you can access most Senators games online. They also offer a great free trial, so if you're hoping to watch tonight's game, you can try before you buy. Check it out here!
Fubo TV offers live Senators game streams
A little bit more expensive than Hulu Live, Fubo is a great option though if you're looking for some of the more obscure channel streaming options. Odds are good if the Senators game is online, you can find it on Fubo.
Want to watch an out-of-market Senators game online?
If you live in one city, but want to watch a Senators game being broadcast in another city, you will need to use a VPN service. A VPN will allow you to set your computer's location to wherever the game is being streamed and then access the game online with one of the streaming services above.
Watch the Ottawa Senators Online Using the Official NHL GameCenter Service
The GameCenter Service is the NHL's official live streaming service for ice hockey fans. Subscribers to GameCenter can choose to download and install the GameCenter app on their smartphones and tablets to stream the games live. If you only want to stream the Ottawa Senators online, live whenever they play then get the $100 annual subscription. If you're an overall fan and want to watch all the preseason games as well, then the $131.49 annual package makes more sense, or you can subscribe for a monthly fee of $24.99. Regardless, of the package you choose the service gives you a front row seat to all the action without having a regular cable TV subscription.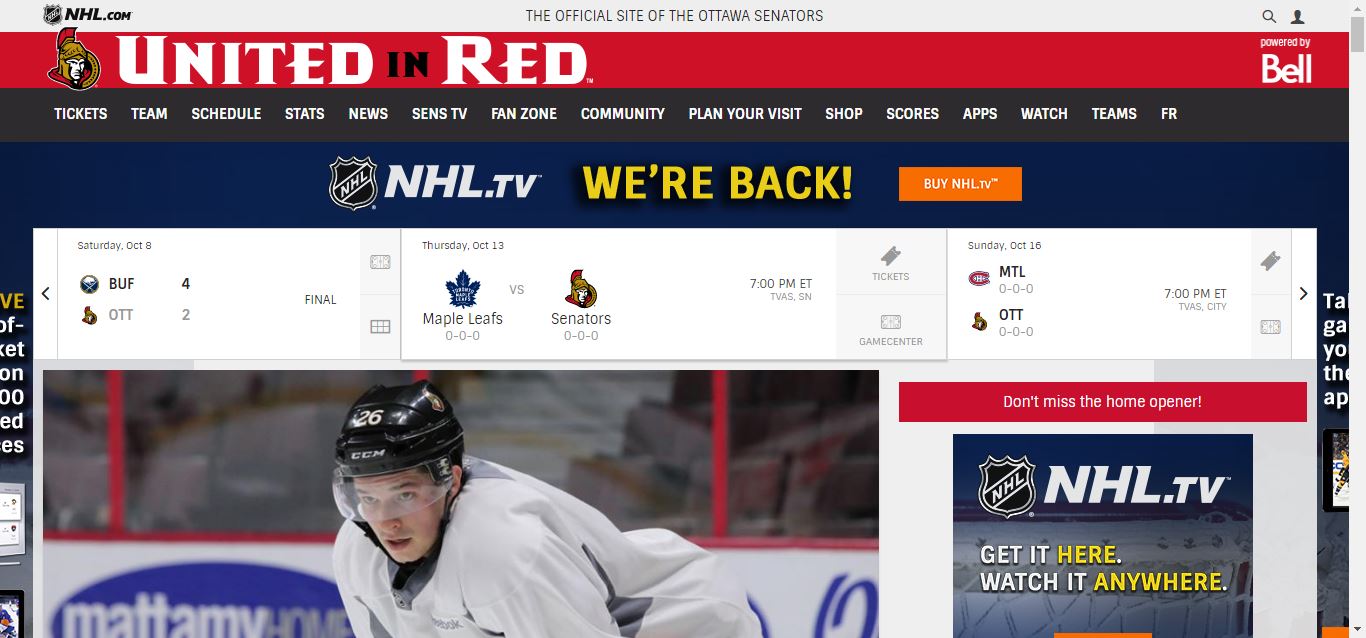 Live Stream the Ottawa Senators Online with Sling TV
When you subscribe to Sling TV, you can stream the Ottawa Senators every time they play. The reason being that ESPN now has a contract locked in with the NHL which means that they can air all the games played live. Sling TV subscribers, even those who get the basic package can live stream NHL Network, ESPN 1&2, in addition to Fox Sports. So, there is no way that you're going to miss another Senators game. Furthermore, you also get many entertainment channels such as AMC, HGTV, Syfy, etc., for just $20 a month.
Watch the Ottawa Senators Live Online with DIRECTV NOW
Fans of the Ottawa Sennators can watch their team play live from the comfort of any smart device including iPhones, iPads, and Android based devices thanks to DIRECTV NOW. The service works by streaming live channels which in this case is the NHL Network, Fox Sports and ESPN all of which are known to streams a Senators game live. Starting at $35 a month and with unlimited streaming thanks to AT&T's generosity you can't go wrong with DIRECTV NOW. Check it out by clicking on the button below.
Try DIRECTV NOW Free for 7 Days
Stream the Ottawa Senators with the PlayStation Vue
The PlayStation Vue does not require that you have a PlayStation console anymore. The PlayStation Vue app allows you to live stream ESPN 1&2 in addition to numerous other channels. The primary or 'Access' subscription starts at $40. Yes! It's a tad bit more expensive than Sling TV, but then again you're subscribing to a service backed by a big name brand! We know that brand conscious millennials won't mind the extra money!
Other Ways of Streaming the Ottawa Senators Online Free
We haven't come across any other legal and free way of streaming the Ottawa Senators online for free. If you do come across any so-called free streaming websites, make sure to check that they are legit because most times they can get you into trouble with the law.
…See you on the ice!