The Anaheim Ducks are based in Anaheim, California and are members of the NHL's Pacific Division. Originally founded in 1993 by the famous Walt Disney Company there is no mystery that the team's quirky name is based on the name of a 1993 film 'The Mighty Ducks.' However, Disney later struck a lucrative deal with Henry and Susan Samueli in 2005, who along with the new General Manager who changed the name of the team to Anaheim Ducks after the sale. Home games for the Anaheim Ducks are played at the Honda Center. The Ducks have made it to the playoffs twelve times and picked up five Pacific Division titles, along with one Stanley Cup and two Western Conference championships. The Mighty Ducks (wait, is that the wrong name?) share a division with Arizona, Calgary, Edmonton, Los Angeles, San Jose and Vancouver.
Fans of the Ducks can watch their team play on television obviously, and those who don't have television can stream live games online. Below we look at some of the best online streaming options.
We Recommend: Hulu for Streaming Anaheim Ducks Games Online
One of the biggest names in streaming now has a live sports option. Hulu Live offers dozens of channels including NBC Sports, ESPN, and more, meaning you can access most Ducks games online. They also offer a great free trial, so if you're hoping to watch tonight's game, you can try before you buy. Check it out here!
Live Stream the Anaheim Ducks Online with Sling TV
Sling TV is an excellent cord-cutting service regardless of if you're a TV fan, in general, a sports fan or just an Anaheim Ducks fan. The streaming service throws in dozens of channels even with the basic package which starts at just $20 a month. Subscribers can live stream ESPN which, by the way broadcasts just about every NHL game including ones played by the Ducks. You can also switch to other channels like NHL Network, CNN, AMC, HGTV, etc. in between the commercials. The perfect service for millennials who want to cut the proverbial cord!
Fubo TV offers live Ducks game streams
A little bit more expensive than Hulu Live, Fubo is a great option though if you're looking for some of the more obscure channel streaming options. Odds are good if the Ducks game is online, you can find it on Fubo.
Want to watch an out-of-market Ducks game online?
If you live in one city, but want to watch a game being broadcast in another city, you will need to use a VPN service. A VPN will allow you to set your computer's location to wherever the game is being streamed and then access the game online with one of the streaming services above.
Live Stream the Anaheim Ducks Online via AT&T TV NOW
Ice hockey fans can live stream almost all Anaheim Ducks games live via a AT&T TV NOW subscription. The service starts at just $35 a month and with AT&T throwing in free streaming its way cheaper than conventional cable TV. Plus, unlike cable TV a AT&T TV NOW subscription means that you can stream the Ducks game on your mobile device (iOS, Android, XBoxOne, Chromecast) on the go. Take the service for a free spin by clicking on the button below.
Watch the Anaheim Ducks Online Using the Official NHL GameCenter Service
NHL's GameCenter service allows fans of the Anaheim Ducks to live stream the game. However, depending on whether you're only a Ducks fan or happen to be a fan of the NHL, in general, the league has a package for you. Ducks only fans can opt for the $100 subscription which will allow them to stream all the preseason and regular season games played by their favorite team. If you like watching every and all NHL games, then the $131.49 annual subscription will make more sense, or you can pay $24.99 each month. Regardless of the option you choose streaming via the GameCenter app and service is smooth and of exceptional quality.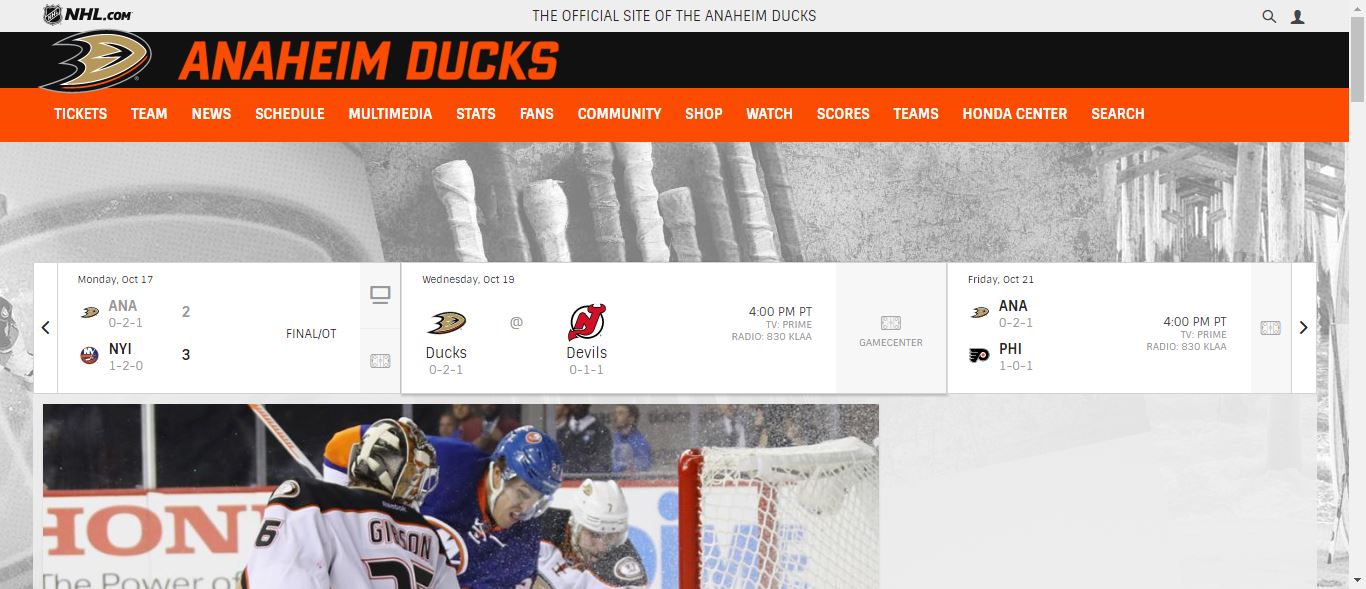 Stream the Anaheim Ducks with the PlayStation Vue
The PlayStation Vue is another live streaming service which includes ESPN along with dozens of channels. Being able to stream ESPN live means that you'll be able to watch the Anaheim Ducks play live. The PlayStation Vue app for Android, Roku, iOS and Chromecast devices ensures that regardless of whether you want to stream on your smart TV or an iPhone it's quick and hassle free. However, with the basic subscription starting at $40 a month, it's a tad bit more expensive than Sling TV.
Other Ways of Streaming the Anaheim Ducks Online for Free
Even if you are a keyboard gangster and think you're a tough guy on YouTube don't tempt fate by using the numerous free streaming websites online. The reason being that watching a so called free yet pirated streams will get you in a cell with real gangsters who don't exactly like keyboard gangsters!