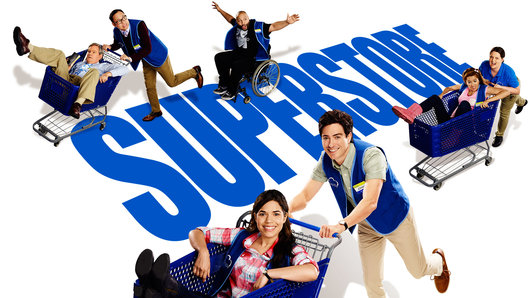 We've all had one of those jobs. Working the cash register at the local Superstore (Costco, Wal-Mart, Best Buy). The jokes in this show will ring true to many people because most of us have been there. The Office did something similar for the mid-level office job that millions of Americans can relate to. NBC is taking a swing at the meatiest part of the streaming populace: lower-middle class America.
Superstore can be streamed several different ways. NBC is even launching a comedy-only streaming app that will feature episodes of Superstore for free along with a subscription.
NBC and Stuperstore are Both on AT&T TV NOW
Are you tired of sky-high cable bills? There are alternatives to streaming Superstore online these days. AT&T TV NOW gives you most cable channels like Freeform, VH1 and all NBA Games for a low price. It also includes network channels like NBC, of course and Superstore. They have a seven day free trial so give them a chance:
Watch Superstore LIVE with Sling TV
NBC shows are now on Sling and that includes Superstore! Sling is a cable alternative that includes networks such as BET, Syfy, MTV and TNT among many others for a low price and doesn't require a commitment. Head over there now to check it out and sign up for the free seven day trial.

Watch Superstore with Seeso or on the Official NBC Website
SeeSo is NBC's streaming comedy app. With a subscription you'll get access to Superstore streaming online but also all other NBC comedies including The Office.
You can also stream Superstore from NBC's official app. The other great option is to use NBC.com and watch Superstore online there along with live shows like SNL. All you need is a browser in this case and you don't have to install anything or even log in. It's all there at your fingertips and you can enjoy Superstore anywhere as long as you don't mind watching a few commercials.
Download Full Episodes of Superstore and Keep them Forever
If you don't mind waiting a few days you can also just download full episodes of Superstore on a site like Amazon
or iTunes. The episodes are usually two dollars a piece or so but the cool thing is you can keep them on your computer or any device physically so you can play them offline as well.
If you like to collect your favorite shows like Superstore then this might be a great option for you.
Is Superstore on Netflix or Hulu?
Most newer NBC comedies are not on Netflix. Superstore isn't streaming on Netflix right now because it's too new. Search Netflix again in a few years and perhaps Superstore will be there.
Hulu does actually have Superstore episodes of the current season. They are free with your Hulu Premium subscription so head over there if that's the easiest way to stream Superstore for you.
Avoid Illegal Live Streams of Superstore
If you actually enjoy Superstore you probably want to support the people who made it. The actors and the writers who make it all possible. For this reason, and the fact that you'll probably end up catching a virus if you attempt to search for an illegal live stream or torrent make for good reasons not to do so.
We hope one of the above options for watching Superstore online gets you to where you want to be. Comment below if you've found any other ways and we'll update this piece.