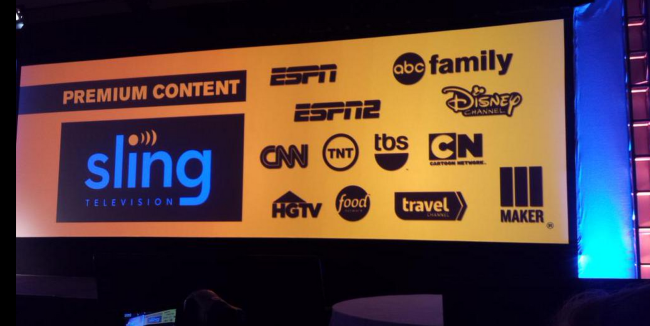 If you've ever thought about "cutting the cord" and done a quick online search you've probably stumbled upon Sling. Sling TV is a subsidiary of Dish, a satellite cable company you're most likely familiar with already. But rather than selling you a Dish for your rooftop, Sling is an internet-only service that allows you to watch TV online, with any device for a much lower price than even Dish itself can offer: 20$ a month.
So what's the catch? Well, there are some bonuses and some drawbacks to Sling's service. Let's go through them now and you can decide if it's right for your household.
What Channels are on Sling TV?
We won't go through every single channel on Sling TV but here are the highlights: AMC, Adult Swim, CNN, ESPN, Food Network, HGTV, TBS, TNT and History Channel. See below for the full list! Here's a visual representation but does not represent them all by any means. Head over to Sling to start your free trial and to see a full list: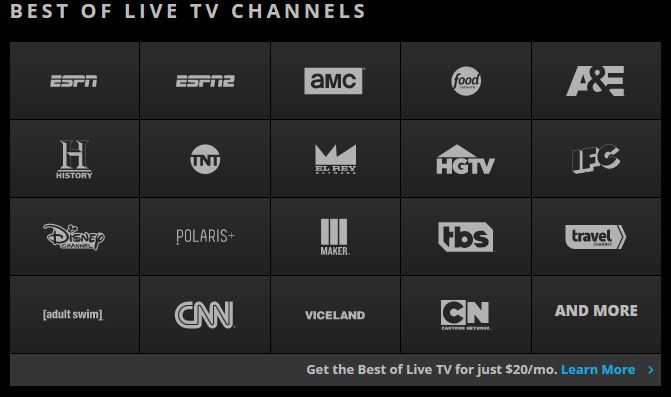 How Much Does Sling TV Cost?
That's where things get a little tricky. It's $20 a month for a basic option which includes the following channels only: ABC, Univision, UniMas, Adult Swim, A&E, AMC, Bloomberg, Cartoon Network, CNN, Disney Channel, El Rey, ESPN, ESPN2, Food Network, Freeform, Galavisión, HGTV, History, IFC, Lifetime, Local Now by The Weather Channel, Maker, Polaris TV,TBS, TNT, Travel Channel, Viceland.
You can add more channels for additional costs though. You can add HBO for $15, Cinemax for $10, a Sports of Kid's option for $5 extra as well.
So how much does Sling actually cost? The answer is $20 for the best live streaming deal around. But if you want some extras you'll have to pony up a bit of cash. Still a better deal than cable but it depends on how much you value live TV, sports etc.
How Does Sling Work?
It's pretty easy. Sling is actually an app. Just choose your favorite streaming device like Roku, Apple TV, Apple Fire or your smart phone and download the app. From there you just navigate to your favorite channel and start watching live TV. Nothing to it, right?
One drawback is that the Sling app isn't quite as ubiquitous as say, Netflix or Hulu, where it's literally built into your TV these days. But if you're using one of the major devices or your phone to watch live TV online you'll find the app there.  Not too hard, right?
Is Sling TV Worth it?
We think Sling TV is a decent deal for a cord cutter looking for ESPN, AMC and some of those other channels that don't have affordable standalone apps. Here's the great news, though if you're still on the fence. They have a great free trial program where you can sign up, watch that game you needed on ESPN and decide if you still want it after seven days. No lose situation there!
They also offer to pay for part of your streaming device, up to about fifty dollars on a Roku or Amazon Fire if you sign up for three months. Not bad.
Have you used Sling TV and have an opinion on it? Leave us a comment below so that others can benefit from your experience.