Guilt is a mystery drama series created by Nichole Millard and Kathryn Prince. The series stars the lovely Daisy Head, who is an American studying in London, during which her roommate was murdered. She soon becomes the prime suspect in the investigation, and there is understandably a lot of evidence pointing in her direction. Sooner than later people start accusing her of the crime.
ABC ordered the pilot season in June 2015, after which the series was aired on November 2015. It then debuted on Freeform on June 13th, 2016. Speaking of which, having been aired for now close to a year watching Guilt online for free is very possible! Below we look into how you can do it without breaking any laws.
Watch Guilt live at Freeform Online the Official Way 
Freeform is one of the best and first places you should go to watch the latest episodes of Guilt as it is aired. However, you should only spend time downloading the Freeform app and streaming on their website if you're a subscriber to their television channel. If you're not a subscriber and have no chance of borrowing someone's credentials because they don't trust you, then this is not a good option.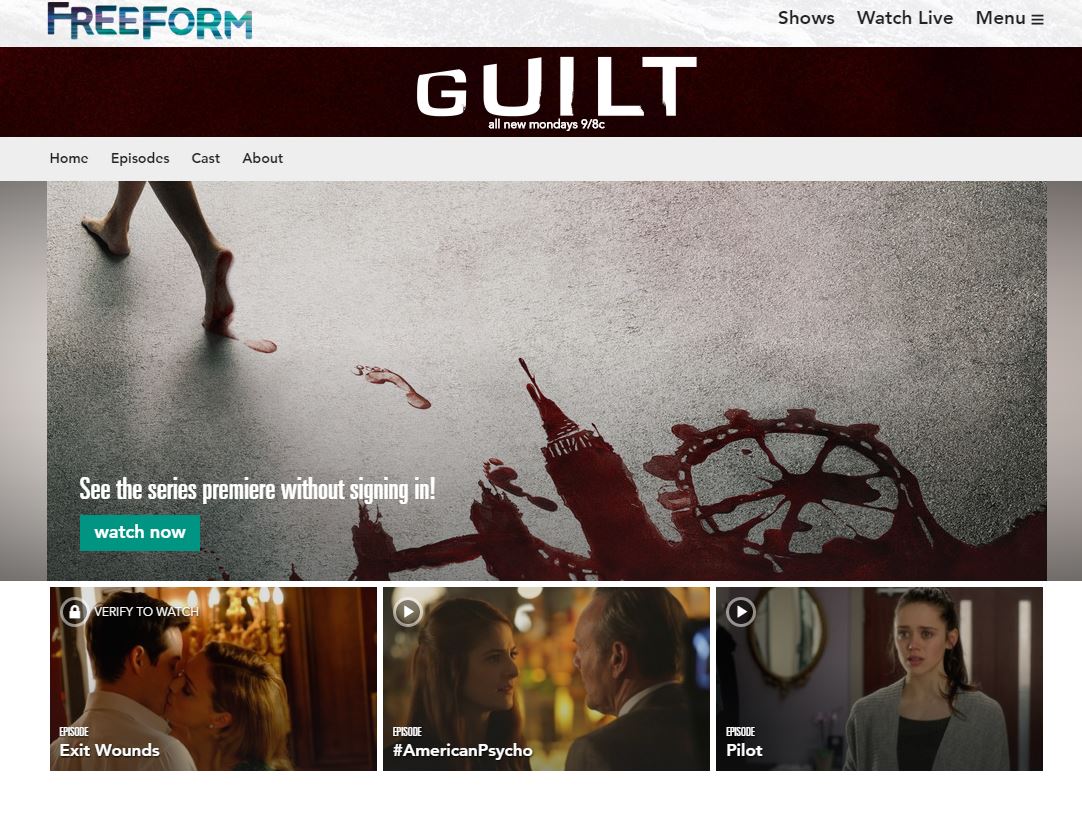 The best thing about Freeform's app is that you can stream Guilt online live for free not just on iOS and Android devices but also Apple TV and Roku.
Watch Guilt on Sling TV Live
Sling TV is a streaming service but one that streams channels like Freeform live. A monthly subscription of $19.99 will buy you endless entertainment via dozens of channels like Lifetime, Bravo, NBC Sports and more. However, in the case of Freeform, you can stream Guilt for free when it is aired on the channel and reruns whenever those are scheduled. You cannot stream on demand so to speak because it's like having cable television but without the commitment. That said you can stream on just about any iOS and Android device.
Head over there now to check it out and sign up for the free seven day trial.
Streaming Guilt on Hulu but Not Netflix
You can catch almost all episodes of Guilt on Hulu. The best part is that Hulu is updated quite frequently with the latest episodes so you'll not be missing anything perhaps for just a couple of hours. That said if you've missed previous episodes or just watched a few on ABC last year then Hulu is an excellent choice. Though you'll have to be a subscriber or at least, have access to their free trial.
Guilt is not on Netflix currently.
https://www.youtube.com/watch?v=pwwt6B2O2tk
PlayStation Vue has Guilt
Similar to Sling TV but 2x more expensive at $39.99 for their basic Access package. However, with the Vue you can watch Guilt online for free and that too live. That said you can stream Vue via the PlayStation 4, Chromecast, Roku and Amazon Fire amongst many others in addition to iOS and Android. The only drawback apart from the pricing is that you'll only be able to stream through a registered connection.
Are there any other free ways to watch Guilt online for free?
Yes, they are, but we wouldn't recommend them because they are illegal and can end up getting you jail time. Personally, we'd advise you stay away from any website that does not look American!