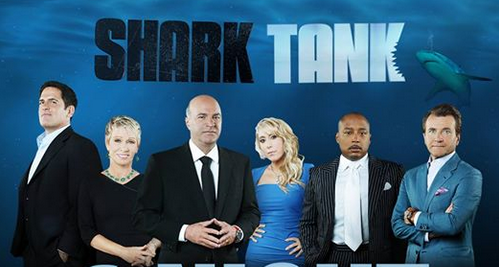 We all have that dream. Not only to become ridiculously rich on the merits of our own wonderful ideas, but to do so on a public stage. Success is built on hard work and Shark Tank is a show that honors that. Marc Cuban, Mr. Wonderful and Barbara Corcoran are just some of the "sharks" you'll have to convince if that dream is to become a reality. It's just part of living in America. Everyone's an entrepreneur at heart (or are they?) Is your idea one in a million or is there "nothing proprietary here?"
ABC holds the keys to this show but they do have some great streaming options for Shark Tank online. Here are just a few of them.
Watch Shark Tank Live with Sling
Need to watch the show live but don't have a good solution and hate cable? Sling is an alternative that gives you channels like Zero, PBS and Univision. It's only 20 bucks and gives you access to hundreds of channels. Check it out with a 7 day free trial and get Shark Tank live:
Live Stream Shark Tank with AT&T TV NOW
Like watching people pitch for funding in the Shark Tank? AT&T TV NOW's service is aimed at the budding entrepreneur or nomadic freelancer who wants to keep up with shows like Shark Tank without having to spend a lot of money. The service starts at $35 a month and unlike conventional cable does not require a long term commitment. Subscribers can live stream Shark Tank and other shows via AT&T TV NOW's apps for iOS and Android devices.
Stream Shark Tank Online for Free with Watch ABC and the Official Website
The easiest way to stream Shark Tank online for free is to download the official Watch ABC app or navigate to the official ABC website.  There are a couple of caveats here (as always). You'll have to live in a certain area of the country for these to function properly (Seattle doesn't appear to be one of them).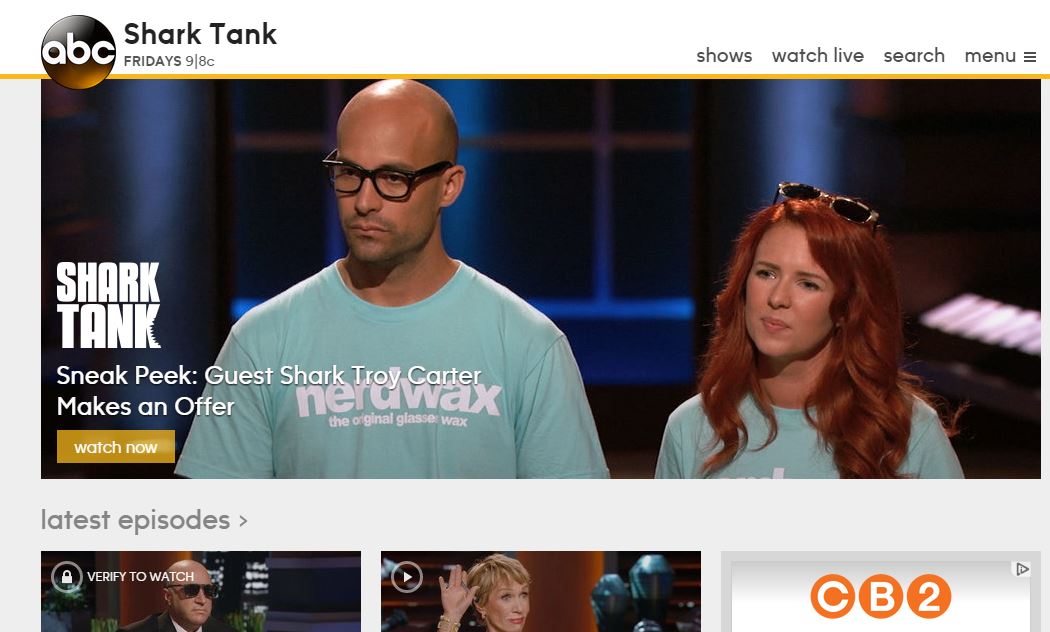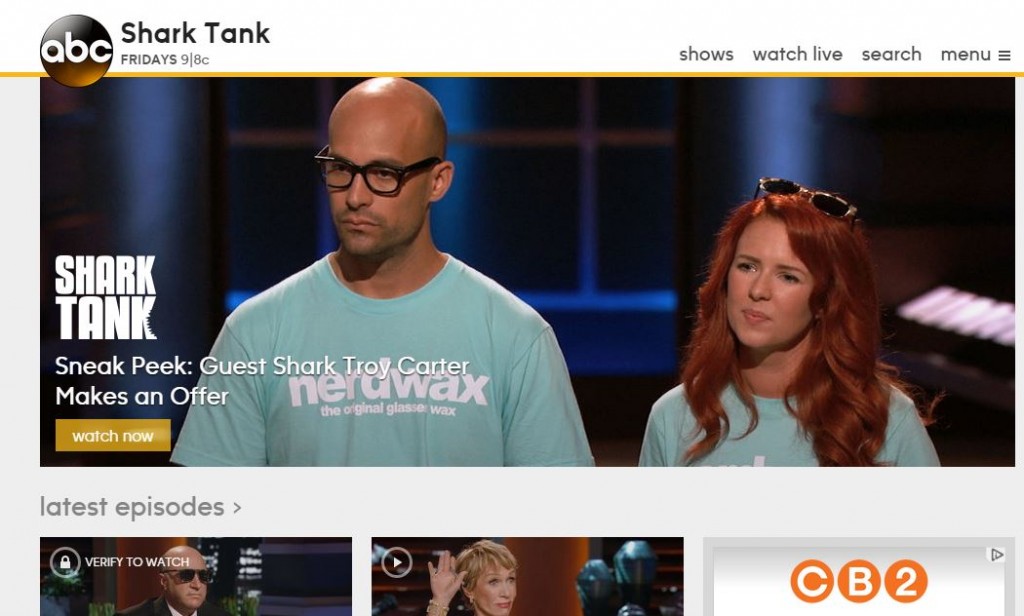 And you'll also have to watch some commercials. But you should be used to that, right? Shark Tank is basically a collection of infomercials.  Good infomercials but a collection of ads nevertheless.
Shark Tank on Netflix or Hulu?
Hulu currently has a deal with ABC where most of their current programming is available the next day, including Shark Tank, on their streaming platform. So you can watch the most current episode of Shark Tank on Hulu if you're a subscriber to that service.
Netflix does not have access to episodes of Shark Tank. You will not be able to watch Mr. Wonderful crush people like so many cockroaches beneath his shiny black boots on Netflix.  Sorry, not sorry.
Shark Tank is Also Streaming on CNBC
You can also catch reruns of Shark Tank on CNBC all the time. The official CNBC has a few episodes available for live streaming but only the latest ones. You might have some trouble streaming Shark Tank online in this way but if you have the channel, you may want to set your DVR to record a few episodes if you aren't 100% caught up.
Purchase Full Seasons of Shark Tank on Amazon, iTunes or Google Play
If you'd rather own full episodes of Shark Tank and don't want to have to worry about where they're streaming for the rest of your life you can also download them from Amazon, iTunes or any number of other services. Here's a link to Amazon for their collection of Shark Tank episodes
.