There are few names that a non-historian could identify from this time period but Houdini is certainly one of them (Doyle not so much). Fox is drawing upon a british series of the same name to bring us a period piece that fans of Sherlock will probably be interested in. From the trailer below it looks like we're going to be in the mystery/suspense genre here. If you're into that then you'll probably want to watch Houdini and Doyle online at some point, online or offline on Fox.
There are several ways to do that and we'll go through the most practical below. Here are some ways to watch Houdini and Doyle online for free.
Are Houdini and Doyle on Netflix or Hulu?
Fox has a pretty extensive deal with Hulu right now so Houdini and Doyle will probably stream on Hulu for no additional fee. You'll have to wait until the next day, as with most Hulu programming but that may work well for you if you're already a subscriber.
Netflix also has some Fox shows but they don't arrive on Netflix until years later. So essentially Houdini and Doyle are not on Netflix at this time. Check back later, though as Netflix buys and drops shows all the time.
Stream Houdini and Doyle Live with Sling TV
Another great option is a bit of a larger commitment but is still cheaper than cable. Sling TV is a new alternative to Cable that allows you to subscribe to several channels for a mere $20, including Fox and Houdini & Doyle. This is a great way to watch Houdini & Doyle streaming even if you don't have a cable subscription. It gives you live television so you can watch online just like you would on a traditional television. Head over there now to check it out and sign up for the free seven day trial.
>> Sign Up for Sling TV and Watch Houdini & Doyle Live for 7 Days Free <<
Watch Houdini and Doyle Online with the Official Fox App and Website
Fox also has an official app and website that function almost identically for streaming Houdini and Doyle. Episode are available the next day and you won't have to subscribe to anything but you will have to watch a ton of commercials. At least on Hulu you can pay to get rid of them. With the Fox app and website you're locked in for commercials during your Houdini and Doyle streaming experience.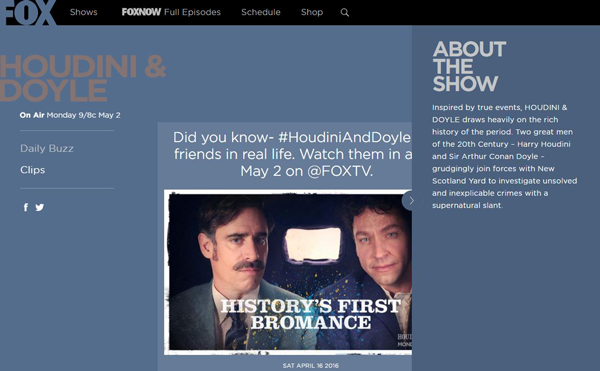 Download Full Episodes of Houdini and Doyle
If none of that appeals to you then you can always head over to a digital retailer like Amazon, Google Play or iTunes and download full episodes and seasons of Houdini & Doyle. Seasons are about thirty dollars while episodes or three to four dollars a piece. You get a deal if you download the entire season at once. Amazon will have episodes the day after they air so check that out if you need to download Houdini and Doyle.
https://www.youtube.com/watch?v=4pSa3biSpbA
Do you have a better way to watch Houdini and Doyle on Fox for free online? Leave us a comment below with your method of choice.