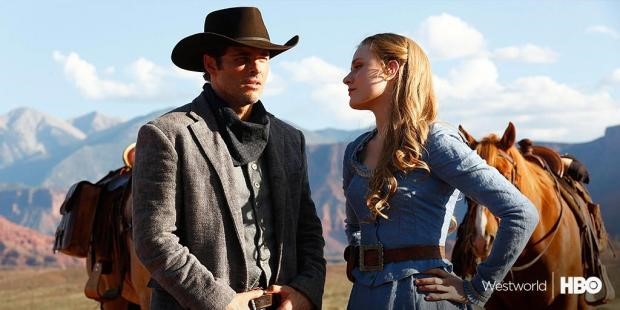 Westworld may sound like a western themed series, but it's not. It's, in fact, a science fiction TV series created by Jonathan Nolan for HBO. The series is based on the 1973 film of the same name which was originally directed by Michael Crichton.
The series is based in a theme park of the future called "Westworld." So, now you're starting to get a feel for what this series is all about but there are a few twists, and we are going to give them to you without any spoilers hopefully. The theme park we mentioned has a Western theme… yea right! So all these futuristic consciousness are trying to experience what it was like when the West was till untamed but it comes back to bite may people.
Well now that you're interested in what is a Western with a futuristic theme flick how do you watch it? Read on…
Stream Westworld Live with Sling and an HBO Addon
Sling is a cable service that lives online. You don't have to subscribe long term or have a smelly technician come out to your house to install. It's 20$ a month for access to channels like Nick Jr, Lifetime and ESPN.  It's 15$ more to add HBO but then you have everything in one place just like cable!
Head over there now to check it out and sign up for the free seven day trial.
Use AT&T TV NOW to Watch Westworld without Cable
Much like Sling, AT&T TV NOW is a cable-free option for streaming all of your favorite shows and networks including HBO and Westworld. It's a little more expensive but you get the brand recognition from DIRECTV and there's actually a huge discount for AT&T customers so be sure to check out their free trial as well.
Watch Westworld on HBO Go or HBO Now
You can watch Westworld for free online on HBO, but you need to be a subscriber. If you're not then, your begging skills should be good enough to get the username and password from friends and family members. If you succeed, you can watch not just Westworld but also pretty much everything that HBO has to offer via their official website and their app for mobile devices.
The other option is HBO Now, which is HBO's own streaming service. However, it's not exactly free; the first month is free though which is enough time to determine if you like their streaming service. After the first free month, you pay $14.99. If you have an Android device then sorry there is no app for you, it's only for overpriced iOS devices. But who on earth does not have an iPhone or an iPad for that matter?
Westworld is Not on Netflix, Amazon or Hulu and Probably won't be Streaming there for a While
Yes, that's right HBO is another hard ass when it comes to trying to monopolize its market. You're forced to pay $14.99 and stream directly from them which is pretty hard if you're barely making ends meet because you're too lazy to work. Westworld is not on Netflix, Hulu or Amazon (yet).
Avoid Illegal Streaming Methods for Westworld
Well, that's a good question there are alternatives obviously because it's the world wide web but they are not exactly legal. You can get shut down and sued faster than Napster and probably thrown in with Snowden or some other nutter. But let's be fair you're poor, but you want HBO!
A Google search for "Watch Westworld online for free" will help you find probably two dozen streaming services which are free. They will shoot up ads and malware of all kinds into your computer's hard drive but who cares its free. Though any sane person is strongly advised against streaming HBO for free via websites mostly hosted in China and Russia.
That's pretty much it. Hopefully Amazon Prime will soon have episodes of Westworld for the standard $3 a pop which is legal!