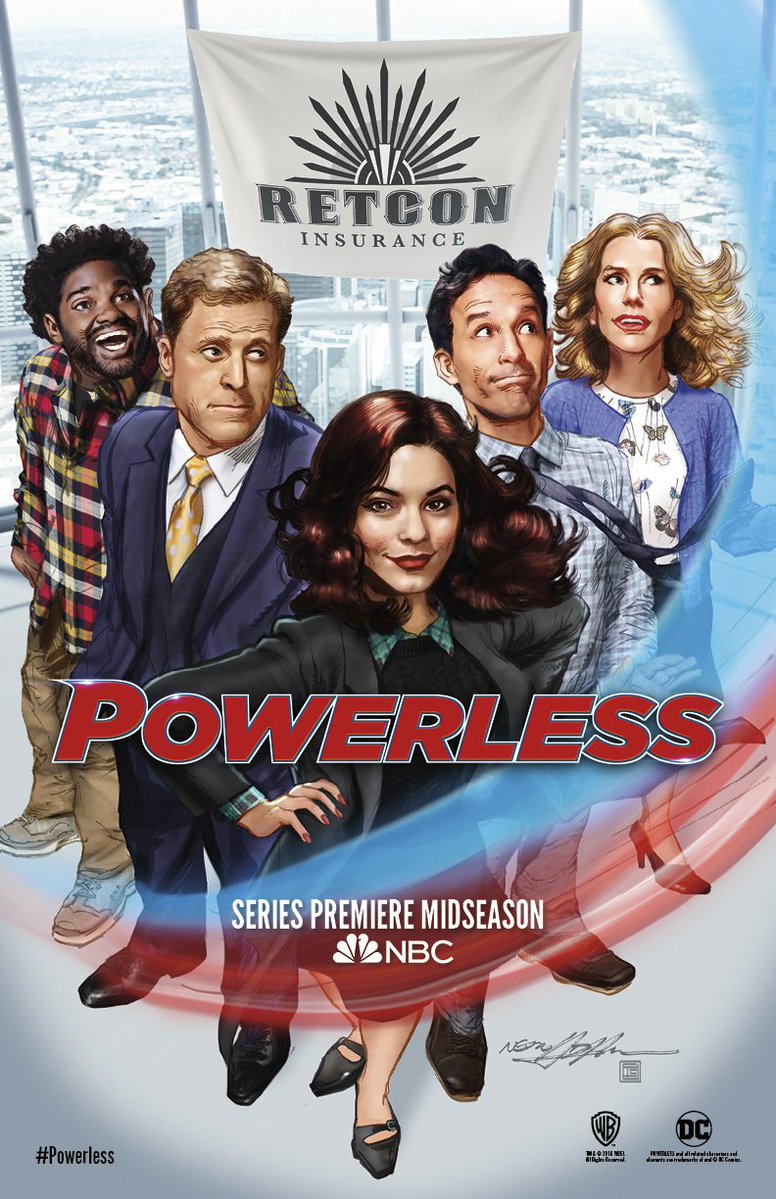 Powerless is a serial developed for NBC by Ben Queen. It is one of the first sitcoms that center around the DC Universe and if past movie attempts are anything go by it should excite you. However, unlike other DC Comics Powerless is meant to be a workplace comedy, think 'The Office' but with Vanessa Hudgens (Emily Locke) as a boring insurance company employee. The twist with the plot or should we say the slight lack of a strong one is that everything is taking place in the DC Comics universe. But unlike other superhero shows it's about the life of a powerless, ordinary yet very beautiful person working as an insurance adjuster while rubbing shoulders with the odd superhero and supervillain. We can't tell you much more without throwing in spoilers so you'll just have to wait and watch for yourself.
If you're already leading a dull and powerless life, then Powerless will probably help you reflect upon it with a few chuckles. Below is how you can stream Powerless online and free.
Watch Powerless Online Using the Official NBC Website and App
The official NBC website gives you access to live streams which mean that you can live stream Powerless online. The same goes for the NBC app, but the great thing about the app is that it can be used across just about any smart device including Roku, iOS, Xbox 360, Android, etc. However, most millennials may feel a kick in their groin when we tell them that you'll need to have a subscription to NBC via your cable service provider to access all the goodies. You could try borrowing your parent's credentials or con your girlfriend into subscribing, but when all else fails, we have a few more options below.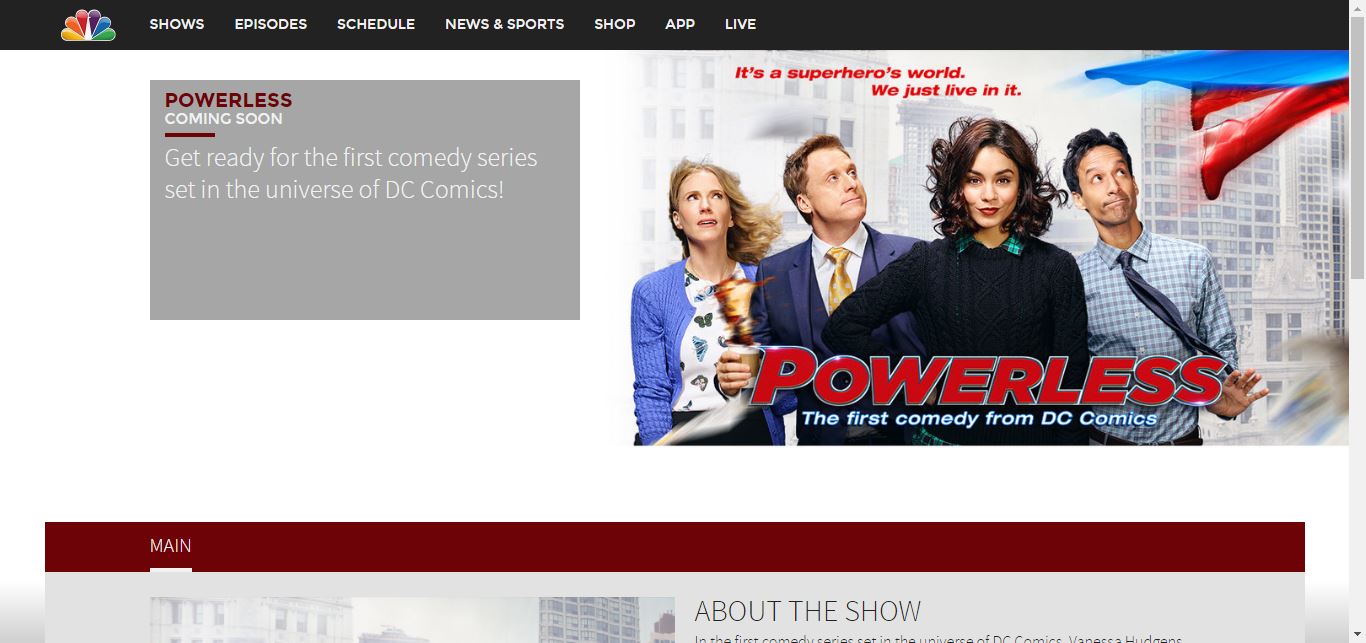 Live Stream Powerless Online with Sling TV
If all you have is a bunch of smart devices like an iPad, and a Samsung smartphone along with a laptop then Sling TV is for you. Signing up for Sling TV is quick, straightforward and cheap. The base package starts at $20 a month, but that does not include NBC. What you want to do is get the $25 package which includes NBC streamed live to your device. That way you'll never miss the latest episode of Powerless, and if you did miss out on one, you could always catch a rerun a few hours later.
Streaming Powerless on Netflix, Hulu, and Amazon
It's unfortunate that Powerless is not going to be available on Netflix mainly because none of NBC's other shows like Grimm have ever made it. So, millennials with a Netflix subscription need to rethink their priorities.
You will soon be able to stream Powerless on Hulu if you're not already possible. However, there is often a delay usually of a few hours after which an episode is aired live. That said Hulu is cheap, and if Powerless is the only show you want to watch, then you're getting your money's worth.
You'll also be able to download episodes of Powerless directly from Amazon Prime. We think it's expensive but maybe you want to watch Vanessa Hudgens in HD!
Other Free Ways of Streaming Powerless
Well, there are no other legal ways of streaming Powerless. It goes without saying that usually if something is free, it's either a crime or you're going to be penalized somehow. So, avoid websites offering pirated content because there is no 'get out of jail' card once you get in.