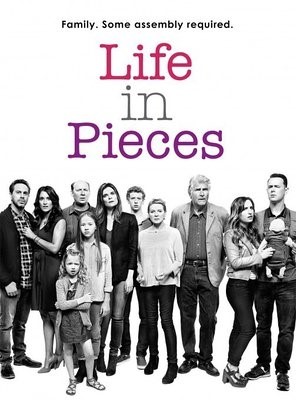 Life in Pieces is one of the newer more popular sitcoms to hit CBS created by Justin Adler. The series is about the lives of the Short family. It chronicles how each one of the three generations copes with events in their lives and from their point of view. So, you don't just hear one version of the story so to speak. Every episode is broken into four narratives one for every branch of the family with a few connections throw in for drama. Life in Pieces reminds us a lot of 24, but without the four boxes and real-time events. That said if you're into watching something different and dramatic we will bet you'll enjoy Life in Pieces, though go easy on the beer. Here is how you can watch Life in Pieces online for free.
Catch Life of Pieces Online via Official CBS All Access
The first step is to visit CBS' official website. Then you enter your subscription details and start streaming Life of Pieces online directly via your web browser or via CBS' official app. However, if you're not a subscriber because that's just way too boring for you then probably try subscribing to the online version of the channel which is called 'CBS All Access."
At $6 a month CBS Al Access allows you to stream tons of content via your web browser or mobile app. So, you'll not miss another episode of Life of Pieces online again.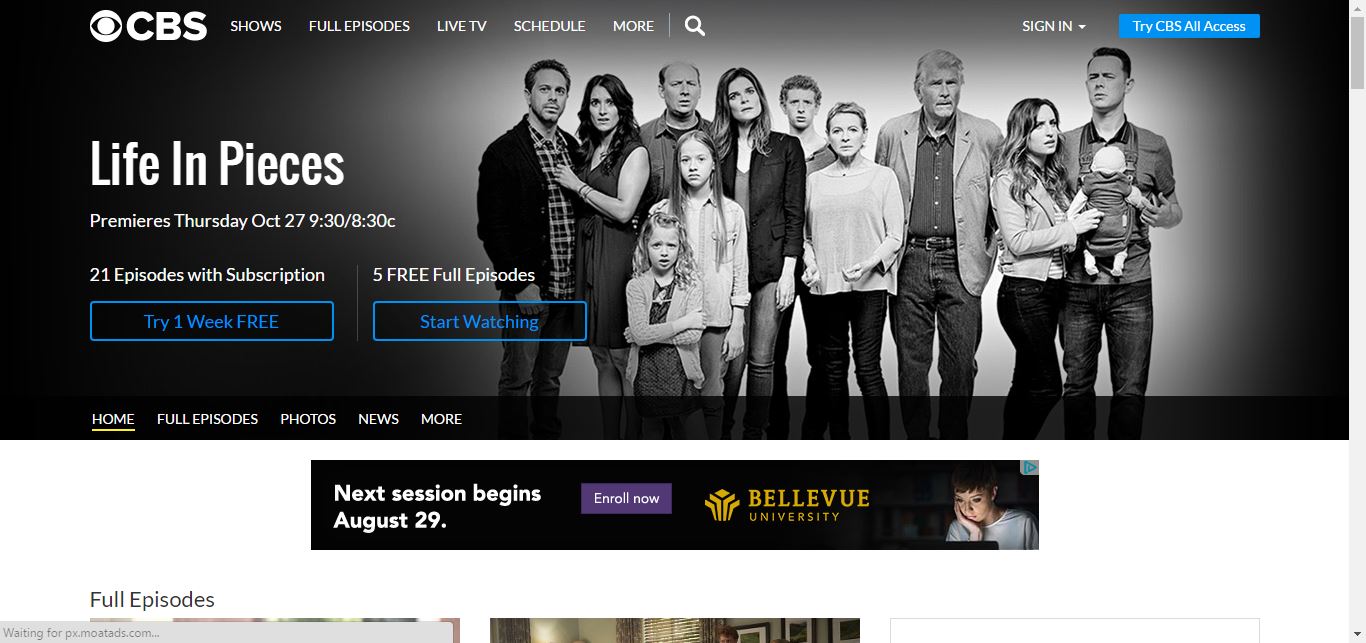 Streaming Life of Pieces on Netflix, Hulu and Amazon Prime
Not currently on Netflix unfortunately but we were able to find the first season of Life of Pieces on both Hulu and Amazon Prime. However, interestingly, the second season which as of this writing is in its third episode is nowhere to be found. So, we concluded that both Hulu and Prime are a bit behind. That said Hulu would work out to be a lot cheaper than Amazon Prime, though the latter will allow you to download episodes in HD for $2.99 which means you can watch it anytime you like without being hooked up to the internet.
What About Life in Pieces on YouTube?
If you search YouTube for episodes of Life in Pieces you're bound to find a few, we certainly did. But those are probably uploaded there illegally, and there are just bits and pieces of what are already in pieces! Though it's still free and worth putting in a few minutes to search for the way we see it. Also, as with YouTube, the uploader is responsible for making sure they have the rights to uploading it.
Any Other free Ways of Watching Life in Pieces Online?
Maybe search for a torrent or streaming website. But those are all illegal and based abroad. If anything you'll be inviting the FBI to party at your home with you in handcuffs. So, we don't advise that you use any of these methods but rather use the ones described above which are both cheap and legal.
How do I sign up for CBS All Access?
So glad you asked. Just click here or the image below: