'Body of Proof' is a medical drama starring the lovely Dana Delany as Megan Hunt, a medical examiner who has lost her medical license after a family tragedy. However, Hunt is on a crusade to prove that she's a medical and forensic genius. Though like all geniuses Dr. Hunt has a huge ego is arrogant and has no regard for authority or even social norms which causes a fair bit of friction. But as long as she's helping the police shove criminals behind bars things seem to be working out. Even though it's a medical drama that we're sure most medical students will enjoy but it's worth watching even if you're just a minimum wage earning grunt whose looking for some cheap entertainment. Perhaps it is why Metacritic gave it 56 out of 100.
Below is how you can stream Body of Proof online on just about any smart device you can afford.
Watch Body of Proof Online Using the Official ABC App or Website
ABC has made it very easy for subscribers to their television channel to stream the latest and past episodes on their mobile devices. ABC's official website offers free streaming directly via your laptop's browser but only once you log in using your subscriber credentials. The same goes for the official app which requires your credentials! If you don't want to subscribe to a whole bunch of channels just to stream 'Body of Poof' when you're away from home which is almost every day, then the app and website will not work for you. Though you could always try begging and borrowing!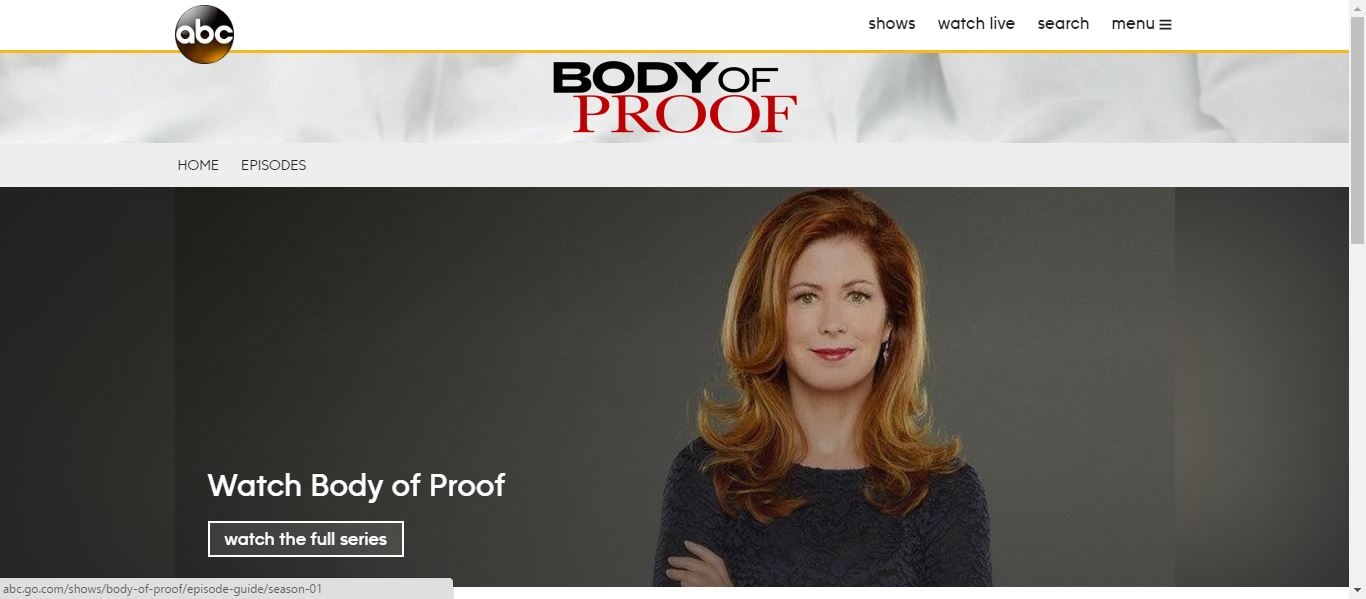 Live Stream Body of Proof with Sling TV
Unlike the official option presented above Sling TV is a cable television service provider but one that does not require you have a television. Though if you have a smart TV, you could somehow stream via Sling TV directly to it. That said Sling TV is a service which allows you to stream 'Body of Proof' live because you can stream ABC live along with a host of other television channels such as Bravo, Syfy, ESPN and Fox Sports amongst dozens of others. There is no commitment on your part other than making sure your credit card is not maxed out and unsubscribing before the month ends if you don't want to continue. At $20 a month, its way cheaper than regular cable and you don't have to call off that date just to watch 'Body of Proof'.
Streaming Body of Proof on Netflix, Hulu, and Amazon
If you're a Netflix subscriber, then you're out of luck. Netflix does not have episodes or even complete seasons of Body of Proof. Lately, Netflix subscribers have been feeling left out, but that's just the way it is!
'Body of Proof' can be streamed via Hulu for just a few bucks a month. The great thing about Hulu is you can subscribe to 'Prime' and skip through all the commercials which save twenty minutes of your life right off the bat!
If you'd rather download 'Body of Proof' in HD, consider downloading it from Amazon Prime. At $2.99 per episode it's expensive, but then again you have the luxury of viewing it when you're out camping and have no access to the internet. So, when you're not swatting flies you're solving a murder!
Other Ways of Streaming Body of Proof Free
Above are the only legal ways to stream the serial. However, there are other illegal means but we are not going to go into them. Piracy is a crime right alongside hacking and voyeurism.