The most iconic cartoon family ever to grace television, The Simpsons has been airing weekly on Fox for 26 seasons, an incredibly feat for ANY television show let alone a cartoon.
While many fans will express the rollercoaster ride of emotions involved with the various ups and downs in the quality of specific Simpsons seasons, the fact remains viewers are still loyally tuning in each Sunday night to watch their favorite dysfunctional family duke out their problems with each other and the many colorful characters of Springfield, their hometown.
The Simpsons impresses me more than anything on its ability to rely so little on gimmicks during its 26 seasons thus far. The Simpsons very rarely attach themselves to some flavor of the week in their comedy, but rather just rely on solid story arcs in each episode combined with witty writing and impeccable timing; no easy task for a cartoon.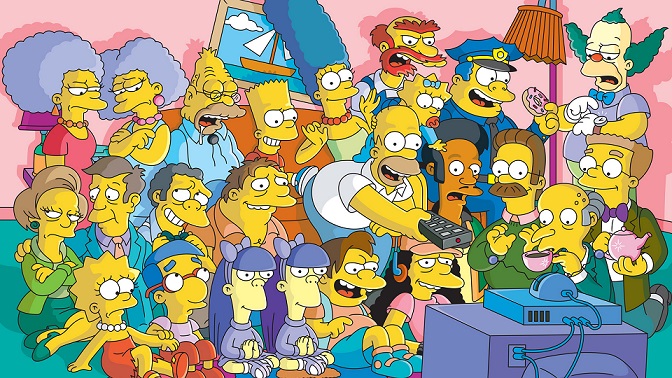 Considering The Simpsons' existence well before the world even had the option to stream television online, or as a matter of fact before most houses even had internet access, it has been interesting to note that The Simpsons haven't quite yet found their place in the digital streaming world. Certainly the phone has been ringing, but The Simpsons have been slow to sell the rights to streaming services, at least not the entire catalog. However, that's not to say you can't stream The Simpsons online, there are still ways to do it, but just perhaps far fewer than other more recent cartoon series.
Live Stream Simpsons with AT&T TV NOW
Many people grew up watching the Simpsons which explains their obsession with nuclear plants! However, if you want to continue watching the Simpsons without being extorted by your local pay-tv service then AT&T TV NOW is a great alternative. Starting at $35 a month and operated by AT&T you can stream hundreds of shows including the Simpsons and channels like Fox live. In addition, you can download and install their app for various devices like iPhones, iPads and the XBox One. Try the service for free using the link below before choosing a package!
Watch The Simpsons online
Fox Now: Currently, Fox Now is the best place to stream the most episodes of The Simpsons online. They backdate the episodes upwards of 20 at a time, allowing viewers to watch the most recent ones available, giving them the opportunity to stay up to date. No word yet if they plan on filling the back catalog of episodes and making them available for free.
Simpson's World: The Simpsons, once again proving their ridiculous popularity, actually have their own website where you can stream every episode for free if you log in with your cable subscription credentials.
Hulu: The Simpsons are currently available on Hulu, with the five most recent episodes available to stream online. Because of Hulu's close relationship with Fox (Fox is a partial owner of the streaming service), Hulu could very well be a front-runner for early access to stream every episode of The Simpsons in the future.
Amazon Instant Video: Currently, you can buy episodes or full seasons of The Simpsons
 on Amazon Instant Video, but Prime subscribers will be disappointed to learn that The Simpsons is not currently available to stream for free on Amazon.
iTunes: The Simpsons are currently available to stream on iTunes but it certainly isn't cheap. Each episode comes in at about $3 a piece, so in order to stream the entire series, you might end up spending several hundred dollars. This is probably a better option just to pick a few of your favorites to add to your iTunes collection.
Google Play: Google Play is streaming The Simpsons in partial season installments. Currently you can buy individual episodes or complete seasons 1-3 and 20-26. Strangely the other seasons are not currently available on Google Play.
How about a big Simpsons DVD or Blu-ray box set? Well, you might have to wait a bit for that. Currently you can buy individual seasons on Amazon
, but as it stands right now, no word on a box set.
Watch some Simpsons highlights in the video below: