The Gifted is yet another series based on characters by Marvel Comics' X-Men. It is the second television series to be connected to the Marvel universe. Produced by 20th Century Fox Television along with Marvel Television it is a story about an ordinary American family who suddenly discovers that their kids are mutants. Being a mutant is apparently a crime which means that the family now needs to go on the run from the authorities. The family soon joins forces with a group of mutants, who have gone underground to fight the tyrannical government.
Fans of the X-Men will not want to miss The Gifted at any cost. So, below is how you can stream every episode of The Gifted live online for free.
Live Stream The Gifted Online with Sling TV
Sling TV is a slightly cheaper cable alternative starting at just $20 a month. The service streams an array of channels including Fox, via its apps for iOS and Android devices. Subscribers can live stream shows like The Gifted on the go, so as long as they have invested in 3G internet at the very least. Fans of The Gifted are not required to enter into a long term commitment which works out pretty well for millennials with limited financial resources!
Live Stream The Gifted Online via AT&T TV NOW
AT&T TV NOW is a streaming service run by AT&T. The service amongst other channels streams Fox live via its assortment of apps for iOS, Android, Fire, and Chromecast devices, etc. So, you can stream The Gifted as well as other Fox shows like Empire, Family Guy, Gotham, etc. Starting at $35 a month it for all intents and purposes puts all your favorite shows at the tap of a button! Try it for free by clicking the button below.
Watch The Gifted Online Using the Official Fox App or Website
The Fox Now app is one of the best ways to catch up on episodes of The Gifted. It live streams the channel, and you can catch last night's episode as well. However, if you are one of the few who does not have a smart phone you can log-in to Fox's official website with your cable credentials. The website has past and present episodes of The Gifted as well as other shows. That said to stream via the official method you need to be a Fox subscriber. Oh! And you'll still not be able to dodge the commercials.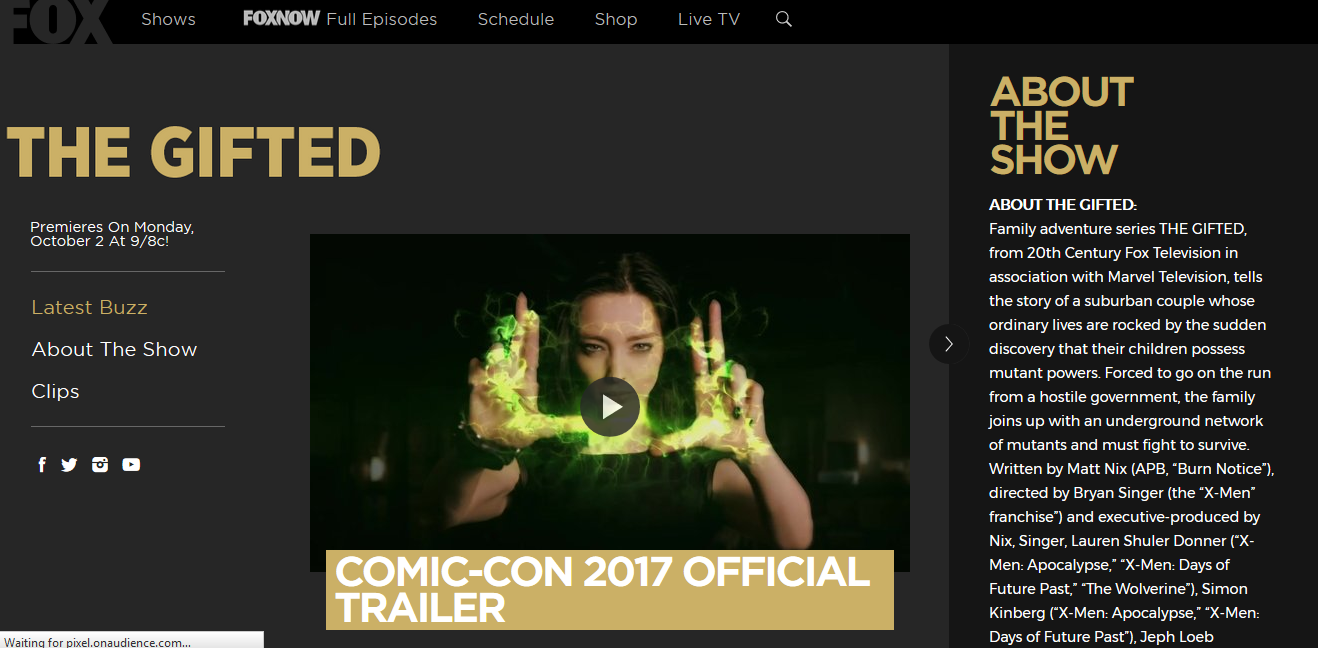 Streaming The Gifted on Netflix, Hulu, and Amazon
Netflix will probably not get episodes of The Gifted. Though the service has all the previous episodes of old Fox shows. However, we will update you if things change.
Hulu has episodes of The Gifted available for streaming. Though you need to wait a bit from the time a new episode is aired live.
Amazon Prime as always has episodes of The Gifted available for download. Though it's not cheap at $2.99 an episode.
https://www.youtube.com/watch?v=qTzW9rMcbzk
Other Methods of Streaming The Gifted for Free
Marvel fans will go to any lengths to watch The Gifted online. However, there is such a thing as going too far, and that's when you resort to streaming via illegal websites and downloading from torrent sites. Be warned if you're caught pirating a copyrighted show; it's time to prepare for prison! Our advice is to stick with the cheap live streaming methods described above.