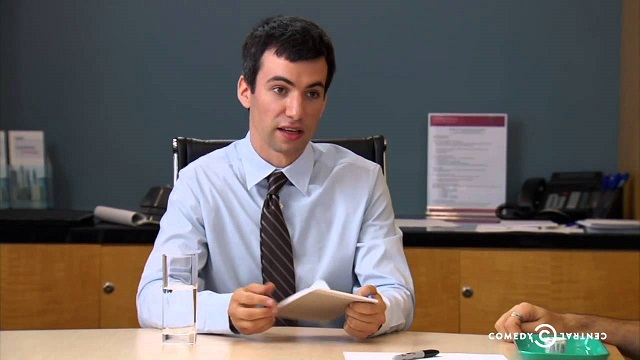 Probably one of the most cringe-inducing television shows we have ever watched in our entire lives, Nathan For You follows Nathan Fielder, business consultant, as he offers his masterful advice to ailing small businesses.
But there's a slight catch. Nathan Fielder is actually a terrible consultant. We mean like really, really bad. In fact, he's not even really a consultant at the end of the day, but instead a semi-successful comedian who recently has found himself with a rather popular show.
Nathan For You offers us all the chance to mock reality television while at the same time making us as uncomfortable as possible. He has had two public smash hits, including "Dumb Starbucks" and "Pig Rescues Goat." If you're unfamiliar with those, then you have some catching up to do.
Will there be another season of Nathan For You? Yep at the time of publishing this page, a third season of Nathan For You is set to be released this fall on October 15th on Comedy Central.
So where can you stream Nathan For You online? We'll break it down below:
Stream Nathan For You on Comedy Central's Website
Comedy Central puts all their content on their website but unfortunately their website is gated by having an actual cable subscription. Unfortunately not much you can do about that if you're looking for a free place to stream the show, but we still wanted to include its "home" location on this guide. Comedy Central occasionally allows for streaming of certain episodes as well as clips of the show, so this is a good place to start.
Watch Nathan for You Live with Sling TV
CC shows are now on Sling and that include Nathan for You ! Sling is a cable alternative that includes networks such as USA, AMC and TBS among many others for a low price and doesn't require a commitment. Head over there now to check it out and sign up for the free seven day trial.
Watch Nathan For You on Hulu
You can currently stream all seasons of Nathan For You on Hulu with a subscription to the streaming service. This is probably your best bet for quick and easy access, and let us tell you, it's well worth it.
Is Nathan For You on Netflix?
Unfortunately, Netflix and Comedy Central haven't been playing nicely for a while, meaning Nathan For You on Netflix likely isn't a reality in the near future. But who knows, things always change pretty fast in the online streaming world.
Nathan For You on Amazon Prime Instant Video
While each season of Nathan For You is $20 on Amazon, you can still get access to the shows this way if you're not interested in a subscription to Hulu or cable. Not a bad option, certainly. There have also been rumors about the show streaming again in its entirety on Amazon Prime down the road, but obviously not the case as the above link shows.
Google Play and iTunes
If you're a "per episode" kind of viewer, Google Play and iTunes make for great options if you just want to buy an episode or two before committing to the entire show. Let us just warn you though, the show is incredibly painful at times.