Bull is one of the many TV serials named after the lead character which in this case is Dr. Jason Bull. Obviously, like all doctors Dr. Bull is full of it! But jokes apart the good doctor is not the type you go to when there is something wrong with you but rather when there is something wrong with the situation. The show is loosely based on none other than the famous Phil McGraw who used to be a prolific trial consultant. As a psychologist and maybe a bit of a psychopath Dr. Bull can analyze people's behavior which allows him to the help defendants in criminal cases choose a jury that's more favorable. It may cause you to lose faith in the justice system, but that's just the way it is because you need a truckload of cash to hire Dr. Bull who in all fairness is doing what everyone else would do if of course, they had his talent.
If you were a fan of the Mentalist, enjoy the Blacklist and maybe longed for more Matlock type courtroom drama then the Bull is a must watch. Here is how to stream it online!
Watch Bull Online Using the Official CBS All Access App and Official Website
CBS has their very own website which allows subscribers to their TV channel just to enter in their credentials to start streaming. Subscribers can also stream directly on their mobile devices via the CBS All Access App. However, if you're not a subscriber to CBS and still want to watch Bull online complete with commercials, then you can buy access for $6 a month. That said since this is live streaming it's up to you to take note of when a new episode will air or rerun.
DIRECTV Has CBS and Bull Too!
DIRECTV is a cable alternative that not only gives you NBC and other networks like Fox but also most cable channels all for under forty bucks. you get MLB Playoff Games, ESPN and AMC as well. Check out their seven day free trial to stream Bull now:
Try DIRECTV NOW Free for 7 Days
Streaming Bull on Netflix, Hulu, and Amazon
At the moment there is no official announcement that Bull will be available on Netflix. However, if past CBS shows are something to go by we can safely assume that it should be available on Netflix soon, probably after the first few episodes have aired. We will keep you updated for sure. Hulu may not have Bull any time soon, unfortunately.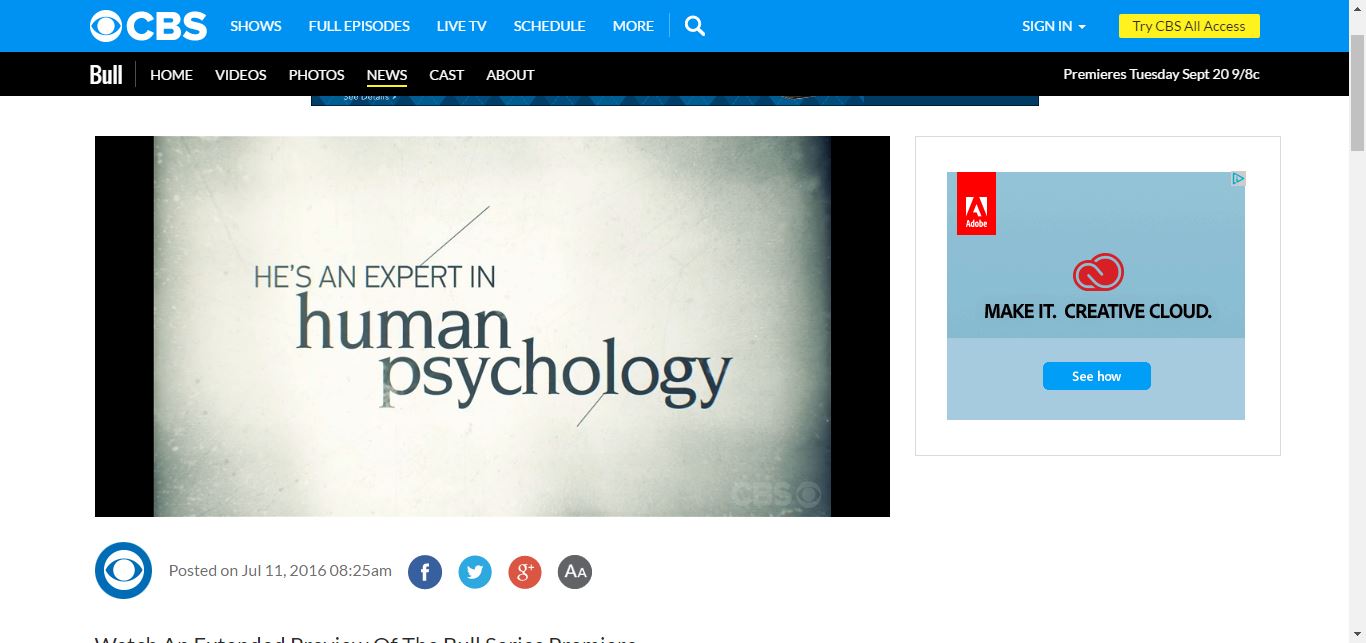 The other, slightly more expensive option is to download episodes of Bull directly from Amazon Prime. Though at $2.99 an episode it's expensive but that's the price of HD these days. If you're broke then obviously Amazon Prime is not a good option. But it's something to consider for millennials who can't watch anything other than HD.
Other Ways of Streaming Bull Online
There is possibly a myriad of other mostly illegal ways to watch Bull online. However, illegally streaming Bull is not exactly a good idea especially since it can get you into trouble. Personally, we'd strongly advise using CBS' official app any day over some website hosted in the Kremlin.