"It's Elementary, my dear Watson!" Everyone has heard this phrase and knows exactly what it's from: Shakespere! Wait, no that's not it. Sherlock Holmes, of course! With the success of BBC's Sherlock it didn't take long for the American CBS to come up with their own version of a modern twist on the old classic. Featuring a traditional Sherlock and a less traditional Watson we're graced with some of the most captivating mystery drama on network television today.
There are several ways to watch CBS' Elementary online for free. Here are the best ones of the bunch.
Is Elementary on Netflix or Hulu?
Elementary is not on Netflix and probably won't be for some time. CBS is promoting their new product: CBS All Access and has pulled most of it's popular, new content from Netflix.
Hulu will simply link you to CBS.com for access to their shows. If you find these links to episodes helpful feel free to use them. Elementary will be there "on Hulu" but it's really CBS.com in reality.
Watch Elementary on CBS.com or CBS All Access
CBS.com has new episodes of Elementary available on their website the following day. Just navigate to the official Elementary website and start watching! You'll have to go through the same commercials you would on a traditional broadcast but you don't have to subscribe or download anything. All that is required to watch Elementary this way is an internet connection and a browser.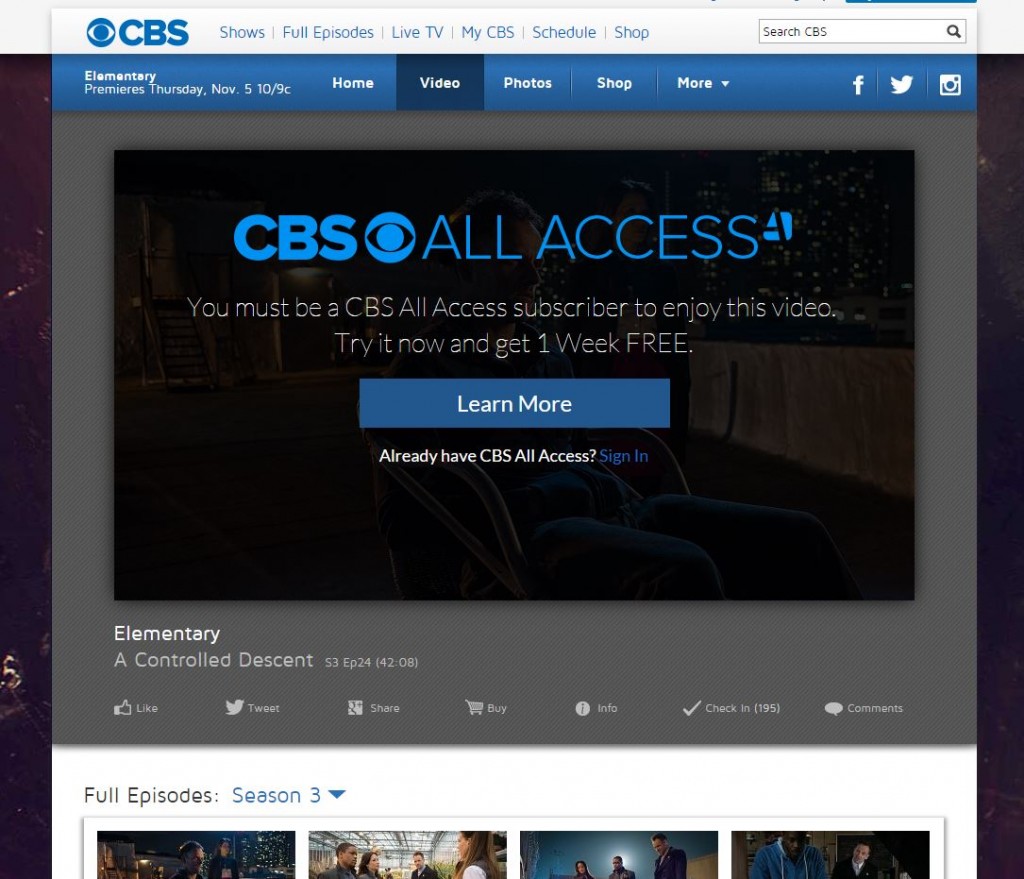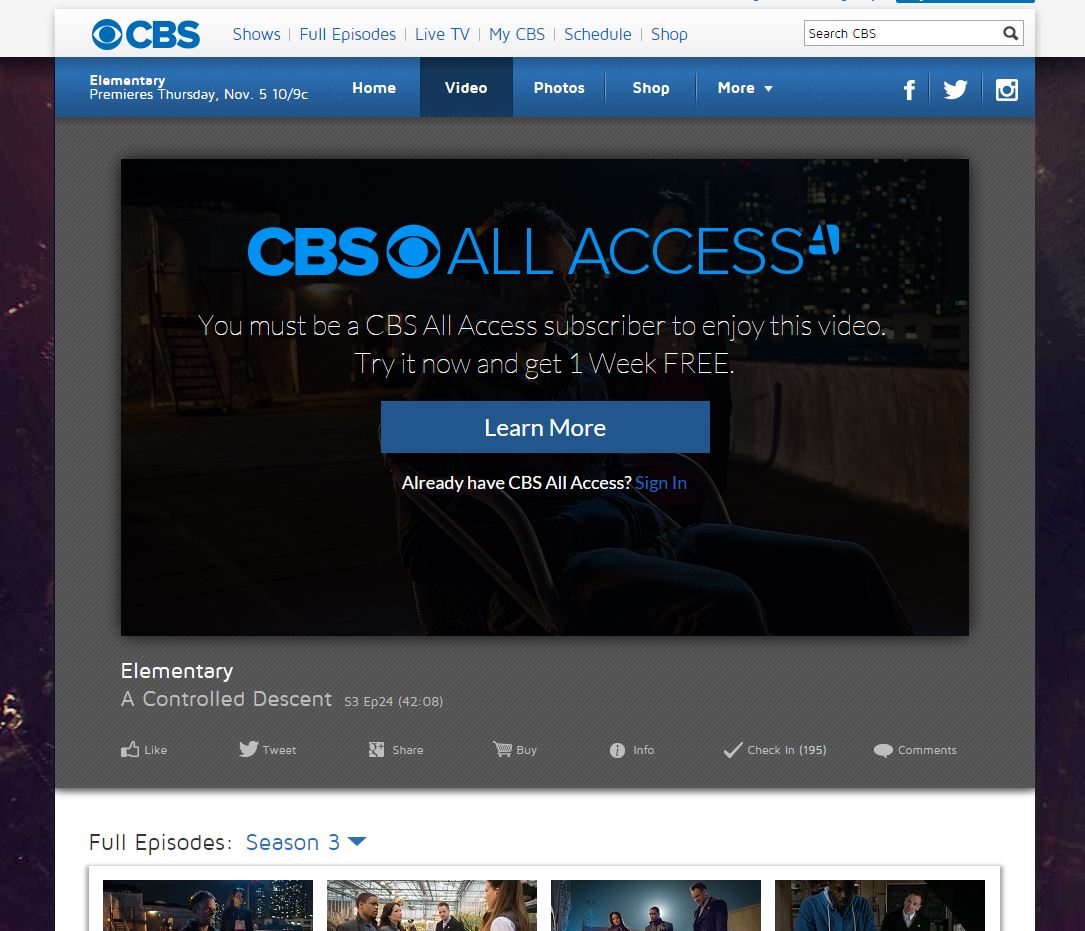 CBS All Access gives you a bit more. It costs a few dollars per month but once you subscribe you get access to all CBS shows, including Elementary for free. Check that out if you'd rather have all of CBS at your fingertips.
Download Full Episodes of Elementary on Amazon or iTunes
If you don't mind waiting a bit you can always download full episodes of Elementary in HD from a digital retailer
of your choice such as Amazon or iTunes. Episodes are two or three dollars but you'll have them in your collection forever available to stream or download to your device anytime. The great thing about this option is you can actually watch them offline in addition to watching Elementary online.
Pirating Episodes of Elementary is Not Recommended
Have you ever struggled to find a legitimate way to stream your favorite show? Maybe it's Elementary in this case but we know it can be frustrating to find a legal way to stream some shows. But the problem with torrenting or pirating a show is that you'll probably end up in an unseemly corner of the internet with viruses, sexually explicit content and worse. We can't recommend this option.
Buy Elementary on DVD and Blu-Ray
If none of the above works for you there's always the Elementary DVD and Blu Ray set
. It's not a streaming option technically but it will get you all of the episodes forever in your physical collection.