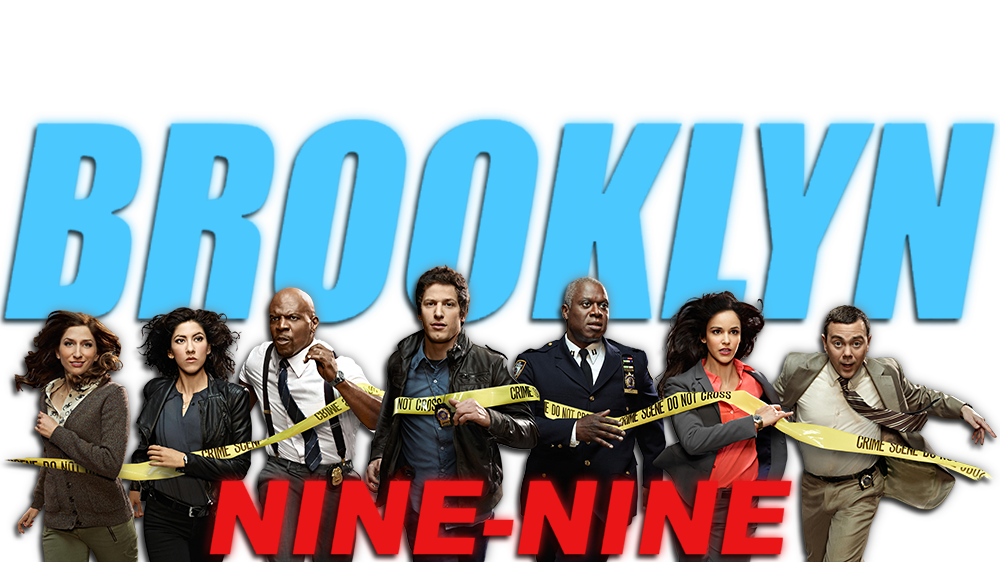 You probably met Andy Samberg when he was announcing the fact he was "on a boat" in a video with T-Pain. Since then he's taken the world by storm with a stint on SNL, his own show on Fox, a movie and he even hosted the Emmys. Brooklyn Nine-Nine is an award winning comedy series that uses Andy's unique sense of humor and some witty writing to get a few laughs on Fox.
There are a few different ways to watch Brooklyn Nine-Nine online. Most of them are free but there are some details you probably want to keep in mind. Here are a few different ways to stream Brooklyn Nine-Nine.
Watch Brooklyn Nine-Nine Live with Sling TV
Another great option is a bit of a larger commitment but is still cheaper than cable. Sling TV is a new alternative to Cable that allows you to subscribe to several channels for a mere $20, including Fox and B99. This is a great way to watch Brooklyn Nine Nine streaming even if you don't have a cable subscription. It gives you live television so you can watch online just like you would on a traditional television. Head over there now to check it out and sign up for the free seven day trial.
Stream Brooklyn 99 without Cable
DIRECTV NOW is a lot like Sling and includes lots of channels including FOX. You'll be streaming in no time if you hop on the seven day free trial you're allotted. You're watching live so you won't have to worry about missing out.
Try DIRECTV NOW Free for 7 Days
Is Brooklyn Nine-Nine on Netflix or Hulu?
Currently Brooklyn Nine-Nine is not on Netflix at all. Fox has a few shows on the streaming platform but not B99. In fact, since the show is entering its later seasons, it's unlikely that the show will be on Netflix anytime soon.
Fox owns part of Hulu, though so that means you can watch all of the episodes there, whenever you want. New episodes will appear the following day for consumption. Brooklyn Nine-Nine is on Hulu, like crazy. The show is free for subscribers with a few episodes available to cheapskates out there.
Watch Brooklyn Nine-Nine on Fox with the Official App or Website for Free
If you don't want to subscribe to any sort of streaming service you can always navigate to the official Brooklyn Nine-Nine website and stream full episodes there. You'll have to watch commercials but the fact that you don't need any sort of login or special access level to watch Brooklyn Nine-Nine may appeal to some of you.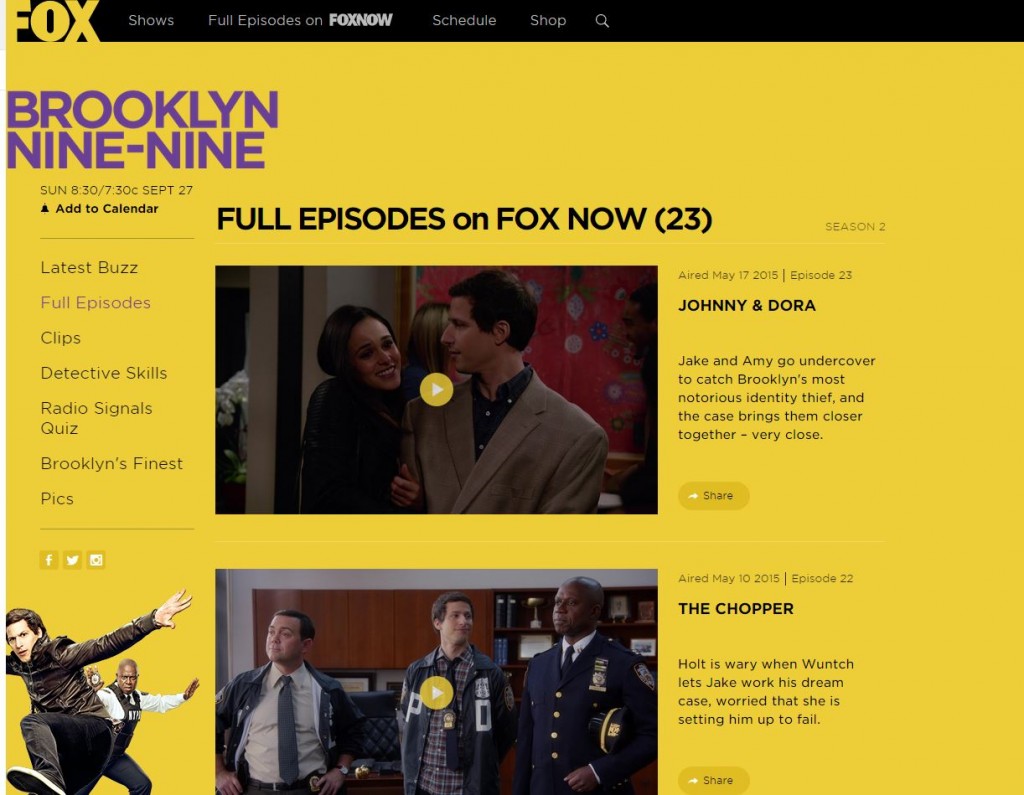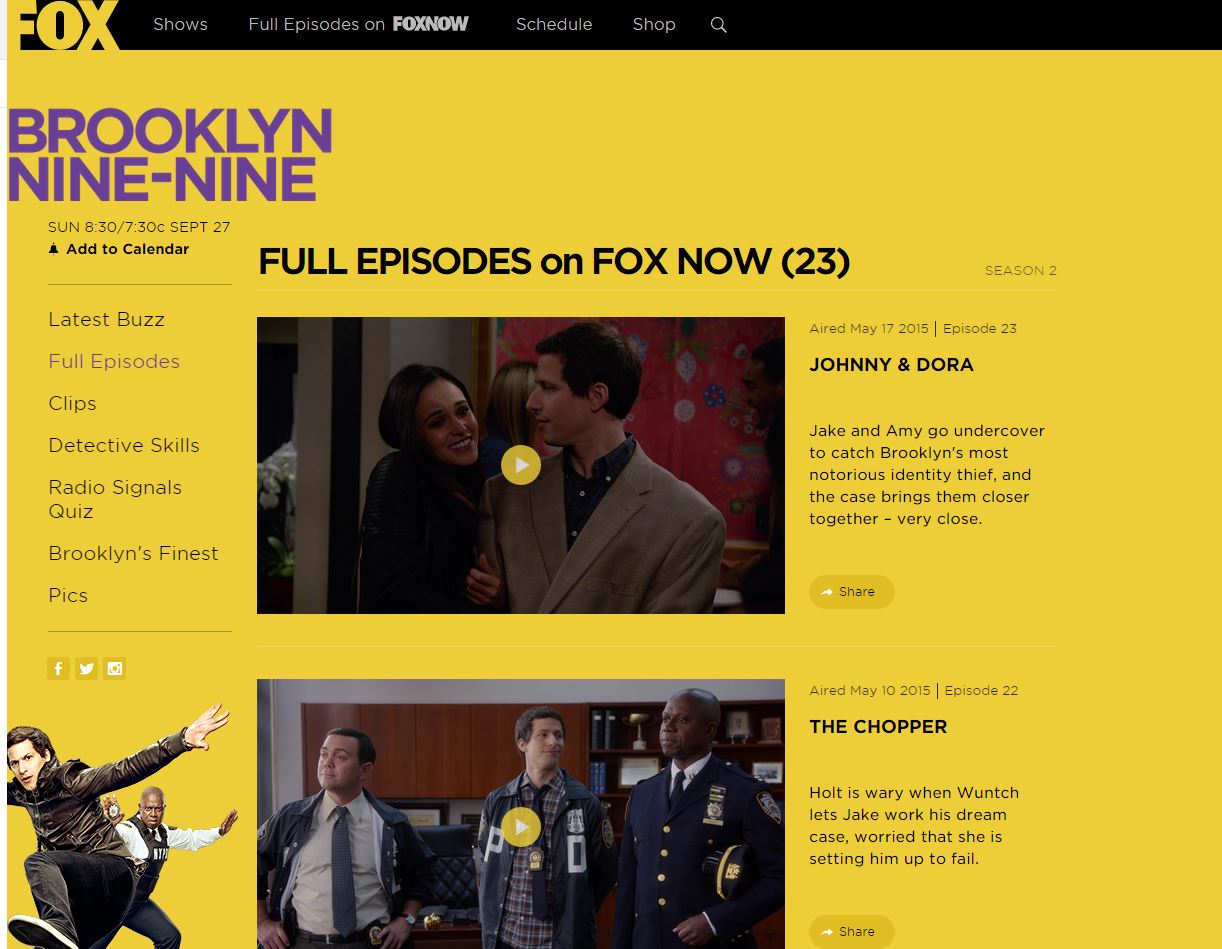 You can also download the official Fox app that allows you to stream Brooklyn Nine-Nine and any other program on the Fox Network for free. You'll get the same commercials you found on their website but hey, they've gotta pay the bills somehow. Andy Samberg isn't cheap these days.
Download Full Episodes of Brooklyn Nine-Nine Online
Another great option for B99 fans is to head over to Amazon, Google Play or iTunes to download individual episodes for a small fee (usually a couple of bucks per episode).  The advantage here is that you can keep these episodes forever in your digital collection and watch them offline. The bad news is that you'll have to wait a while for the episodes to appear on these services (usually a few months but that time window is shortening these days).
Is there an Official Brooklyn Nine-Nine Live Stream?
There isn't legal Brooklyn Nine-Nine live stream because there isn't one for Fox Network. You can probably find one on Google somewhere but we can't recommend taking that route. You're not only stealing, you'll probably get yourself a virus all for a horrible quality stream that may or may not be the Brooklyn Nine-Nine episode you're looking for.
Hey, there's always rabbit ears or a local cable package if you're into watching Brooklyn Nine-Nine the traditional way! If not, above are several viable options for watching the series online for free.