So you're into drugs? Wait don't answer that question but hold that thought because A&E's Intervention is all about taking drugs and then trying to quit taking it. Unless you've already guessed it, Intervention is a reality TV series that follows a group of junkies and documents their lives as people who want to kick the habit.
The drugs, crying, and real life fight scenes are all the reason why you'd want to watch Intervention online for free. However, apart from the mention of drugs you don't get to see people with a bong!
Below is how you can get your fix of this drug-fueled reality TV show for free online.
Stream Intervention with the A&E App
You can find almost every episode of Intervention on A&E's official website. The latest episodes are also streamed online and for free. However, to watch intervention online for free on your mobile device use the device's browser like Chrome or Firefox because the official app is crap. Their app is so bad that it has barely made it to two stars on the app store.
If you want to stream Intervention online via your browser, then you'll need to have a subscription. That means you should have cable if you don't have cable then beg people who have it because you want it for free!
https://youtu.be/vjed0dinVsI
Is Intervention on Netflix or Amazon? How about Hulu?
Netflix and Amazon are not free, but you can still catch the latest drama and bong smoking for $3 an episode on average.
While available on Amazon, you'll have to pay for it. Intervention does not seem like one of those reality shows you want to pay for unless you're a junky looking to quit too and want to study the pain in store for you. If anything that $3 an episode is way too expensive for a working class millennial and so you'll want to look elsewhere for your high.
It seems like A&E TV has parted ways with Netflix when it comes to Intervention. While available on Netflix right through the past two years, the show has been dumped. Starting in January 2016, Netflix thought that the show was too adult for adults…not really.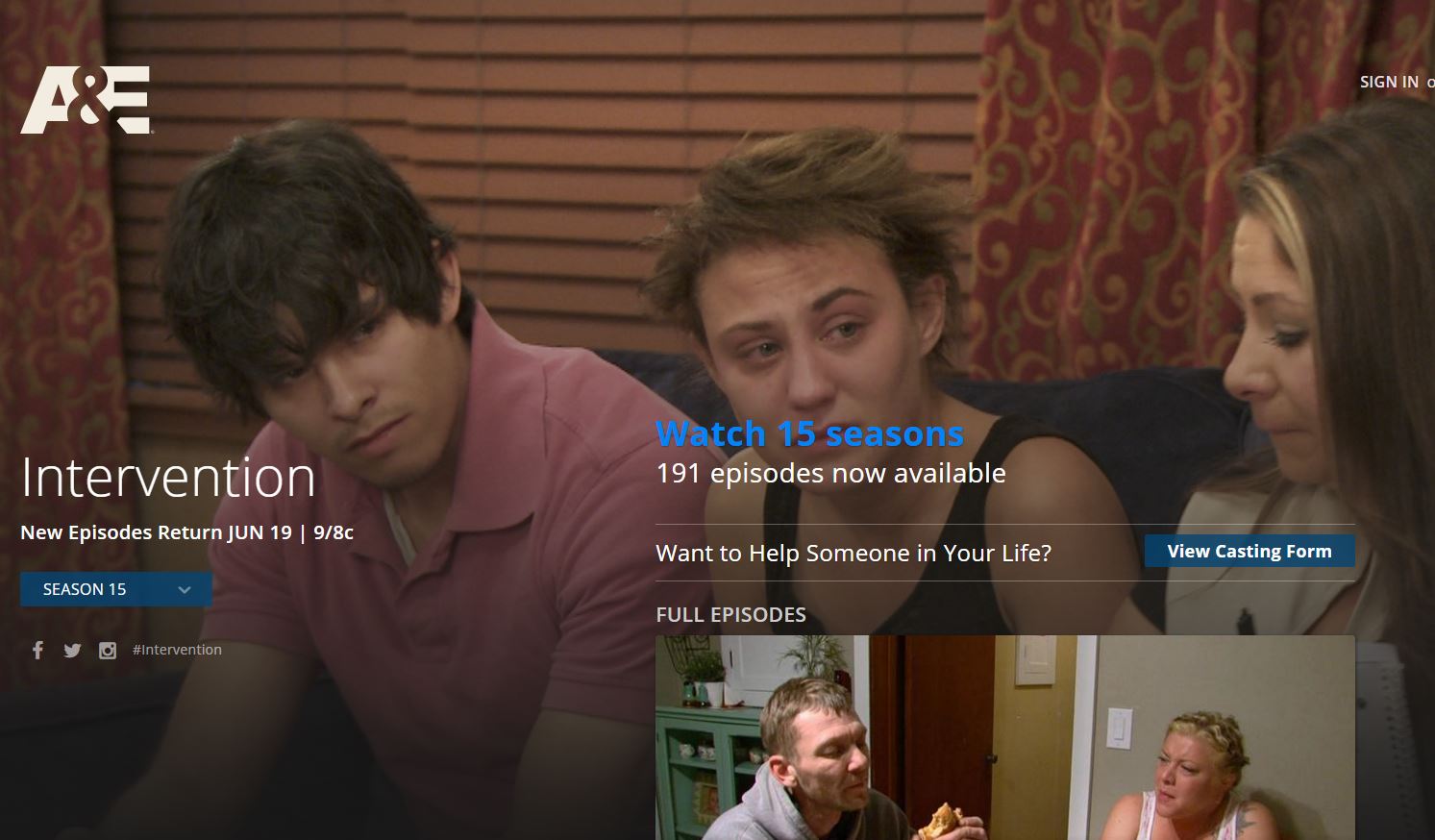 Watch Intervention Live with Sling TV
The best and cheapest place for a millennial to cut the cable and get affordable channels is Sling TV. You can watch Intervention online for free on Sling TV with just a $20 a month subscription because A&E is on their list of channels. Plus, the super easy to use, friendly and iOS safe Sling TV app has much better reviews than A&E's official app, so this will not cripple your smartphone.
Head over there now to check it out and sign up for the free seven day trial.
>> Sign Up for Sling TV and Watch Intervention for 7 Days Free <<
Other Streaming Options for Intervention
So you want to watch Intervention online and don't have money, not a single dime to pay for any of the official methods above? Then Google "Free intervention online streaming". You should be able to find dozens of nefarious websites which will infect your computer with viruses as you watch people dump that bong.
Don't say I didn't warn you, now pass me that bong!