Hell's Kitchen is a reality television show on Fox that's based on the British franchise of the same name. The show is hosted by none other than celebrity chef Gordon Ramsay. Each season sees two teams compete against each other for the job of top chef or head chef at a leading restaurant. Initially, both sides are pitted against each other, with the winning team receiving a reward like a field trip to someplace outside of Hell's Kitchen, while the losers receive punishment which usually involves a menial task. The second part of the show is a dinner service with each team working in their own kitchen, which is closely monitored by the hypercritical Gordan Ramsay. Their goal is to complete the session without being booted out for too many errors.
If you are a fan of reality cooking shows like Top Chef, then Hell's Kitchen is worth watching. Below is how you can live stream Hell's Kitchen online.
Watch Hell's Kitchen Online Using the Official Fox App or Website
You can stream Hell's Kitchen and other Fox shows for free via the official app or by logging-in to their website. However, live streaming requires that you be a Fox subscriber. That said if you're not a subscriber to the network but still want to stream Hell's Kitchen below are a couple of cord-cutting services worth considering.
Live Stream Hell's Kitchen with AT&T TV NOW
AT&T TV NOW is one of the cord-cutting services we were referring to above. The service is operated by AT&T and starts at a mere $35 a month with no long-term contract. Subscribers can live stream Hell's Kitchen and hundreds of other hit TV shows like The Walking Dead, Billions, Queen of the South, etc. Plus with apps for all leading smart devices, you can watch Gordan Ramsey rant while waiting at the doctor's office.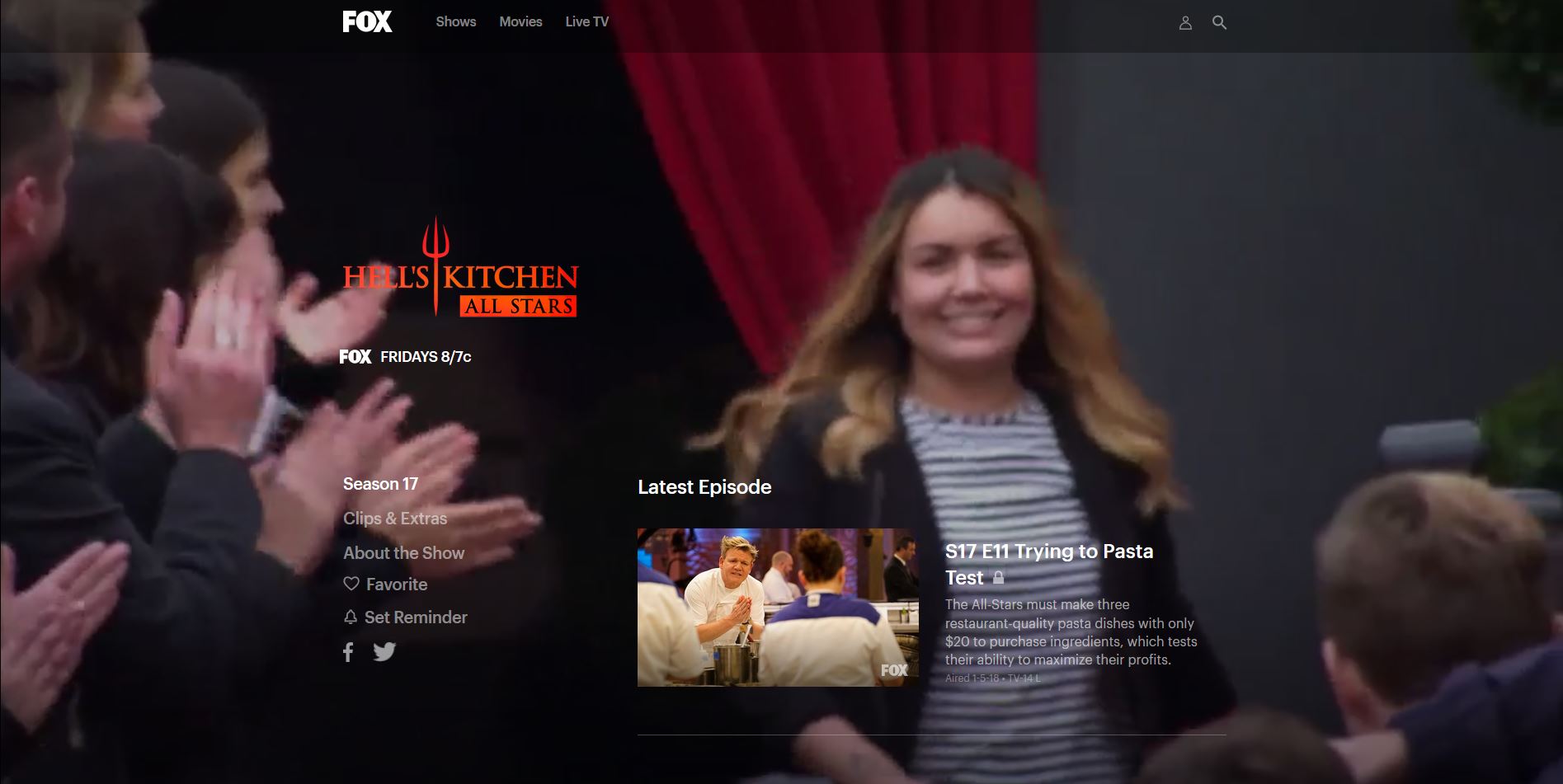 Live Stream Hell's Kitchen Online with Sling TV
Sling TV is another leading cord-cutting service which costs just $20 a month. The service streams channels like Fox live which means that you can stream Hell's Kitchen on just about any mobile device. Plus, you're not tied with a long-term commitment to the company. In addition to Fox, subscribers get so stream dozens of other sports and entertainment networks depending on the package they choose. Try the service for free via the link below.
Streaming Hell's Kitchen on Netflix, Hulu, and Amazon
Netflix gets all episodes of Hell's Kitchen the very next day after it is broadcast on Fox. However, if you want to save time by cutting through the commercials consider getting a Premium subscription.
Hulu also has all the episodes of the show available for streaming. Though it takes slightly longer for new episodes of Hell's Kitchen to appear.
Amazon Prime has all episodes and seasons of Hell's Kitchen available for download. Though you'll be looking at paying a staggering $2.99 an episode.
Other Ways of Streaming Hell's Kitchen for Free
Live streaming Hell's Kitchen for free and legally is impossible. There are nefarious websites out there that stream shows for free, but they can also get you into trouble and not just with Gordon Ramsey but also the FBI! So, unless you want to spend some time in a prison's kitchen, we would advise against using these free streaming websites.
Last Updated on by Exstreamist