Ten years ago you wouldn't have ever imagined a series like The Grinder. With Rob Lowe and Fred Savage on the same screen this duo of misfits is sure to lighten your day. The show has been getting great reviews and will most likely be back for more next year. When both critics and watchers are singing your praises then you know there will be more of that series.
The show airs on Fox which means you have a few different way to stream The Grinder online for free.  Here are the most convenient options for streaming Fox's The Grinder.
Is The Grinder on Netflix or Hulu?
Netflix does not have The Grinder on its streaming service yet. The show is too new and Netflix doesn't have access to new programming from Fox or almost any other network.
Hulu, on the other hand does have The Grinder for free as long as you're a premium subscriber. You'll have to wait until the next day to stream The Grinder at your leisure and you'll also have commercials to deal with but the show is there on Hulu for you to binge whenever you need it.
Watch The Grinder Live with Sling TV
Sling TV is a new alternative to cable that allows you to subscribe to several channels for a mere $20, including Fox and The Grinder. It gives you live television so you can watch online just like you would on a traditional television. Head over there now to check it out and sign up for the free seven day trial.
Watch The Grinder Online with the Official Fox App or Website
You can also navigate any modern browser to Fox.com and stream newer episodes of The Grinder there for free. You don't have to sign in or download anything so this might be the quickest option for streaming The Grinder.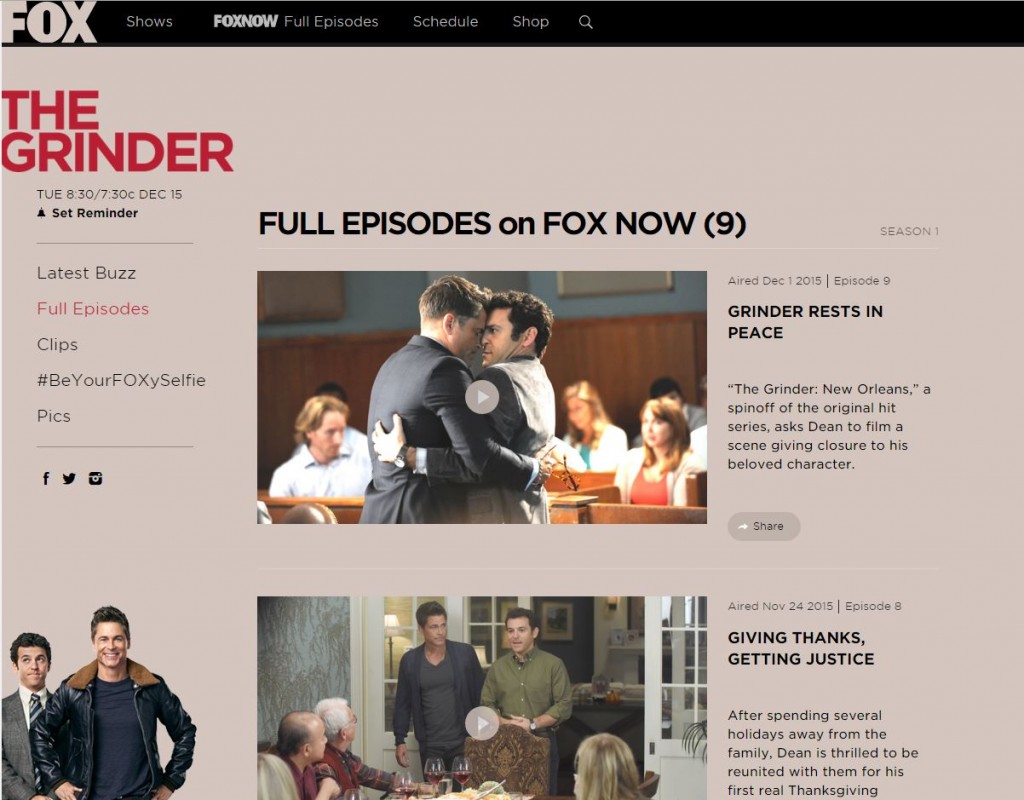 Fox Now is the official app of the Fox network. You can also download that for iPhone or Android absolutely free. It's basically the same content on the website, though so if you'd rather not download anything you can just use that. The app is great, as well it's just up to you.
Download Full Episodes of The Grinder on Amazon or Another Platform
If you'd rather skip all of the streaming nonsense and go straight to owning the show you can always head over to Amazon and download
individual episodes of The Grinder for two or three dollars. You can play these files offline as well which makes them great for long flights and safaris where you might not have internet access.
https://www.youtube.com/watch?v=9mybEO-Hb0Y
If you're someone who likes to collect your favorite shows then this might be a good option for you. Who knows where The Grinder will be streaming in 10 years! You might need your fix.
Is There a Grinder Live Stream?
Sort of. If you head to your local Fox website (just search Google for your city plus fox network) you can sometimes find a live stream that is the equivalent to your normal television stream. This would obviously include a live stream of The Grinder at it's regularly scheduled time so give that a shot if you can't wait until the next day to watch or download the show.