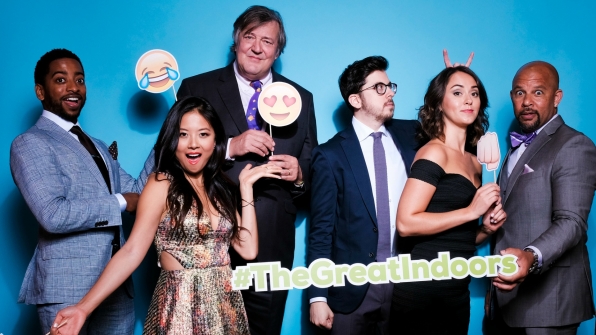 The Great Indoors is just the opposite of the 'Great Outdoors'. The reason being that this is a brand new comedy series by CBS and follows Jack who has managed to make a name for himself as a reporter for an outdoorsy magazine called Outdoor Limits. However, his love for the great outdoors along with his employment suddenly go out the window when the magazine's founding father Roland announces going online. The founder is doing away with the regular paperback magazine format and going entirely electronic. Jack is assigned to supervise the online team of half-baked journalists. What's in store ahead is laughs, more laughs and some cries as Jack needs to remain indoors for most of his time!
Watch The Great Indoors Online with CBS All Access
When it comes to streaming the Great Indoors online, you certainly cannot beat the $6 a month subscription if you've not subscribed through your cable service provider. Though if you are a subscriber to CBS via your cable service provider you can stream all episodes of The Great Indoors online by just logging in with your subscription details.
Also CBS All Access gives you access to most of their content via your mobile device. That said if you have an aversion to big businesses monitoring what you watch there are other options with a little less monitoring perhaps!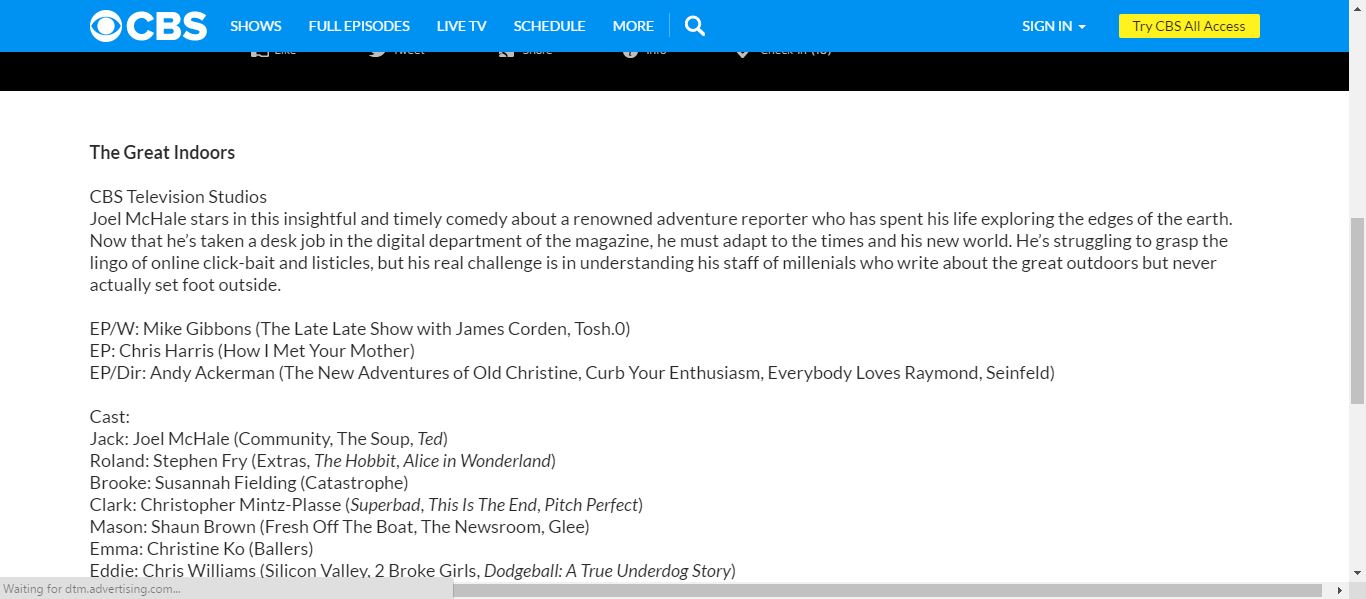 Streaming The Great Indoors on Netflix, Hulu, and Amazon
So for the Great Indoors is neither on Netflix, Hulu, and Amazon. However, if CBS's past is anything to go by we can safely assume that you'll at least see the first few episodes appearing on Hulu and Amazon though the fourth half of 2016. That said sometimes episodes are only made available once the season closes on CBS. So, if you're solely relying on these online sources, then you'll have to wait a while.
Other Streaming Methods
Well even though there are a couple of other methods to stream the Great Indoors online for free, but they are illegal. Streaming CBS or any of its content without permission is breaching US copyright law, and we are strictly against it. That said you can always Google if you're so eager to spend time in prison and pay thousands of dollars in the way of fines.
How do I Sign up for CBS All Access?
So glad you asked. Just click here or the image below: