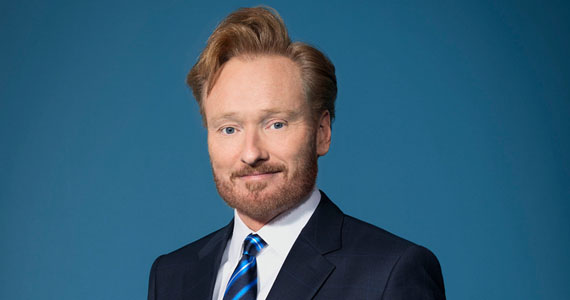 Long gone are the days where Conan was a name only known by those who stayed up to ungodly hours and found themselves enamored by the tall red head.
Conan O'Brien has had an interesting career trajectory. An heir to the Leno throne, stuck in the middle of a writer's strike, and eventually being booted from NBC's prime time spot and thrust into some strange contract obligations that kept him from finding a new home on another network.
But here we are, and the universe has balanced itself back out as Conan has found a new home on TBS and is seemingly doing quite well for himself.
So where can you watch Conan online? While we're not to the point you can stream Conan online freely at anytime, we've got some tips on places you can watch it with only an internet connection and perhaps a few subscriptions to cord cutter apps.
Watch Conan Live Streaming on Sling TV
Sling TV's main package includes TBS, where Conan currently resides, giving cord cutters access to live Conan viewership. Certainly not a bad option for those interested in maintaining a routine viewership of the late night comedy host. You can sign up for a free trial of Sling TV here, giving you a one week trial of their offering.
Watch Conan Without Cable on DIRECTV NOW
TBS is also part of another service that doesn't require cable called DIRECTV NOW. You get channels like Spike, TBS, TNT and  ESPN so you're totally covered when it comes to cable channels. Give their seven day trial a go and see if it doesn't work for your family.
Try DIRECTV NOW Free for 7 Days
Watch Conan on YouTube
The good news is that TBS and Conan have been pretty liberal with their distribution of Conan clips online via YouTube. You can stream Conan clips online via YouTube alongside over three million subscribers. They put out several clips from each episode for free here. It's a great place to start to watch Conan for free.
Stream Conan online at teamcoco.com
Similar to YouTube, you can get a good chunk of Conan free on the teamcoco.com website. If you're not interested in paying for a subscription service, this is a great place to catch some of the funniest clips from Conan's show that all your friends will be talking about at work. We're impressed with how much content Conan and his team are giving away directly to fans on their proprietary website.
Is Conan on Netflix?
Unfortunately Netflix doesn't really stream "daily" shows, meaning Conan won't be streaming instantly on Netflix anytime soon. And the reality of Conan is that it doesn't really lend itself to having a whole season releasing months later as the jokes are pretty timely.
Can you Stream Conan on Hulu?
Similar to Netflix, Conan isn't currently available on Hulu, but of any of the major streaming services, Hulu lends itself to being a perfect home for Conan to stream. We're guessing there are some pretty tight-knit contract restrictions between TBS and Conan preventing it from being distributed on Hulu.
We're confident that Conan's reach will only continue to grow, perhaps even during the next contract negotiations as their production team seems to be relatively forward-thinking when it comes to offering online only options for streaming the show. We'll keep this page updated as things progress in the coming months.