SportsCenter is America's sports show. It all started in the 90's when ESPN debuted a radical idea: news for sports. That industry has since exploded into 100 copy cats and sports have generally taken up more air time than ever since the advent of SportsCenter. It's even a part of the lingo when watching a great play in any sport: "you're going to see that one on SportsCenter tonight!"
But has ESPN kept up with the times? Most of us want to stream SportsCenter to our various devices while on the go, on a business trip or on the toilet (you can admit it in the comments below, friend– we've all been there). There are a few viable options for streaming SportsCenter online so let's get to them. You need those daily highlights of sports you're mildly interested in and you need them right the heck now.
Watch SportsCenter Live Online with Sling TV
Another great option is a bit of a larger commitment. Sling TV is a new alternative to Cable that allows you to subscribe to several channels for a mere $20, including SportsCenter. ESPN is available with a Sling TV subscription so you're good to go. It's only twenty bucks too. It gives you live television so you can watch online just like you would on a traditional television. Head over there now to check it out and sign up for the free seven day trial.
Use AT&T TV NOW to Watch ESPN and SportsCenter without Cable
If you're not interested in subscribing to a major cable package that will surely cost you dearly, you can always try an alternative like AT&T TV NOW. Here you'll get most cable channels along with ESPN, of course and by extension: SportsCenter. You can stream the show from anywhere on any device. They have a seven day free trial so give that a go.
Is SportsCenter on Netflix or Hulu?
In short, the answer is "No". Netflix and Hulu have yet to venture into the sports game and thus SportsCenter is not available on either Netflix or Hulu. You can rule out Crackle as well because, generally, no sports shows are available on any streaming platform at the moment. You'll have to look elsewhere for your SportsCenter fix online.
Watch SportsCenter Online with the Official ESPN App
ESPN has an app called WatchESPN. It's pretty great and you'll certainly get access to their flagship show SportsCenter but there's one catch: you need a cable subscription to log into the app. Much like HBO Go and many other cable network apps you have already subscribe to ESPN in some form to use their awesome application on your smart phone or tablet.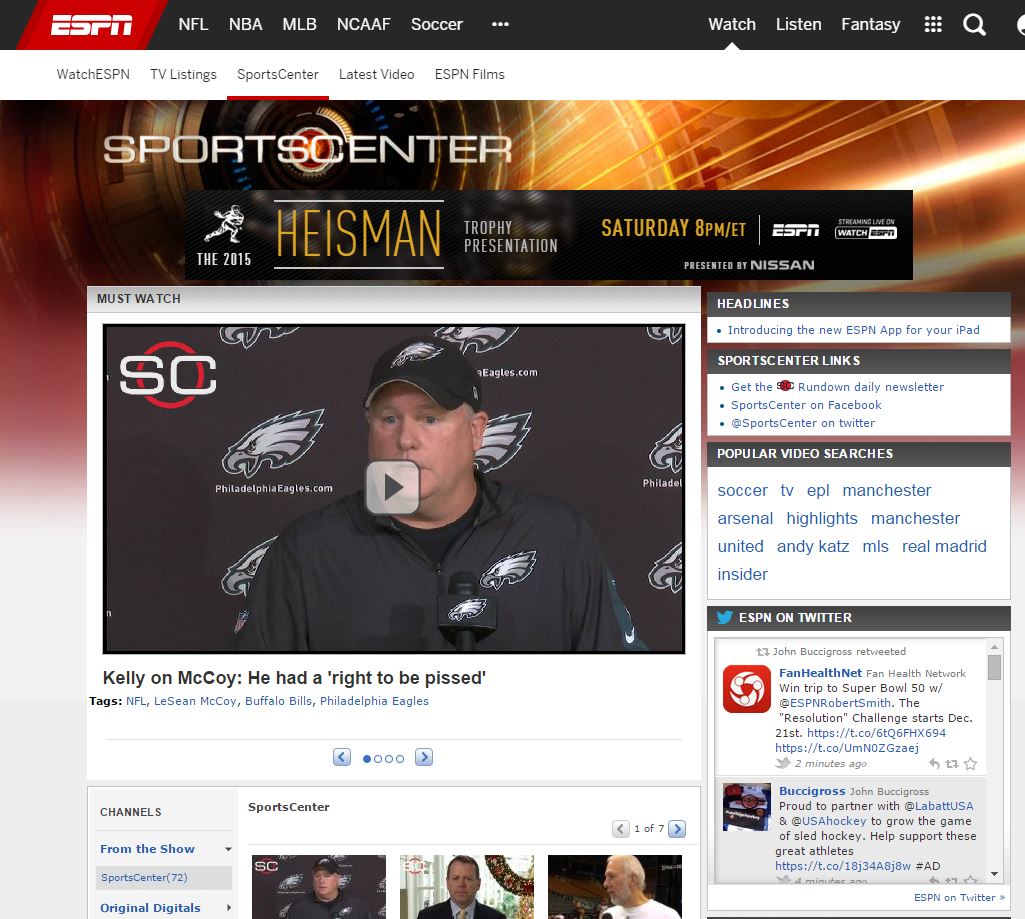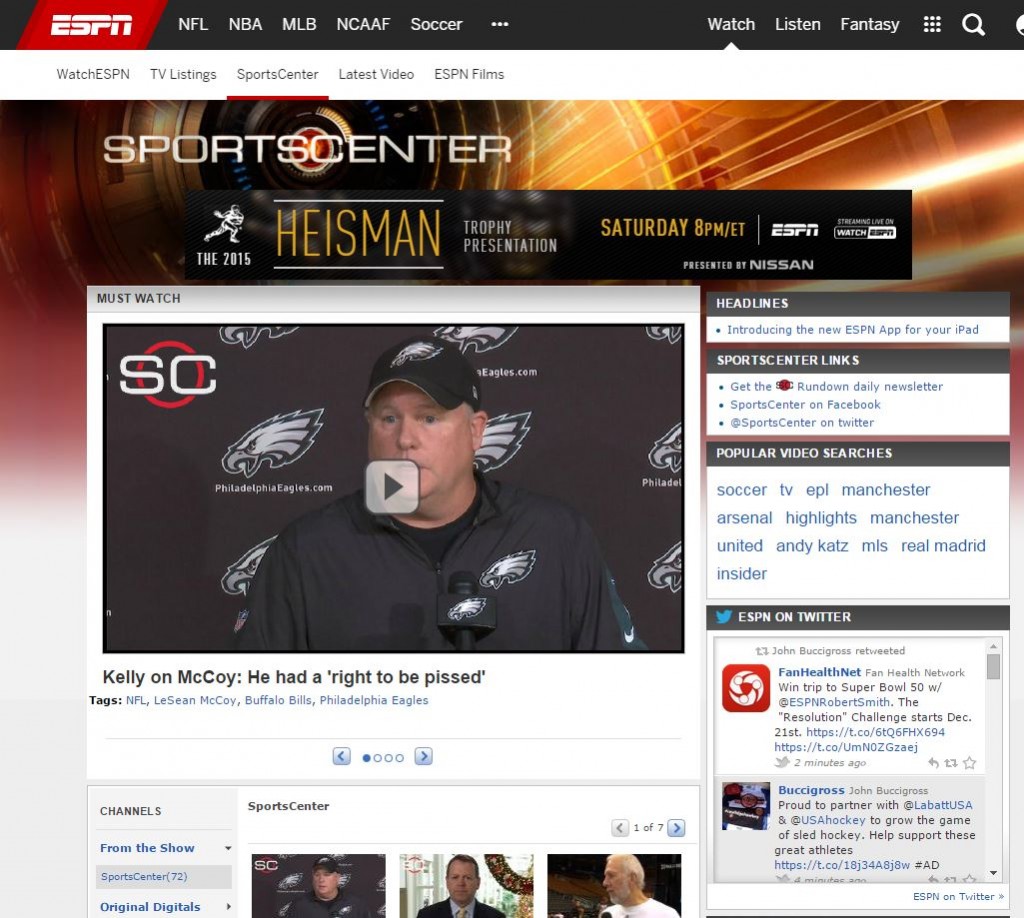 There has been talk about ESPN creating an over the top system where you could subscribe to the channel and stream shows like SportsCenter for a small monthly fee paid directly to the network instead of to Comcast or DISH. But that has yet to manifest. We'll keep you updated on that if it ever happens. For now, you may already be celebrating because you're a cable subscriber and use WatchESPN. This option will work perfectly if you're not a cord cutter.
Is there a Legal SportsCenter Live Stream?
If you have WatchESPN you have access to live streaming SportsCenter for free. You can either use the app to watch online or you can just go to ESPN's website for the same content. Either way you have to log in but you'll get SportsCenter streaming for free.
Stream Past Episodes of SportsCenter for Free
This isn't really an option. If SportsCenter is more than a week old you'll just have to miss it. In fact, it's difficult to even torrent old episodes of SportsCenter because no one is interested in pirating that. The content is old within 24 hours so there really isn't a point. Start watching the latest episodes if you want to watch SportsCenter online.
Relive some moments here:
Is Sling TV an Option for SportsCenter?
Yes! ESPN is the flagship of SlingTV. You can sign up for about twenty bucks a month and get ESPN streamed directly to their app. No cable subscription required. That may appeal to you if you're a huge fan. Sling TV also gives you several other stations as well so give it a shot if you're desperate or really, really hate traditional cable.