FEUD is a series developed by Ryan Murphy for FX. The first season is entitled FUED: Bette and Joan and centers mainly around the backstage battle of two major Hollywood stars i.e. Joan Crawford and Bette Davis. The FEUD focuses on the duo's animosity during the production of their film 'What Ever Happened to Baby Jane?' in 1962. If anything the rivalry between the two silver screen starlets was legendary. The series stars Susan Sarandon as Bette Davis, while Jessica Lange plays Joan Crawford. The series also focuses on the sexism, misogyny, and ageism faced by women stars of the era, all the while trying to hang on to a successful career. While the FEUD may come across as comedic at times, be assured that its based on real life events, and more precisely two stars. So, don't be surprised if some things seem over the top!
Fan of the old days or classic movies shouldn't miss watching FEUD: Bette and Joan. Below is how you can stream FEUD online, live and for free!
Watch FEUD Online Using the Official FX App
The official FX app is the best official, and free method of streaming FEUD: Bette and Joan online for free. The app allows subscribers to the channel to stream all programs for free, so you can also stream Tyrant, Taboo, etc. on the go. However, if you're not a cable subscriber then installing the app on your iOS or Android device is a waste of expensive space. That said there are other methods of streaming FEUD online.
Live Stream FEUD Online with Sling TV
If you're tired of feuding with your cable service provider because it seems to get expensive each time you need to pay, then Sling TV is the perfect alternative. For $25 a month (Sling Blue) you can stream FEUD, as well as other hit shows such as The Walking Dead, NCIS, etc. All via the Sling TV app for iOS, Android, Chromecast, etc. Since FX is streamed live, you'll be able to catch the latest episode as soon as it airs just like on TV.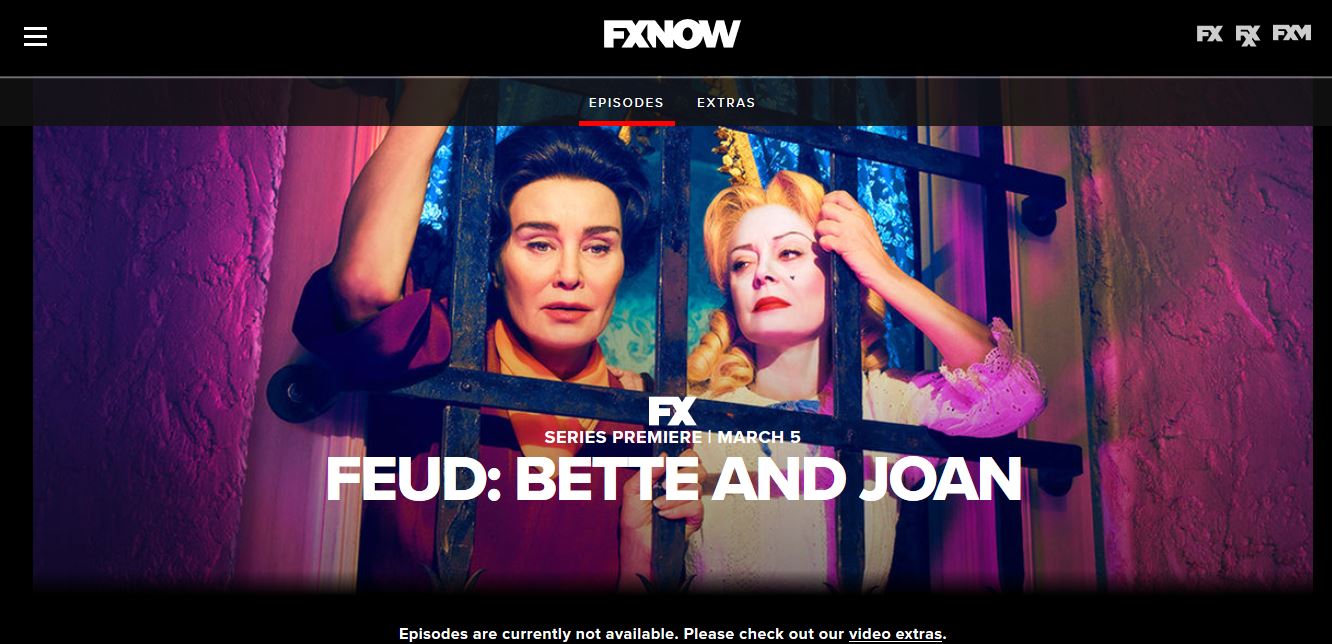 Live Stream FEUD Online with AT&T TV NOW
AT&T TV NOW is another live streaming service owned by AT&T, but with it, you can stream FEUD online on your iPhone, iPad, Android devices and XBoxOne. At $35 a month you don't just get to stream FEUD but a truckload of other channels like A&E, ABC, ESPN, etc. While it's a bit more expensive compared to Sling TV, AT&T does not charge you for the data consumed when streaming via the service! You can also try out the service for seven days via the link below.
Streaming FEUD on Netflix, Hulu, and Amazon
Netflix may unfortunately not get all the episodes of FEUD. If anything, not many FX's shows make it to Netflix, so we're not surprised.
Hulu, on the other hand, is partly owned by Fox which also owns FX. So, it stands to reason that you should be able to stream all the episodes on Hulu.
Amazon Prime should have all the episodes and the option to download the complete season once all eight episodes are aired. However, expect to pay $2.99 to download an episode for the privilege of watching two women FEUD!
https://www.youtube.com/watch?v=jeHDcAhuihE
Other Methods of Streaming FEUD Online for Free
There aren't any free legal methods. You can always go the illegal route to save a few bucks, but that will only end up in jail time and several hundred dollars in fine! So, not a good idea.
Last Updated on by Exstreamist