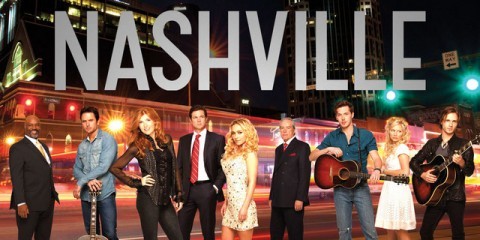 Country music, glitz, glamour and Hayden Panattiere, do we need to say any more to get you to watch ABC's Nashville? Millions of people already are and it's even been looked at for a few awards. It cuts across so many key American demographics that it's a wonder this show hadn't been implemented earlier, quite honestly.
ABC has several different streaming options for their programming. Owned by Disney, they aren't stuck in the past and you should have no trouble finding a legal way to stream Nashville online for free. Here are the most convenient ways to get your country music, drama fix.
Is Nashville Streaming on Netflix or Hulu?
Netflix has dropped a ton of ABC content recently due to some licensing disputes. Nashville is not on Netflix streaming at the moment so don't bother looking.
Hulu, however does have a nice deal with ABC. With a free streaming Hulu trial you'll get access to all seasons, including current Nashville airings the day after they debut. You'll have to watch some commercials unless you upgraded to Ad-Free Hulu but you get everything Nashville there.
Watch Nashville Online with the Official ABC App or Website
If you check out the ABC website (pictured below) you'll notice that you can simply stream full episodes of Nashville here. You'll have to be in the United States and you'll also have to watch some commercials. But you're a warm blooded American country music fan! You eat commercials for breakfast, lunch and dinner. They don't scare you. If that's what it takes to stream Nashville online for free, that's what you'll do!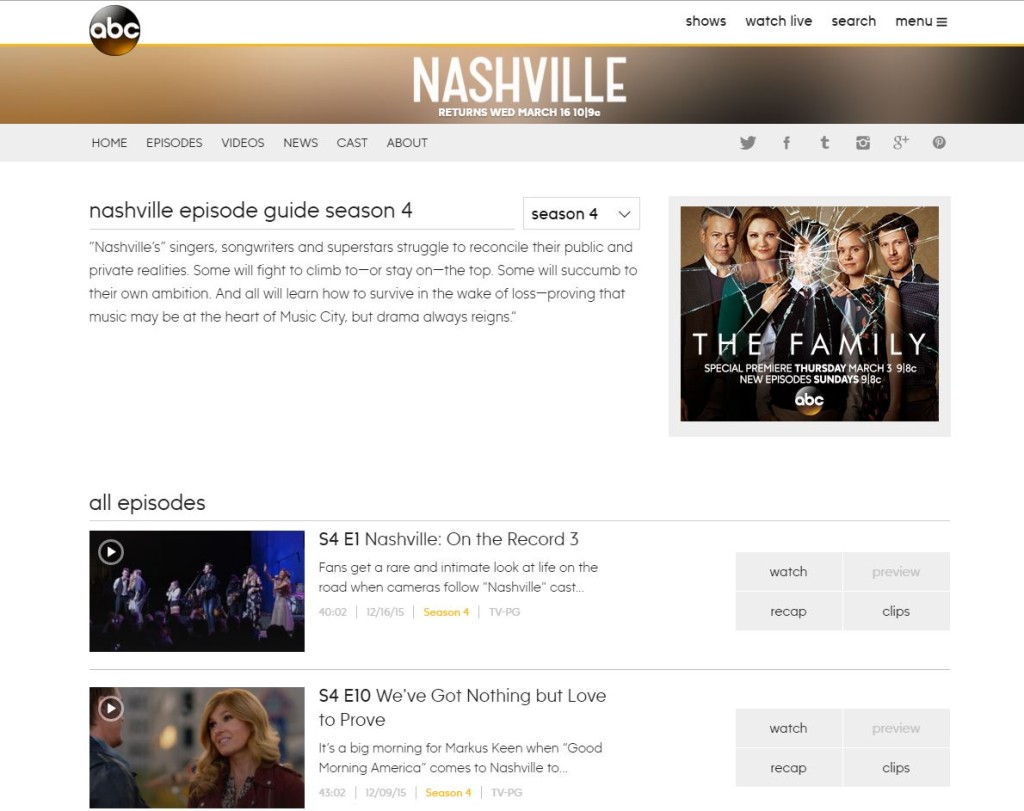 The Watch ABC app gets you Nashville episodes the same way the website does, except you'll need to install the app. For both options you'll only have access to the latest season of Nashville so watch them somewhat quickly. Don't dilly dally. Watch them so.. okay you get the idea. Nashville is streaming on ABC's official channels all year long.
Watch Nashville Live with Sling TV
ABC shows are now on Sling and that include Nashville! Sling is a cable alternative that includes networks such as TNT, Syfy and BET among many others for a low price and doesn't require a commitment. Head over there now to check it out and sign up for the free seven day trial.
Live Stream Nashville on DIRECTV NOW
You can catchup on all the lastest episodes of Nashville with a DIRECTV NOW subscription. The service is unlike regular cable which requires that you be stuck in front of a TV to watch the show. DIRECTV NOW live streams channels and subsequently their shows and starting at just $35 a month its still alot cheaper than a regular pay-tv service. So, give it a shot for free via the link below:
Try DIRECTV NOW Free for 7 Days
Download Whole Seasons or Episodes of Nashville Online
If you'd rather own the entire Nashville experience you can purchase episodes or entire seasons of Nashville on Amazon
or other digital retailers for a small fee. It's a little more to buy single episodes but entire seasons give you a nice deal (usually 20 or 30 dollars).  This is great because not only can you live stream Nashville, you can just download the episode and watch it offline as well.  Great for travelers and the like.
Avoid Illegally Downloading Nashville or Fake Live Streams
Okay, ya'll it's time to talk turkey. Stealing is wrong. You don' want to hurt all of your friends on Nashville, right? You want more episodes of Nashville to be created, correct? Well it's imperative that you legally stream Nashville with one of the above options. If you don't you'll jeopardize the future of the show.  Let us know if you have any other legitimate ways of streaming Nashville online and we'll add them to the list. Thanks for reading, ya'll.