Entertainment Tonight is also referred to as ET, is a syndicated show distributed by CBS in the United States. Starting in 2015 the show is hosted by anchors Kevin Frazier and Nancy O'Dell, with the weekend shows hosted by Nichelle Turner and Camero Mathison. The show premiered in 1981 and was the first satellite syndicated show. Its claim to fame is being the longest running and the most watched entertainment news magazine show in the world. Though the claim has obviously never been officially verified.
Entertainment Tonight is the show to watch for anyone who wants to keep up with the latest in the entertainment world other than just the Kardashians. Below is how you can stream Entertainment Tonight online for free!
Watch Entertainment Tonight Online Locally
Since Entertainment Tonight (ET) is syndicated, it's on a number of different channels across the US. So, depending on where you're located, tuning into the local entertainment channel should ensure that you get a steady and daily dose of ET. If your local cable service provider offers live streaming or the local channel has an app in that case you'll be able to stream the show online. But because many networks don't you're probably better off seeking an online-only streaming service like those mentioned below.
Live Stream X Online with Sling TV
Sling TV is a cord-cutting service which promises to free you from the shackles of regular cable. Unlike regular cable, the service streams dozens of channels like AMC, ESPN, Fox Sports, etc. via their app for various devices including iPhones and Android phones. Starting at $20 a month it's not exactly expensive though anyone who wants to watch ET live may have to do a little more research. Since Entertainment Tonight is a syndicated show, it's often on multiple channels at different times. So, before you signup for a package make sure that you do the legwork.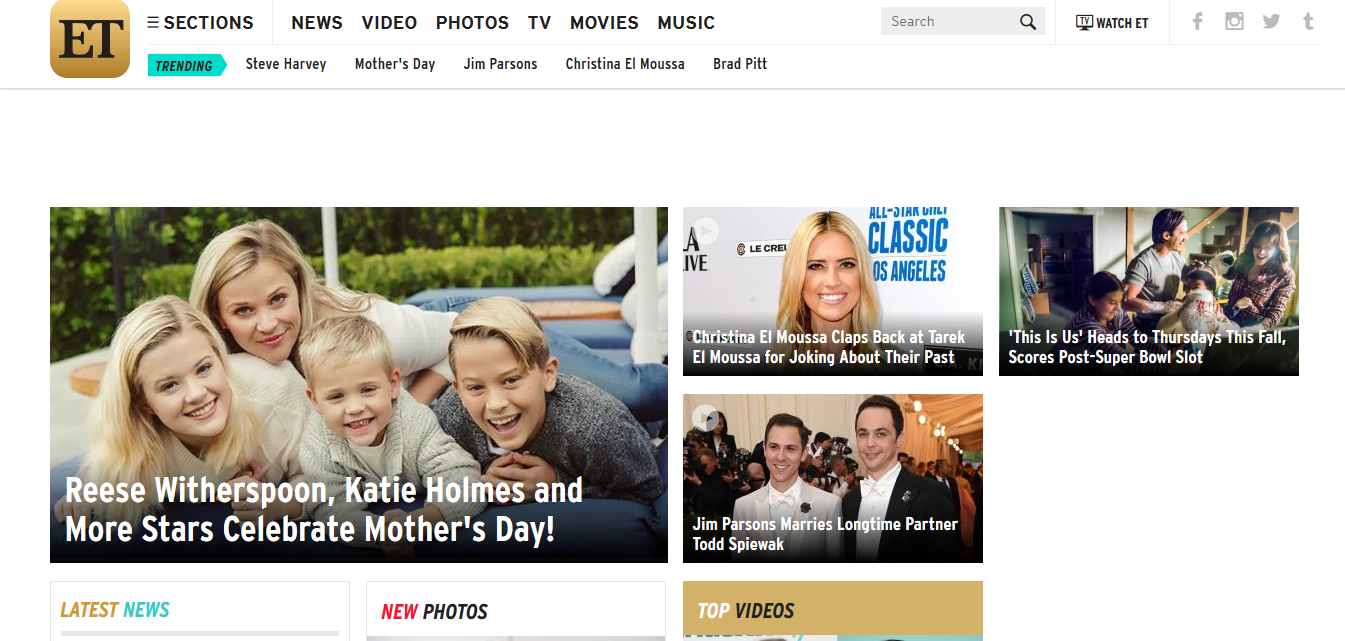 Watch Entertainment Tonight Live with AT&T TV NOW
AT&T TV NOW is owned by AT&T, but despite being able to stream nearly close to two hundred channels via its app for iOS and Android devices mainly, there is no guarantee that you'll be able to watch ET. AT&T TV NOW's official website makes no claim of subscribers being able to watch Entertainment Tonight live regardless of if they opt for the basic $35 bundle or upgrade. That said if you've always wanted to free yourself from the confines of local cable television you can give the service a shot via the button below.
Streaming Entertainment Tonight on Netflix, Hulu, and Amazon
Netflix subscribers will not be able to watch episodes of Entertainment Tonight. We are not sure why that's the case, but it could have something to do with Hulu!
Hulu subscribers are in luck when it comes to keeping up with all the latest celebrity gossip. Both old and new episodes are readily available.
Amazon Prime does not have episodes either old or new available for download. Though there is no official word as to why that's the case, but we suspect that it has something to do with the short life of a magazine show's episode.
Other Methods of Streaming Entertainment Tonight Online
A brief Google search yielded numerous online streaming websites though most of them were just out to install spyware and adware on our computer. Plus, copyright law states that using these services is tantamount to piracy and you could be subject to prison time and fines. So, unless you're looking to share a cell with OJ Simpson, we wouldn't advise that you use these so called free streaming methods.
Last Updated on by Exstreamist