Curb Your Enthusiasm stars Larry David who plays a fictionalized character resembling himself in many ways. Larry is a semi-retired television producer and writer in LA who later moves to New York City. The plots and subplots are loosely established by David after which the dialogue and actions are improvised. The show is often seen as a spin-off of Seinfeld which too was co-created by David. The story mainly revolves around Larry David's many social issues, unreal expectations and his annoyance with other people which he addresses with hysterical awkwardness. The series returned in 2016, after an indefinite hiatus back in 2011.
If you're a fan of shows like The Big Bang Theory, South Park, etc. then you've probably already watched Curb Your Enthusiasm. Below is how you can cut the cord and live stream Curb Your Enthusiasm online.
Watch Curb Your Enthusiasm Online Using the Official HBO App
Curb Your Enthusiasm fans can use the HBO GO app available for iOS and Android devices to live stream the latest episodes of the show. Though the app is free, it still requires that you log-in with your subscriber credentials. Which means that you need to be a cable subscriber. Alternatively, if you don't feel enthusiastic about cable's mandatory long-term commitment, you could use the HBO Now app. The Now app is free for the first month, but after that, you'll be paying $15 a month. Though it's in no way a replacement for cable like the options we discuss above.
Live Stream Curb Your Enthusiasm via AT&T TV NOW
AT&T TV NOW is a cord cutting solution run by AT&T. The service starts at $35 a month, but HBO is part of its premium lineup. That said the lineup includes over a hundred other channels all of which are streamed via the service's apps for iOS, Android, Chromecast, etc. So, in addition, to live streaming Curb Your Enthusiasm, you'll be able to watch other shows as well like The Game of Thrones, Westworld, Silicon Valley, etc.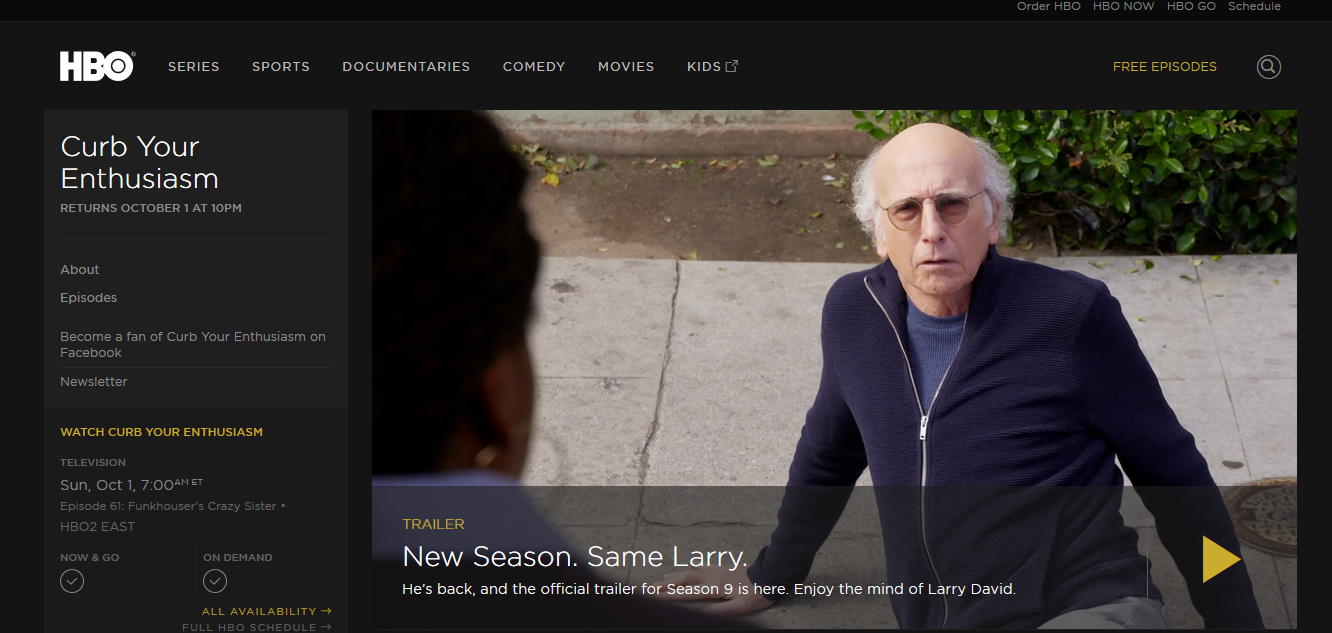 Live Stream Curb Your Enthusiasm Online with Sling TV
Sling TV is a comparatively cheaper cord-cutting service starting at $20 a month. HBO is part of its entertainment package and can be added on for a few extra bucks. Which means that you'll be able to watch Curb Your Enthusiasm in addition to news and sports channels all of which are streamed via the service's apps for almost all smart devices. Give the service a shot for 7-days free by clicking below.
Streaming Curb Your Enthusiasm on Netflix, Hulu, and Amazon
Netflix subscribers are, unfortunately, deprived of HBO shows like Curb Your Enthusiasm. Both HBO and Netflix have not been able to work things out which is why the show is not available.
Hulu is another service which has been deprived of HBO shows like Curb Your Enthusiasm. Perhaps the reason behind this is HBO trying to push its own streaming service.
Amazon Prime has all seasons of Curb Your Enthusiasm starting from season 1 right down to no. 8 available for download. The average price is around $2.99 which may probably not be affordable for the average millennial.
Other Methods of Streaming Curb Your Enthusiasm Live Online for Free
Honestly, HBO runs a pretty tight shift, and so there are few if any legal ways of watching Curb Your Enthusiasm live for free. Those that are free are run by pirates outside of the US. That said using these so-called free streaming service is illegal and you could end up with David in the slammer!