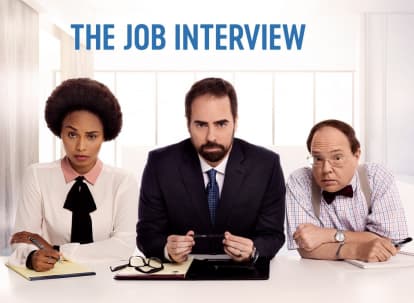 The Job Interview takes you into one of the most stressful times of people's lives naturally when they are going in for a job interview! The show takes viewers into real life interviews. The Job Interview is produced by ITV Entertainment for CNBC. It appears that the show's goal is to perhaps educate people about how best to go for a job interview, i.e. what they should say, and what not to say. Interestingly, The Job Interview makes light of the often an extremely stressful situation, not to mention the real-life employers who seem to toy with the candidates.
The show follows a similar format to The Apprentice and Shark Tank. So, if you are a fan of those two shows then below is how you can stream The Job Interview.
Watch The Job Interview Online Using the Official CNBC App or Website
The official CNBC app is available for iOS and Android devices and enables fans of the show to live stream it on the go for free. Alternatively, you can also live stream via CNBC's official website. However, both the app and website require that you be a subscriber to the network via the local cable service or you could borrow a friend's credentials. That said if you don't have either be assured that there are other ways to stream The Job Interview live.
Live Stream The Job Interview via DIRECTV NOW
DIRECTV NOW helps people cut the cord to watch live channels from any smart device. Subscribers can watch shows like The Job Interview and networks like CNN, ABC, and Syfy amongst over a hundred others. Starting at $35 a month AT&T does not require a long-term commitment, and they throw in free data for streaming just to sweeten the deal. Try the service for free via the link below.
Try DIRECTV NOW Free for 7 Days
Live Stream The Job Interview Online with Sling TV
Sling TV is a cord-cutting service similar to the one mentioned above. Perhaps the only difference is that it's cheaper starting at just $20 a month. However, with it subscribers can watch The Job Interview via a series of apps for Android and iOS devices amongst others. Plus, there are a load of other sports and entertainment networks that can be streamed on multiple devices at the same time with just one subscription!
Streaming The Job Interview on Netflix, Hulu, and Amazon
Netflix as of this writing does not have any episodes of The Job Interview. Though that may change but exactly that happens is anyone's guess.
Hulu too does not have The Job Interview. Again, we don't know when it will be available or if it will be!
Amazon Prime usually has most popular shows available for download. Though the Job Interview is not one of them despite its popularity.
Other Methods of Streaming the Job Interview for Free
CNBC runs a pretty tight shift and so none of their copyrighted content like The Job Interview can be aired without their consent. So, if they are any services offering the show for free we can bet our bottom dollar that its run by pirates. Plus, if you're serious about getting a job we wouldn't advise that you trust pirates as that will only get you some time behind bars and not as a corrections officer!