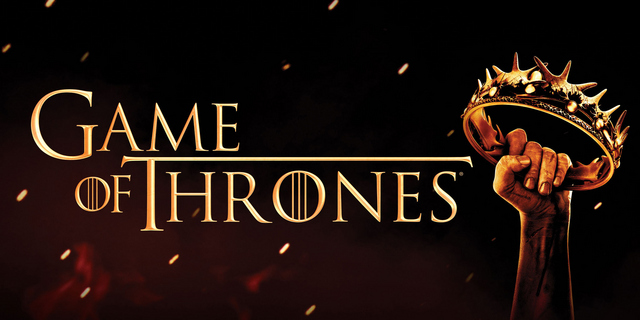 Who will take the throne in Westeros? You don't even need to be an avid Game of Thrones fan to know that we're referring about this show. Game of Thrones is probably the biggest social phenomenon on television since The Sopranos. HBO has done it again, and for the first time they've done it in a fantasy world by George R.R Martin.
HBO has a few streaming options for your Game of Thrones watching needs. Between HBO Go, HBO Now and a few other options we'll get to, you're sure to find an option that works for you. Don't be left behind on this one. You don't want to be the only one who hasn't seen Game of Thrones at the water cooler. Just pretend like you've seen it and say something like "Tyrion is the best, right guys?" Then proceed to stream Game of Thrones when you get the chance. Or if you cant get any of them to work just watch The Shannara Chronicles on MTV! Same thing, right?
You can sign up for a free trial of HBO Now here, which doesn't require a cable subscription. It will give you immediate access to the series.
Streaming Game of Thrones with DIRECTV NOW
DIRECTV NOW is similar to Sling but their packages vary a bit. Check out the channels you'll get and sign up for one that has HBO as well to get Game of Thrones streaming. It's only $5 to add HBO to any DIRECTV plan so it's actually a great deal. If you're an AT&T customer the deal is just unbeatable at $10 a month for basically a complete streaming cable package with every channel you could ever want.  Check out the seven day free trial now.
Try DIRECTV NOW Free for 7 Days
Sling TV offers Live Streaming Game of Thrones Options
For those of you who have a Sling TV account, or are curios about what Sling TV offers, you can add an HBO package to your account. Great news too, if you're curious about what their services include, you can sign up for a free trial here and cancel anytime. They have an additional package where you can include HBO for live streaming Game of Thrones. You can also add on other premium channels like Showtime and Starz if you'd like.
Watch Game of Thrones Online for Free with HBO Go
Okay, we used the word "free" here a bit too… freely. To watch Game of Thrones for free with HBO Go you'll have to obtain a login and password from your cable provider. This means you'll have to be a traditional subscriber to HBO and Game of Thrones already, through a cable company.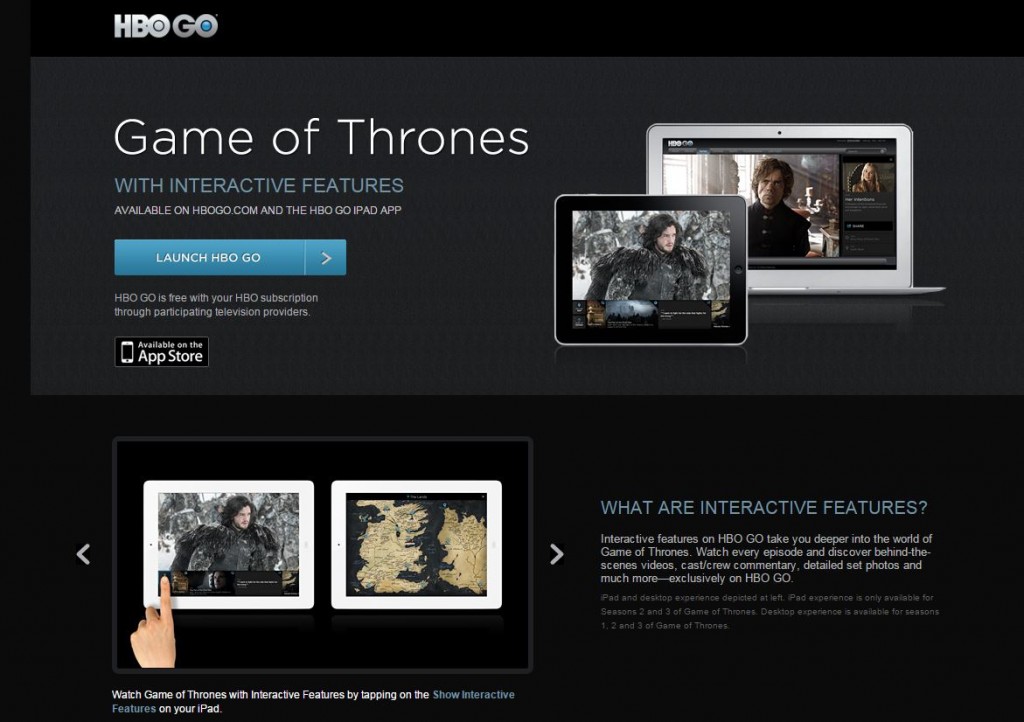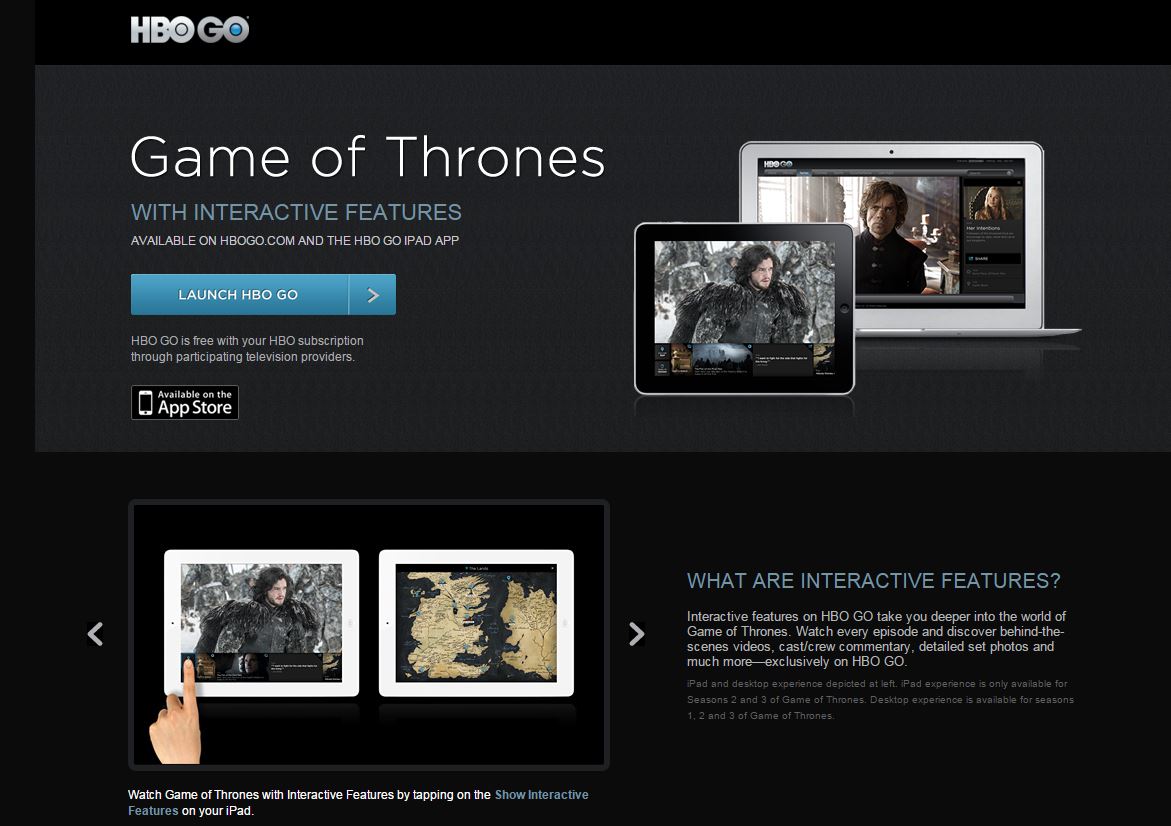 But if you have that already (or can borrow your parents') you're golden like Tywin Lannister's excrement.  Only two people can stream at the same time, though so this will only work if your parents aren't actually using their login.
Is Game of Thrones on Netflix or Hulu?
HBO has not put any of it's programming, including Game of Thrones on Netflix or Hulu for some time now. In fact, since HBO Go and HBO Now are becoming more main stream, there probably isn't any hope of seeing Game of Thrones on Netflix… ever.
Hulu recently made a deal with Showtime for their content but there haven't been any rumors of Game of Thrones or HBO budging there. We doubt it will happen but never say never. Game of Thrones means big money and if Hulu or Netflix made a Mountain-sized offer it might be difficult to refuse.
Stream Game of Thrones Online with HBO Now
HBO Now is the newest member of the Game of Thrones streaming family of options. Starting in 2015, you don't have to subscribe to cable to get Game of Thrones in a legit way. You simply head over to HBONow.com and sign up for a free trial of the service which will allow you to stream any and all HBO content (new and old) wherever you want and whenever you want. This currently costs about $15 so maybe it's worth it to you. The free option here is to subscribe to the trial and binge-watch Game of Thrones before cancelling.  Good luck with that.
Avoid Illegal Live Streams of Game of Thrones
The only legal way to watch Game of Thrones online and streaming is to use the official channels mentioned above. Anything else is totally unauthorized and will probably suck for you. Most of the forign streams out there are low quality and contain viruses that will ruin your computer. Torrents and other methods may seem like a great Game of Thrones streaming option but those are also illegal. Don't you want to support your favorite show?  We can't recommend these options.
Grab Game of Thrones on DVD, Blu-Ray or Digital Download
If you're not in a big hurry to watch Game of Thrones you can always wait for the physical discs or digital downloads to be released. The DVD and Blu-Rays
usually take an entire year to release while the digital downloads come more quickly
 to Amazon or iTunes if that's more your style. The ultimate fan downloads AND owns the physical copies of Game of Thrones but who are we to judge.
There you have it: All of the options for watching Game of Thrones online and streaming. Choose the one that's best for you and become the King of your own castle.