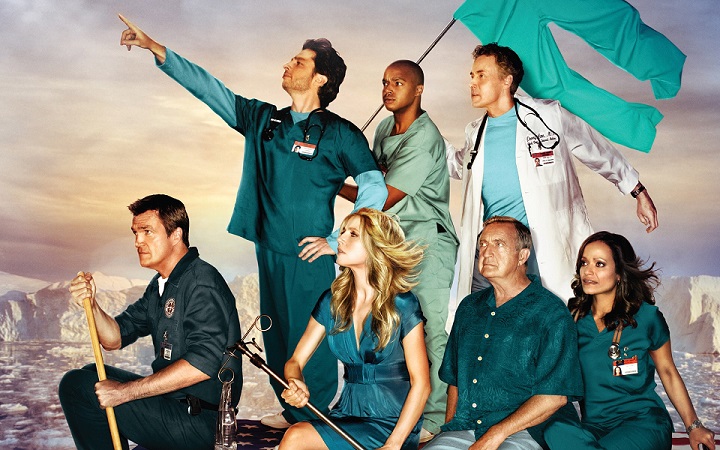 Looking to watch a metric ton of TV online across the spectrum? Want classic comedy or perhaps modern hilarity? Hulu is the place to be for binge watching modern shows. Not to mention their recent announcement that you can get Hulu without ads. We break down the best comedies on Hulu below.
We like to release a monthly list of what the best comedy TV shows on Hulu are that you can stream instantly through your subscription. We'll mix things up when possible, but there are of course going to be some mainstays that will always belong on the best of Hulu list as long as they're available.
We'll also try to keep this list as up to date as possible, but of course there will be occasional rapid changes so please let us know if you notice anything missing.
10) Brooklyn Nine Nine

A new one but a great one, Brooklyn Nine Nine took a few episodes to warm up to, but after you get a feel for the writing and cast chemistry, the show ends up hooking you in for a hilarious run. Andy Samberg is on point here as well with a great supporting cast of recognizable comedic faces.
9) Difficult People

Arguably Hulu's Best original show yet, Difficult People didn't waste any time offending its audience, with controversy already stewing in the first couple episodes. But you know what, Difficult People goes there any chance it gets and never apologizes. Not for everyone, sure, but for those with a sick sense of humor? It's all systems go.
8) The Mindy Project

Shame on FOX for cancelling The Mindy Project, but fortunately for all of us Hulu saw the potential, especially as a larger digital following started growing and picked up the show for a fourth season. Not only was it great to see Hulu pick the show up, but the premiere flashed greatness and leads us to believe the series is in great hands.
7) It's Always Sunny in Philadelphia

Ever wondered what Seinfeld would be like if the characters were even more devoid of morality? It's Always Sunny in Philadelphia answers that question, leaving viewership completely disgusted but in tears from laughing so hard at the absurdity.
6) Key & Peele

In the days of YouTube many thought sketch comedy television was going to slowly die. But Key & Peele have used this modern world of digital distribution and thrived. One of the best comedy shows of recent memory, every episode has at least a few winners, but they're all worth watching and they're all on Hulu.
5) South Park

What more can be said about one of the most offensive yet accurate cartoons of our generation. South Park has been one of the longest running TV shows of all time (doubtful they'll ever catch The Simpsons though). One of their biggest strengths is how quickly they produce their shows, giving them plenty of opportunity to pan current events and the absurdity of the world in which we live.
4) Cheers

Quick, sing the theme song to Cheers. We're willing to bet you have it down pact in your memory. This one might be a bit dated, but it's hard to top the classic dialog that occurred in that basement bar. The regulars and their banter will live on forever, and Hulu currently has them all available to stream.
3) Modern Family

Is your family dysfunctional in its own way? Almost certainly, right? Modern Family embraces the quirkiness we all have among our kin and turns it into comedy. Every element of this show cracks us up, and we certainly can't argue with all the awards that Modern Family has won.
2) Scrubs

The best bromance ever recorded on film. The Turk and JD friendship made this show everything we could have wanted it to be and more. The show is the perfect mix of recurring jokes mixed with a developing plot of romance, friendship, trials and tribulations and some good ol' hospital dramedy.
1) Seinfeld

The ultimate show about nothing. Seinfeld ran strong for nine seasons and then went out on top when the cast and crew had all hit their peak. While some might argue that the finale left us all disappointed, all sins felt rectified following a fantastic Curb Your Enthusiasm season dedicated to a "redo" of sorts. Regardless, when Hulu started streaming Seinfeld, we almost immediately binge watched the entire series because despite it having been produced years ago, it still makes us laugh just as hard every time we watch an episode.