What can love make you do? Well in the case of Syfy's 'Incorporated' it can make you put your life on the line. Well with executive producers Ben Affleck and Matt Damon on board you can't expect anything less than life-threatening. The series is about a young man who decides to infiltrate a highly dangerous, all encompassing, and ruthless organization…a lot more ruthless than Apple! His mission is to save the woman he loves. Though it turns out to be a lot harder than he first thought and it's up to him to lie, cheat, steal and even kill to get what he wants. As the top honchos at the company start suspecting something is wrong Ben Larson needs to race against the clock! Oh and we almost forgot the year is 2074!
If you're into action packed futuristic serials then 'Incorporated' is one you shouldn't miss. Below is how you can stream it online because not everyone wants to watch Syfy on television!
Watch Incorporated Online Using the Official Syfy Now App or Website
The easiest way to watch Syfy's 'Incorporated' online is via your mobile device or by using the official Syfy Now app. The app is easy to install and once installed you can stream episodes of 'incorporated' along with other Syfy shows such as Killjoys and Dark Matter for free! The Syfy Now app is available for iOS and Windows 8 /10 tablet computers and phones. However, there is a catch i.e. you need to enter in your subscriber credentials. You can always enter borrowed credentials, but that's only possible if people don't trust you. That said if you lack the credentials because you're not a subscriber the official route is pointless.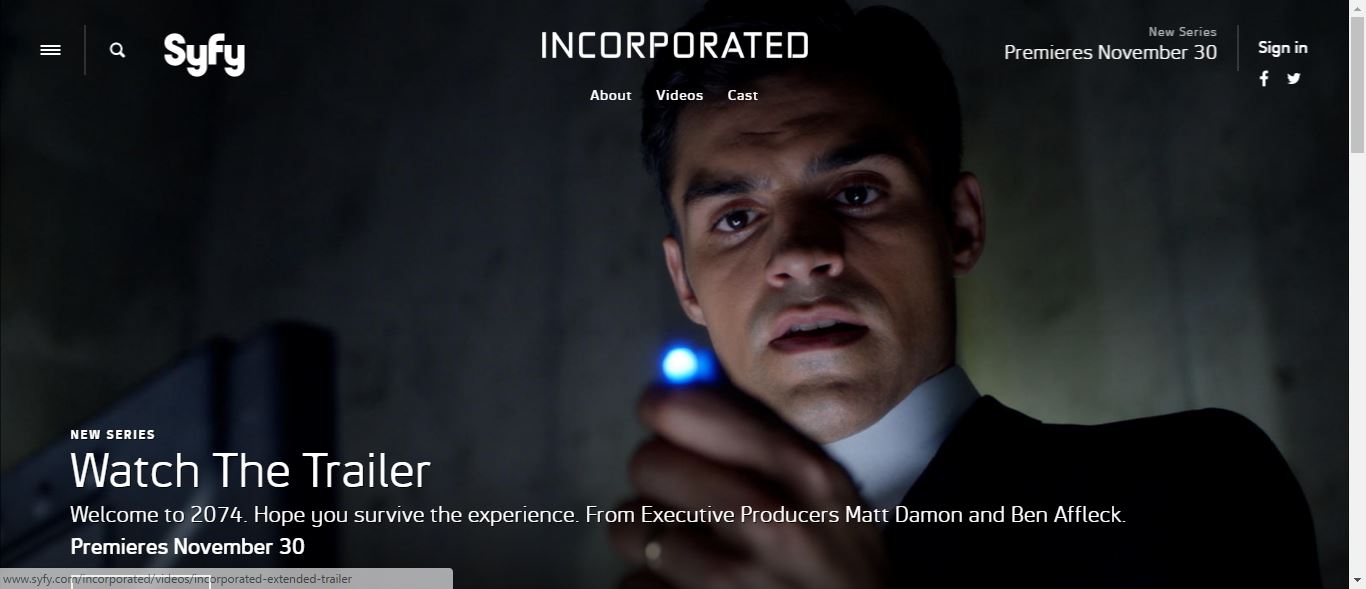 Live Stream 'Incorporated' Online with Sling TV
Sling TV allows subscribers to live stream channels such as Syfy, CNN, ESPN, etc. directly to their smartphones and iPads. The Sling TV app and an online subscription are all you need to cut the proverbial cable. Also, because you're able to live stream channels on the go, you're never going to miss your favorite show again. Plus, unlike regular cable television, there is no commitment on your part, you can watch it the first month and refuse to renew it for the next with no repercussions. At $20 a month for the basic package its perfect for millennials who are yet to move out of their parents' apartment.
>> Sign Up for Sling TV and Watch Incorporated Online Live for 7 Days Free <<
Streaming 'Incorporated' on Netflix, Hulu, and Amazon
'Incorporated' should be available for streaming on Netflix soon. Afterall Netflix has every other Syfy show. That said there is no official word yet, and so this is just speculation on our part. However, you most definitely will be able to stream the latest episodes of 'Incorporated' on Hulu. Since Hulu is mentioned as one of Syfy's streaming options on their website it's a fair assessment that every episode will be available as soon as the network broadcasts it.
While no official word about episode availability on Amazon Prime there is a 90% chance that it will soon be available. So perhaps keep checking back with Amazon to see when the latest episodes are available for download which by the way costs $2.99 at the very least.
Other Ways of Streaming Incorporated for Free
Yes! There are possibly other ways but not legal. So we were you we wouldn't bet our student loan on it being legal if it's free! Piracy is illegal, and so you could end up in jail which is why we strongly advise you against using so-called free streaming websites.
Last Updated on by Exstreamist