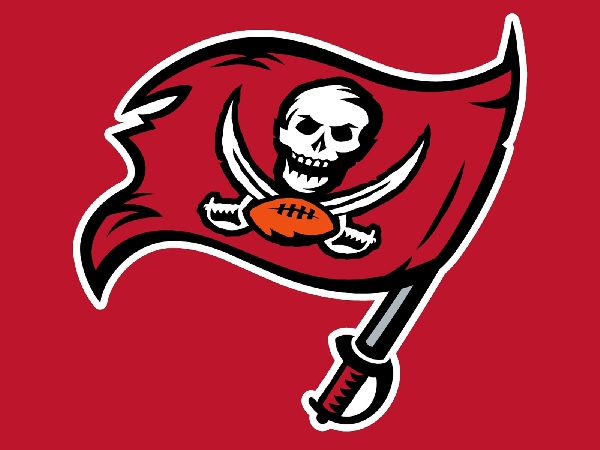 The team joined the NFL along with the Seahawks in 1976. But in fact, the Buccaneers have, for the most part been winners especially when they became the first team since the original merger with close to a dozen rookies to pick up a win in 2010. The club is presently owned by the filthy rich Glazer family with the team's home games being played at Raymond James Stadium located in Tampa. These pirates roam the NFC South alongside the Saints, Panthers and Falcons.
If you're a fan of the Buccaneers, and we won't blame you for it, here is how to stream the Tampa Bay Buccaneers online.
Live Stream Tampa Bay Buccaneers Online with Sling TV
The great thing about Sling TV is that all the channels on it are live. It does not require that you wait for things to load or pop-ups to close before you can watch a live game. Once you're subscribed to a Sling TV package you can afford, you'll be able to stream Fox Sports 1&2, ESPN 1&2, as well as the NFL network directly on your mobile device.  However, because all the channels are live you'll not be skipping through the commercials, so make sure you buy an extra bag of crisps. Oh and you can get dozens of channels starting at just $20 a month!
Fubo has Local Streaming Access to Buccaneers Games
Local streaming deals for NFL broadcasting rights can be complicated. Fubo has done a great job of securing some of them and, like the options above, will allow you to stream NFL games and RedZone live on mobile devices in most major markets. Head over there now for a free trial and to find out what teams are streaming with Fubo:
Use a VPN to access out-of-market Bucs games
Live in one city but want to watch a game broadcasting in another city? NordVPN has you covered. Set up a VPN and just like that, you can use any of the above streaming services to access live streams of your favorite team.
Stream Buccaneers Games with Hulu
One of the biggest names in streaming, Hulu has live streaming options that will give you access to ESPN, FOX, CBS, and NBC. That should cover a good chunk of the Bucs games you're looking to stream if your local team is available on one of these networks.
Game on CBS? Watch the game here:
If you're looking to stream your team's game on CBS, Paramount Plus now offers streaming of NFL games through their handy streaming service. Get a free trial here and start streaming.
Watch Bucs Games Live Without Cable on AT&T TV NOW
Tampa Bay sure loves to stream their team's games.  AT&T TV NOW has all the cable channels you can likely think of, including the Bucs game. ESPN, Fox News, HGTV, Disney Channel and of course you'll be able to stream all those special Buccaneers games even when it's Monday Night Football. Use the 7 day free trial to decide if it's right for you but it probably is since it's only $35 a month. Compare that to cable! Sheesh.
Watch the Tampa Bay Buccaneers using the official Buccaneers Team Website
The official team website for the Tampa Bay Buccaneers has two elements we like very much about it, the first being it's free and the second being that its updated daily. However, there are also two things we don't particularly like the first being that there is no way to live stream the Buccaneers whenever they play even if you're willing to pay and the second being it's not very mobile friendly. But having said all of that we strongly advise that you always visit the official website if you're broke and would like to catch up on last night's game or just want to check their record and latest team news. If you want to live stream the team, we suggest a couple of other methods below.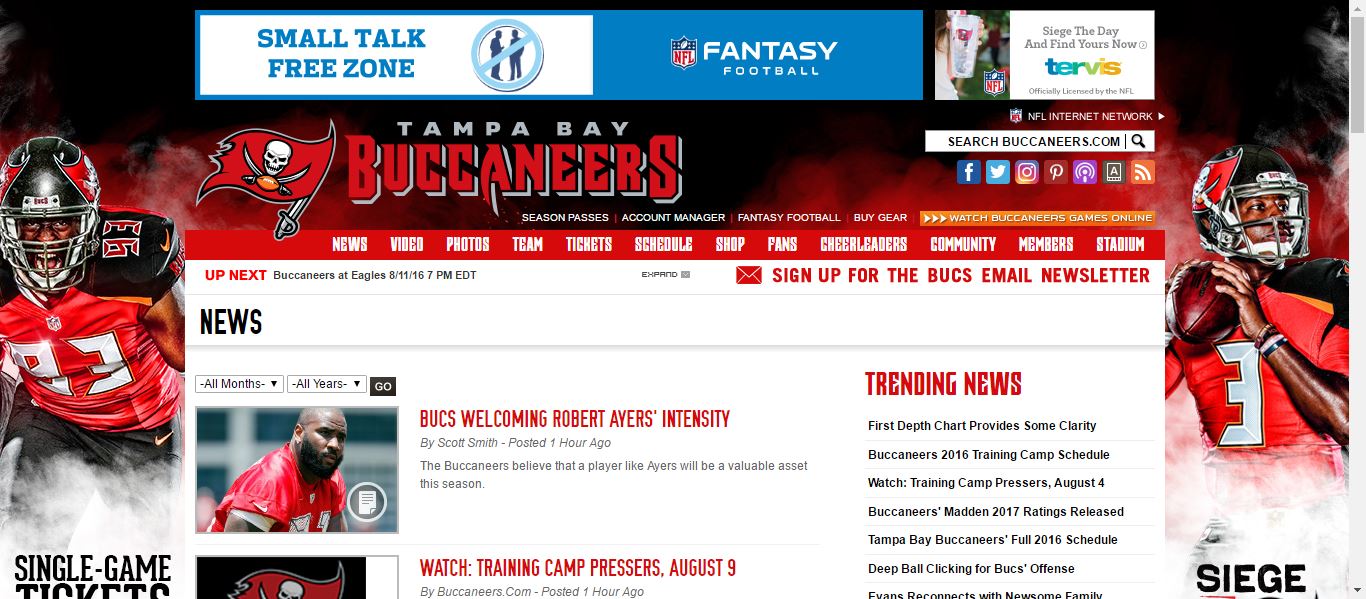 Other Ways of Streaming the Tampa Bay Buccaneers Online
NFL Game Pass gives you the Buccaneers game straight to your Apple TV or Roku or mobile device for a $99 per year fee. The catch is they only play non-live games.
Playstation Vue has all of the channels Sling does for a little extra cash. The Buccaneers are there, of course so if you're a Sony fan give this one a try.
Netflix and Hulu won't have Bucs games streaming live but Amazon Prime members get Thursday Night Football games free with their membership!
Verizon Wireless takes care of their NFL fan customers with a free app called NFL Mobile. Here you'll get all TNF, SNF and MNF games streaming.
Avoid Breaking the Law by Avoiding Shady Live Buccaneers Streams Online
Well, there are maybe a few other ways of streaming the Buccaneers game, but they're mostly illegal. Piracy is a crime in the US and even outside of the country it is frowned upon. So, we strongly advise that you stick to the straight and narrow. If anything, most websites offering free NFL streaming install a truckload of viruses and Trojans to your computer so before you know it your bank account, credit card, and social security details are halfway across the world just because you were too cheap to go legit!
Support your favorite team by using one of the legal options above.