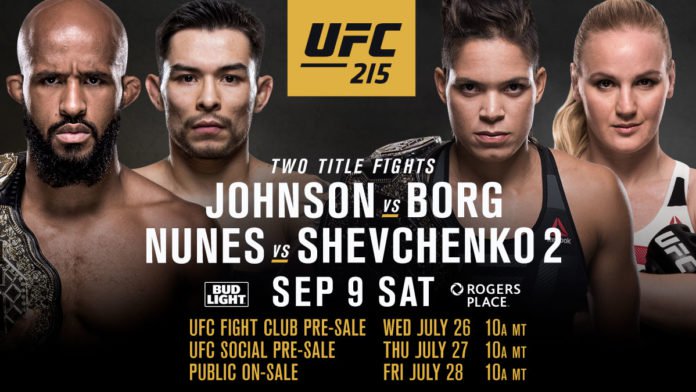 UFC 215: Johnson vs. Borg is right around the corner scheduled for September 9th at the Rogers Place in Edmonton, Alberta, Canada. The current UFC Flyweight Champion Demetrious Johnson will go toe to toe with the challenger Ray Borg. If Johnson successfully defends his title at the bout, he will go on to become the UFC fighter with the most title defenses ever (currently standing at eleven).  Also, on the cards for UFC 2015 is Amanda Nunes, the current UFC Women's Bantamweight Champion who will defend her title against Valentina Shevchenko. Valentina Shevchenko is a muray thai world champion who previously fought Nunes at UFC 196 with the latter winning by a controversial unanimous decision. It has been a long time coming especially after Nunes pulled out their scheduled bout at UFC 2013 citing an unknown illness.
UFC 215: Johnson vs. Borg is geared up to be a fire cracker folks! Below is how you can live stream every minute of UFC 215: Johnson vs. Borg in both English and Spanish.
Watch UFC 215: Johnson vs. Borg Online Using the Official UFC Fight Pass and App
The UFC fight pass gives fight fans live and complete access to current and previous bouts. Subscribers to UFC fight pass can download and install the UFC app on their respective devices which allow them to stream on the go. Starting at $9.99 a month and a 7-day free trial it's the best official way to watch all the fights and prelims though it's not live. So, if you want to watch UFC 215: Johnson vs. Borg you'll have to wait a while till is made available. Alternatively, you could try subscribing to UFC TV via your local cable service. If none of these options sound good to you, then be assured we have others!
Live Stream UFC 215: Johnson vs. Borg Online with Sling TV
Sling TV is a cord cutting service, and they've started streaming many big PPV fights. Sling TV has made it possible for fight fans to purchase a PPV subscription to watch UFC 215: Johnson vs. Borg live. All subscribers have to do is to pay $59.99 to start streaming the bout on September 9th. Sling TV Blue subscribers will also be able to watch UFC 215's Prelims via Fox Sports 1 at around 8 pm EST.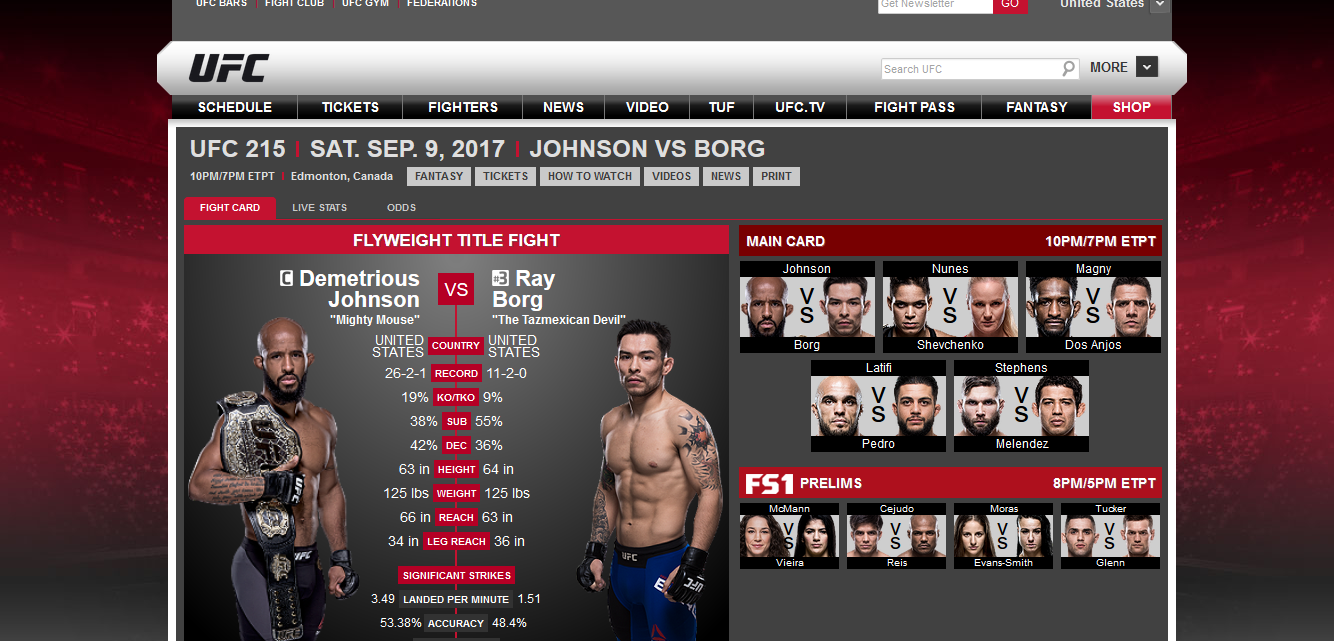 Watch UFC 215: Johnson vs. Borg via AT&T TV NOW
AT&T TV NOW live streams many sports events though at the moment they don't stream many Pay Per View events. While the service will not be streaming UFC 215: Johnson vs. Borg live, fans will still be able to catch the Prelims via Fox Sports 1. Fox Sports 1&2 in addition to ESPN may also broadcast reruns of the match a month or so later. Furthermore, the service streams many other news and entertainment channels like Fox News, AMC, etc. live via its apps for iOS and Android devices.
Other Methods of streaming UFC 215: Johnson vs. Borg Live for Free
So far above are the only methods of live streaming UFC 215: Johnson vs. Borg live legally. While we are sure that there are plenty of illegal methods but we won't discuss those since they would probably end up with you in court. Though alternatively, you could try searching for matches you were interested in watching the next day on YouTube!