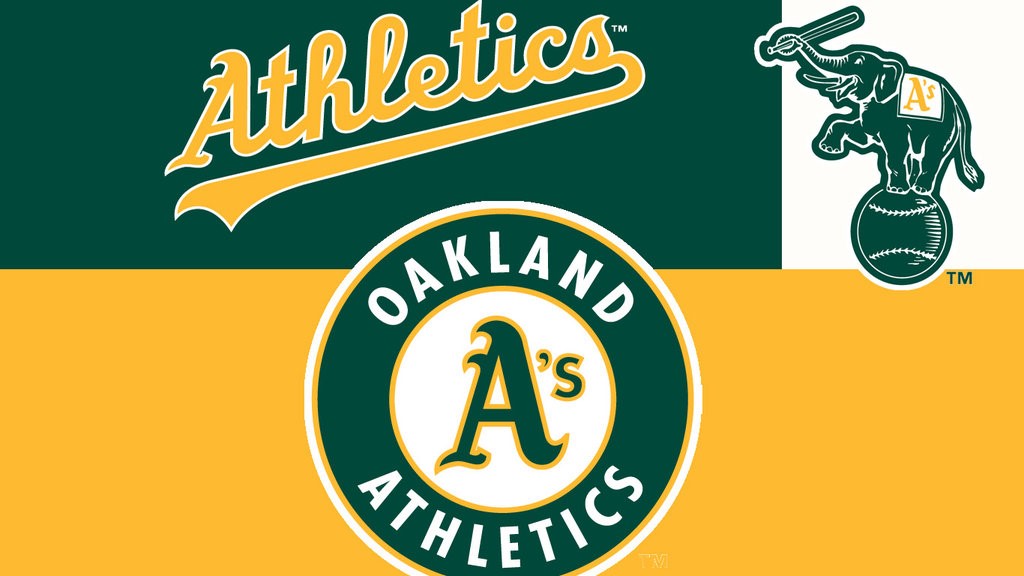 The Athletics have an amazing history and face off against the Rangers, Mariners, Astros and  Angels in the AL West
If the Athletics are your favorite team, then be rest assured that there are ways to watch them nearly free online. Here are the best options available right now:
Stream the Athletics Game Live with Sling TV

Sling TV offers the cheapest alternative to a regular cable connection. In our opinion, if you want to stream Oakland Athletics for free online, this is the nearest you can get. Why? Well because $19.95 a month buys you not just ESPN and ESPN2 but loads of other sports channels. Plus, they very easy to use and a relatively bug-free app means that you'll never miss an Oakland Athletics game again even if you're stuck in the dorm.
Head over there now to check it out and sign up for the free seven day trial.
Fubo has most Live MLB Games Too!
Fubo is another service where cable is not required and you'll get access to almost every MLB game you need for a low monthly fee you can cancel at any time. Give FuboTV a try as well:
If the A's are on ESPN, Try ESPN+
If your team has a special evening game on Sunday Night Baseball or ESPN, you'll need ESPN+ or one of the streaming services with ESPN included to stream said game:
Use Hulu Live to watch games online
Hulu is a powerhouse when it comes to offering live streams. So if the game you're hoping to watch is on one of the networks they stream, this could also be a good option for you!
Stream A's games anywhere using a VPN
If you already have a streaming service, but want to watch a game not broadcasting in your area, consider using a VPN to allow streaming of your favorite team. For example, if you're in California, but want to watch The Athletics online, a VPN like NordVPN will allow you to do just that.
Watch the Oakland Athletics Online with MLB.tv
Officially, the page is for the MLB's cable television channel but also serves as the league's official page. So, apart from all the pictures, info and ads you also get a chance to subscribe. There are two types of subscribers, the first being people who have subscribed to the channel via their cable television providers. Obviously, a hipster like you wouldn't have a television and so we're assuming you don't have cable. However, even then begging people around you who too are baseball fans could work.
The other option is to pay $20 a month to get a leg up on all the action that the Oakland Athletics star in. Their iPhone app is called At Bat Premium and that's where all the goodies i.e. live streaming can be found once you pay or enter your subscription details. If you're a big fan, we would advise getting a yearly subscription for $109.99 per annum.
If you find that official streaming service way too expensive, we have a few other alternatives for you.
Live Stream Every Athletics Game via AT&T TV NOW
The key to live streaming every Athletics game live and without cable is via a AT&T TV NOW subscription. The service is owned by AT&T which is why the company throws in free data streaming as an extra incentive. So, don't restrict yourself to just watching the Athletics play when you can watch the entire regular season and the World Series too! Starting at $35 a month it does not break the bank either and happens to be a lot cheaper than regular cable. So, why not give it a shot for free by clicking on the button below!
Catch Athletics Highlights Streaming on YouTube
Yes! You can catch highlights, stats and previous games on YouTube. It's not live, but it's free. If you're piss poor and don't want to break the law and still enjoy a few games, then searching YouTube is your best bet.
Third-party, free and dubious streaming websites
You can Google terms like "Oakland Athletics free online streaming" and you'll come across websites hosted in China, Russia, and even Korea. But these sites are breaking the law, and you by streaming from them will be breaking the law too! And with the law, you don't get three strikes before you're in!
Time to PLAY BALL! Go A's.
Last Updated on by Exstreamist