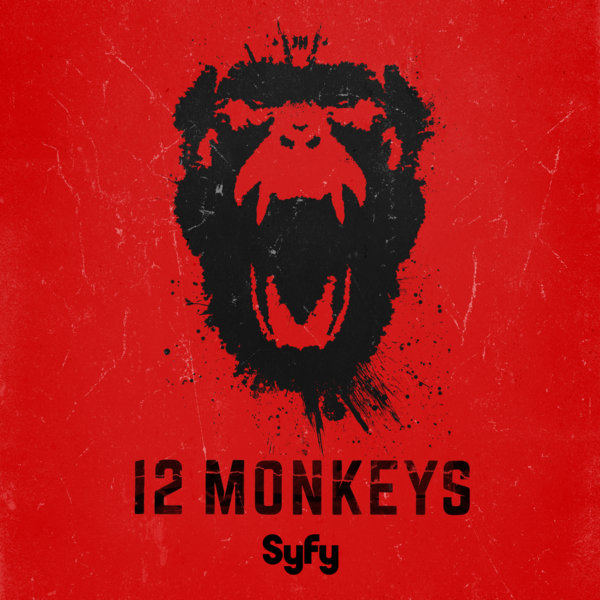 12 Monkeys is created by Terry Matalas and Travis Fickett for Syfy. It is a sci-fi show, with a loosely weaved time traveling plot. If you're old enough, you'd probably remember the 1995 film of the same name. The series is about James Cloe and his partner Dr. Cassandra aka Cassie, who are using a time travel device to thwart the plans of an evil organization called Army of the 12 Monkeys. The show has the duo jumping back and forth in time in a desperate effort to save the world. Though there is still time for the odd romantic scene and an army of Dark Vader type villains trying to end their life.
If you are into flicks which include time travel or are a fan of the motion picture version dating back to your childhood, then this is a must watch. Below is how you can live stream 12 Monkeys online.
Watch 12 Monkeys Online Using the Official Syfy App or Website
The official Syfy website i.e. Syfy.com has all the latest episodes of 12 Monkeys available for streaming. The same goes for the official Syfy Now app. Though both the app and the website require that you log in with your subscriber credentials. Now you can always borrow, or steal them from your parents but if that's not a possibility then you can kiss streaming 12 Monkeys online for free goodbye! That said there are a couple of other ways of streaming the show without a subscription below.
Live Stream 12 Monkeys Live with AT&T TV NOW
AT&T has entered the online streaming industry with the introduction of AT&T TV NOW. The service starts at just $35 a month and includes channels such as Syfy, AMC, Bravo, etc., all of which are live streamed via their native apps for iOS and Android devices. Being able to stream via an app coupled with the fact that AT&T does not charge subscribers for streaming makes catching up on the 12 Monkeys and other shows very easy.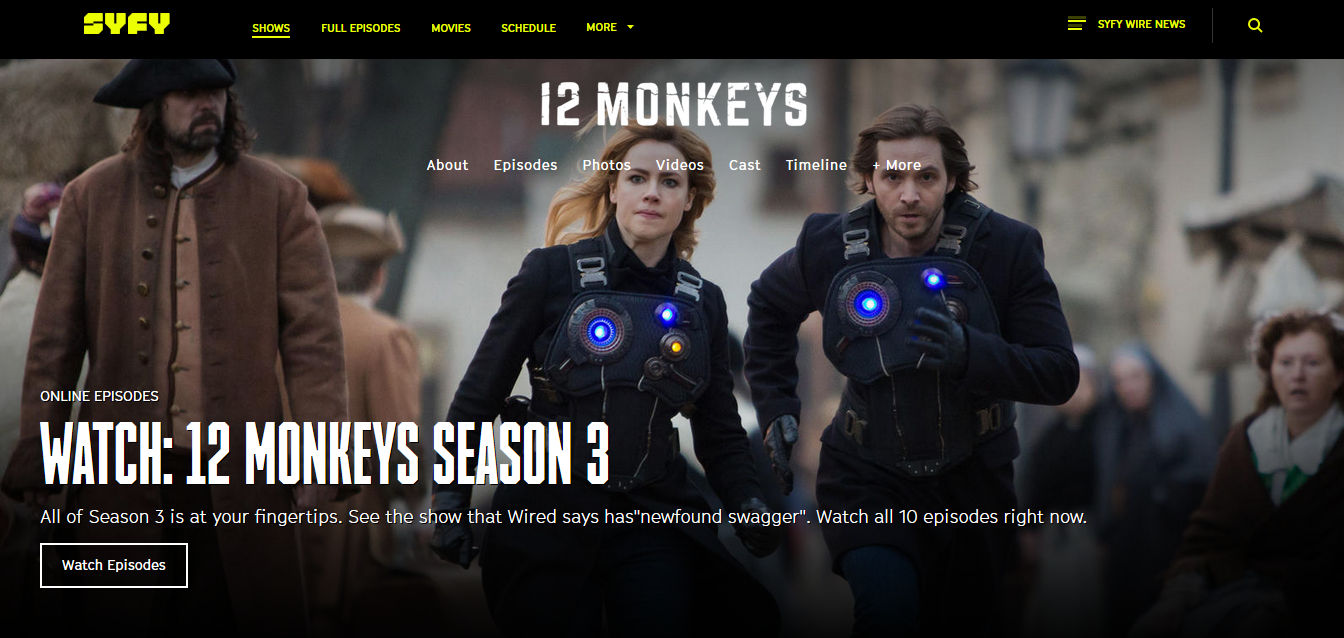 Live Stream 12 Monkeys Online with Sling TV
Sling TV is a cord-cutting service which live streams channels via an assortment of apps for various devices like iPhones and Xbox One in addition to a desktop web browser. The service starts at $20 a month though you'll need to upgrade to Sling Blue if you want to stream Syfy along with over a hundred other channels. Give the service a shot via the button below.
Streaming 12 Monkeys on Netflix, Hulu, and Amazon
Netflix currently has all the seasons and episodes of 12 Monkeys. So, if you are a subscriber and just found out that 12 Monkeys is about time travel then start binge watching today!
Hulu also has the complete latest season as well as previous seasons of the show. It's rare that Netflix and Hulu both have the same shows, but then again 12 Monkeys is a rare type of show!
You can download complete seasons and episodes of 12 Monkeys from Amazon Prime. Expect to pay a pretty penny for episodes starting at $2.99 a month.
Other Methods of Streaming 12 Monkeys for Free
The free methods of streaming 12 Monkeys are a breach of copyright law. Besides with most of these websites based in Russia, you could be accused of being part of the Russian hacking crew! So, unless you want to spend some quality time in jail, we would not advise using so-called free streaming websites.